The seventy-eighth Academy Awards will be presented on Sunday, March 5, 2006 - at the Kodak Theatre at the Hollywood and Highland Center. That's just a mile or two east, so for those of you who follow such things, here's the scene there Thursday, February 16th, sixteen days before the event, as preparations begin, and the tourists mill about. You'll also find photos from a side trip a few miles west to a fine old movie palace in Westwood Village, just south of the UCLA campus.
A note on these photographs -
If you use any of these photos for commercial purposes I assume you'll discuss that with me.
These were shot with a Nikon D70 - lens AF-5 Nikor 18-70mm 1:35-4.5G ED.
Copyright © 2006 - Alan M. Pavlik - All Rights Reserved
The links, bottom right, will take you reference sites and to the weekly
Just Above Sunset
, or to the daily web log
As Seen from Just Above Sunset
. These last two provide links to a variety of other Southern California photo albums.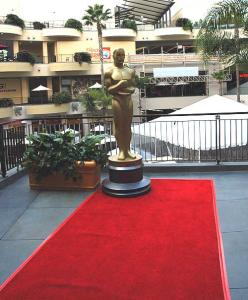 Big Fake Oscar in the Courtyard next to the Kodak Theater, Hollywood and Highland