Yeah, it's a tourist shot. But one is required to take such shots. This is looking east from the stairs of the Trocadéro on a cold morning.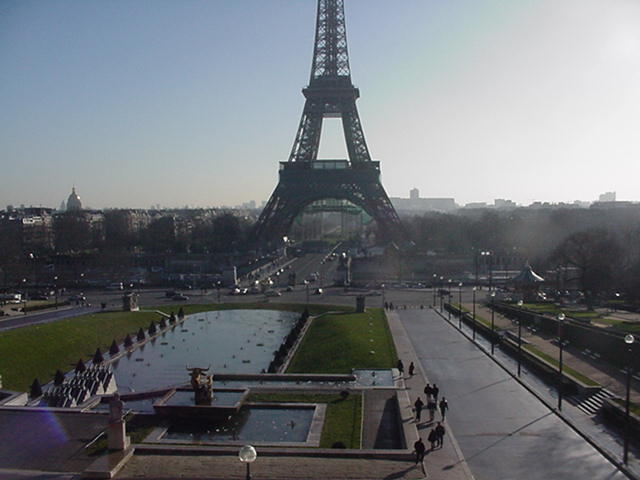 The Garnier Opera House in the center of Pairs was all cleaned up for the millennium. It's kind of impressive. No phantom. And the full restoration will not be completed for another four years. Here are the details.
LA FAÇADE SUD et la loggia de l'Opéra-Garnier à Paris ont été restaurées, pour la première fois depuis 1867, sous l'égide d'Alain-Charles Perrot, architecte en chef des Monuments historiques. Deux années d'études et un an de travaux ont été nécessaires pour mener à bien les réparations pour un coût de 65,4 millions de francs (9,97 millions d'euros). L'une des difficultés de cette restauration fut d'adapter les savoir-faire à la diversité des matériaux - trente-six en tout. Plus de dix sortes de marbre - parent la façade de leurs couleurs. Les mosaïques ont été fabriquées en Italie et retaillées à l'identique par le fabricant qu'avait choisi Charles Garnier. Les Renommées, ces statues de sept mètres de haut réalisées par Gumery et représentant la Musique et la Poésie, ont été totalement démontées afin de remplacer l'ancienne structure de fer par une nouvelle en inox. La restauration du Palais Garnier se poursuivra jusqu'en 2007.
And there's good stuff on the roof!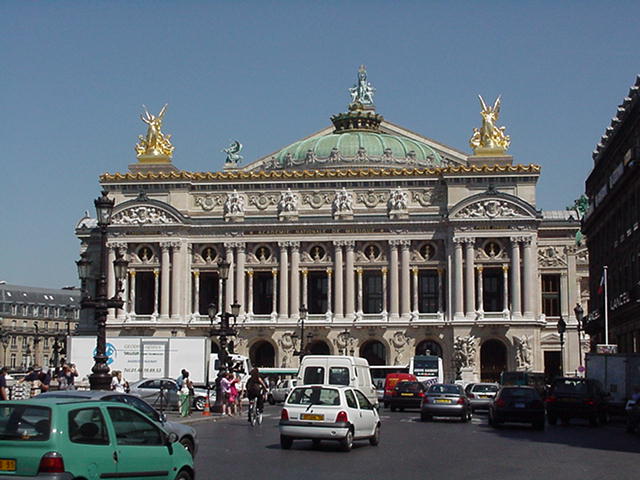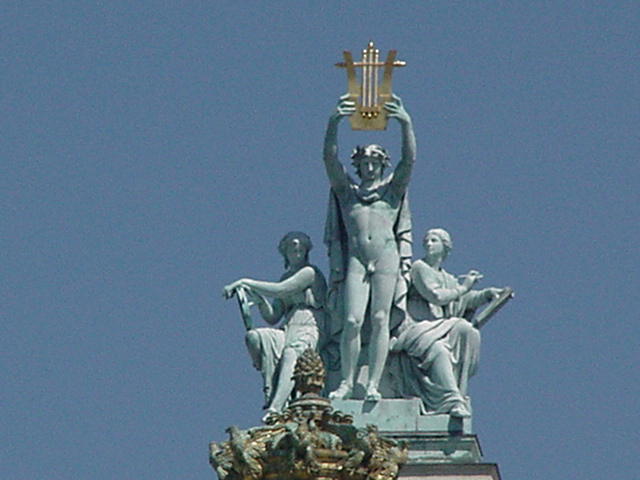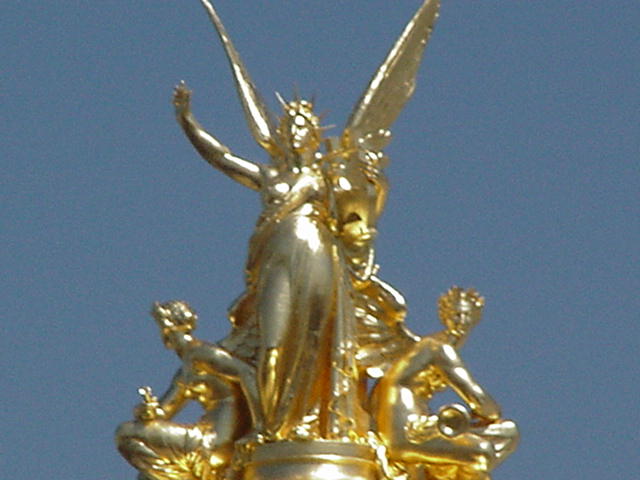 There's a Jean Cocteau film series showing this week in Los Angeles. I'm kind of fond of his version of Beauty and the Beast - a whole lot more surreal than the Disney animated version. Cocteau filmed Orphée here, an old mountaintop fortress in the south of France. This is from a summer visit. Obviously one should get there around Christmas for La fête du Pastrage, as explained below.
Les-Baux-en-Provence
Une colline blanche de calcaire à en faire mal aux yeux, des rochers creusées d'ouvertures sombres rectangulaires ouvrant sur des carrières, un château et des constructions qui s'empilent : à l'ouest de la chaîne des Alpilles, Les Baux-de-Provence forment un vaste ensemble surréaliste isolé sur les détours du Val d'Enfer.
Ce site occupé dès les Ligures fut abandonné au XVIIe siècle. Les seigneurs des Baux, au XIe siècle, prétendent descendre du roi mage Balthazar. Plus tard, les troubadours fréquentent cette cour affinée par la douceur d'un ciel toujours ensoleillé. La lutte contre les papes, le chevalier-brigand Raimond de Turenne, mettent bientôt ce rocher défensif " à feu et à sang ", et Louis XIII donne les restes de la seigneurie aux Grimaldi, qui en portent toujours le titre. Bientôt la cité des Baux allait s'endormir... Il faut se promener par les ruelles, curieusement enchevêtrées de commerces, de magasins de souvenirs, d'artisanat d'art et de maisons nobles à l'architecture antique pour comprendre les Baux d'aujourd'hui.. La " Cité morte " revit avec le tourisme : des illuminations toute l'année, les visites des nombreux musées, du château et de ses panoramas sur la Provence environnante. Certaines carrières sont aménagées et l'on redécouvre les décors étranges qui fascinèrent Jean Cocteau pour son film Orphée. La fête du Pastrage, qui célèbre les bergers dans la nuit de Noël, est l'une des plus réputées de Provence.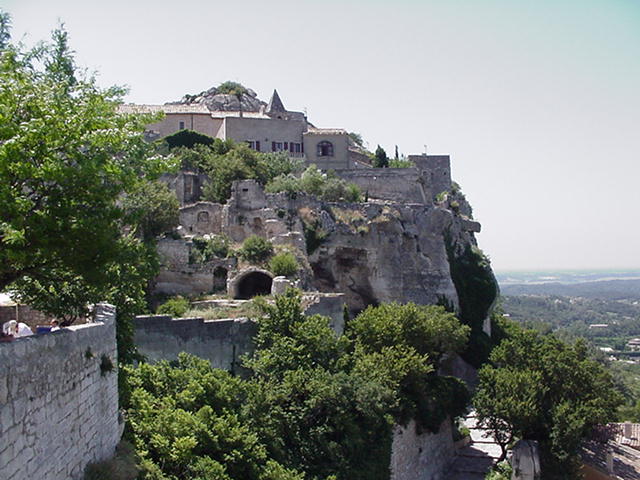 This is a pretty good "bed and breakfast" on an island in the Rhône a mile or two north of Avignon. It's a seventeenth century place with narrow stairs and stone walls many feet thick. The women who run the place have a big, friendly, shaggy dog who likes to hang around with you as you sip the local rosé in the late afternoon. Let me know -
Contact "Just Above Sunset"
- if you want more details. I remember the place well. It's a lot better for your head than anything else I know. And Avignon is only a few hours south of Paris via the TGV, the high-speed train.