Our Man in Paris: Bonjour Tristesse
Topic: Breaking News
---
Our Man in Paris: Bonjour Tristesse
---
Wednesday, July 5, 2006, France beats Portugal 1-0 and will play Italy for the World Cup this weekend. The tournament is a big deal, only every four years, and France has only won once before, in 1998 when they hosted it. Now they can win it all again. And what was the scene like in Paris? Ric Erickson, editor of
MetropoleParis
, lets us know in his latest letter from Paris.
Paris, Wednesday, July 5 -
This is a historic day. Overnight the temperature dumped from over 30 to a reasonable 26 degrees - after dumping some hailstones the size of Great Auk eggs on unwary residents of southern France - and it is the 60th birthday of France's great gift to funky western mankind - the bikini.
Just think of all the things we wouldn't have if there weren't any bikinis. We wouldn't have dads on beaches and we wouldn't have moms frantically dieting after all those Easter Auk eggs they ate. And, by no means finally, your favorite French wouldn't be as famous as they are, for being cheeky. They would just be small, dark folks clad in itchy wool swimsuits, reeking of garlic.
Between football celebrations I have been watching TV-films on Arte. They have an Israeli series which shows, I am glad to learn, that Israel is a very weird place not anything like your average cheesy French village or oily truck-stop in South Dakota.
You say, 'so what?' You say, 'what else is new?' According to the TV-film I saw last night people who used to be policemen look after imported young ladies from the Ukraine and when they wear out they sell them for a discount to Egyptian spa owners. As unlikely as its theme, even unlikelier the happy end when the policeman learns to swim and the Tel Aviv goon squad nabs the bad guys and all the young ladies get a free trip to America - where they wanted to go in the first place.
But tonight is different because Spike Lee is in Munich to see his friend Thierry Henry playing for France in the semi-finals of the World Cup against Portugal. This city has opened the Parc des Princes and put a big screen up there, adding it to the free one in the Stade Charlety, and another one somewhere in the 16th.
Meanwhile Nicolas Sarkozy has declined to go and see Spike Lee in Munich because he has to stay in town to manage the spontaneous victory celebration on the Champs-Elysées right after the win by the (a) Allez les Vieux or the (b) Portuguese tigers.
Last Saturday night the Portuguese celebrating on the Champs-Elysées
were impressive
- more than 10 percent of the Portuguese in the world live in France, mostly around Paris - and after I saw the hosting Mannschaft get whacked last night by the Italians who were playing not much more energetically than when they soft-shoed the Americans into losing - I figure no matter who wins tonight, they are going to fix the Italians in Munich on Saturday, and Spike Lee will be there to see Thierry Henry hold the silver pot.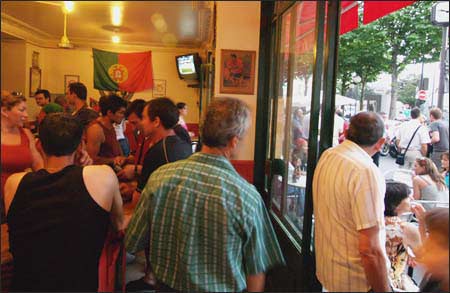 Ooops, that kind of gives it away. Tonight I went to see the Portuguese win at the Café au Château, a nearby mini-version of Porto right here in the 14th. All is very quiet on the streets here during a match and you could hear cats shedding as I neared the café, when about half a block short, a huge cheer or moan sounded. It sounded like a bomb in the stillness, coming as it did from the 700 nearest open windows.
It is not a big café and its TV is not large and it was holding at least 20 more than the legal limit as well as having a fair number sprawled around the terrace, some wearing team shirts. Due to the TV's location it could be seen from the terrace, the far end of the bar, or by short people. Since I wasn't even there I did not know that Zizou popped in a goal somehow - that was the moan I heard.
I never got close enough to the TV to get the score so I didn't know if I was consorting with winners or losers until this dude told me he studies bugs, insects. This was his way commenting on my photos - I was studying bugs? I told him, no. I didn't tell him I was doing it for Hollywood. These folks were going to be depressed enough.
The Portuguese will not be driving their cute honeys wrapped in green and red flags around the Champs-Elysées tonight. They will be home alone listening to old Fado records. Tomorrow they will wake up feeling slightly soggy and after a strong nip or two they will settle into rooting for Les Bleus, these old French dudes who have some new therapist who has put some young Turk spark into their legs.
Do I intend to be on the Champs-Elysées on Saturday night when France beats Italy? Does the Pope do mass? Isn't Spike Lee rooting for the French? Besides, TV-news says the Bleus have a new theme song, and they are going to sing it in public for the first time when they get their hands on that old silver pot again. Allez!
Photo and Text, Copyright © 2006 - Ric Erickson, MetropoleParis