Topic: Photos
---
No entries today...
---
I am off to San Diego for the day - actually to Carlsbad, just a bit to the north - as Tiffany, my nephew's daughter, turns seven. And her mother turns... well, we won't say. There's a double birthday party. Actually all three nephews, their wives, the four associated kids and my sister will be there. And a dog or two, and my sister's two cats.
So no politics today.
Late tomorrow, Pacific Time, the new issue of
Just Above Sunset
, the parent publication of this web log, will go online. Probably around six or seven in the evening.
A preview?
Imagine yourself in a village in France, say one south of Avignon and a bit north of Les Baux. It's late May and there seems to be a festival. This is rural France, not a big city like Paris or Lyon or Marseille. You expect sheep of course. Here they are.
This is a religious festival - something to do with the Pentecost. So while contemplating this photo do recall Handel's oratorio "The Messiah" - and hum a few bars of "Are We Like Sheep?" Or don't.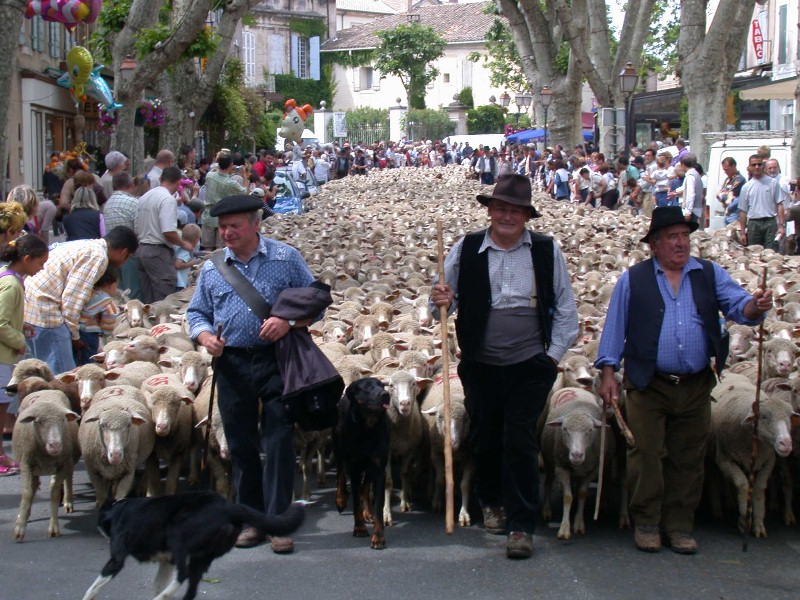 Copyright 2004 - SD Chicago
Photo used with permission
Reproduction or redistribution forbidden without the written consent of the copyright holder