Tiffany Cook turned ten on 26 May 2007 – and there was a party at Joyce's house in Carlsbad. It was pretty cool.
A note on these photographs for those outside the family:
1.) If you use any of these photos for commercial purposes I assume you'll discuss that with me.
2.) These were shot with a Nikon D70 - lens AF-5 Nikor 18-70mm 1:35-4.5G ED.
- Copyright © 2007 - Alan M. Pavlik - All Rights Reserved
The links, bottom right, will take you to other family photos and to
Just Above Sunset Photography
and the matching commentary site, public sites not related to the family.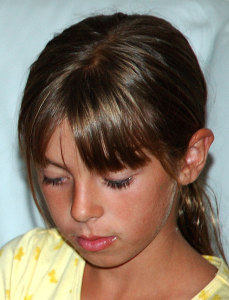 Family Photos (from the most recent)
1.) Rhett at 8 and Neal at 40
2.) February 2007 Changes
3.) Christmas Eve, 2006
4.) Nicholas James Cook Turns Three (December 2006)
5.) Family Thanksgiving 2006
6.) Emily Turns One - Saturday, August 6, 2006
7.) Tiffany Turns Nine - Saturday, May 20, 2006
8.) Rhett Cook - Seven (Sunday, April 2, 2006)
9.) The Whole Family, 22 January 200
10.) Carlsbad Christmas 2005
11.) Nicholas James Cook at Two
12.) October 16, 2005, Carlsbad - birthday party for JT
13.) Family Reunion - September 11, 2005
14.) Tiffany Turns Eight (May 2005)
15.) Halloween 2004 - Nicholas Cook
16.) Nicholas James Cook, December 2003
The Public Sites
- Just Above Sunset Photography
- Just Above Sunset Commentary