As photographed Thursday, February 2, 2006,
Crossroads of the World
(6671 Sunset Boulevard - Robert V. Derrah) - built as "the world's first modern shopping center" in 1936 - Streamline Moderne, Spanish Colonial, Tudor, Moorish and French Provincial styles, all mixed together. It's listed on the National Register of Historic Places. In the 1993 film "Indecent Proposal" Demi Moore worked in a real estate office here. It plays its part in the 1997 film noir "L.A. Confidential" - Danny DeVito worked for a tabloid in one of the offices. It's in many other films. It's very odd.
Next door is
The Church of the Blessed Sacrament
(6657 Sunset Boulevard - Beezer Brothers, architects, 1928) - the first Catholic Church in the Hollywood area (1904), and the parish church for Irene Dunne and Loretta Young, where Bing Crosby married his first wife (Dixie Lee) in September 1930. The funeral of Carole Lombard's fiancé Russ Columbo was held here in 1934 - pallbearers Bing Crosby, Gilbert Roland and Zeppo Marx. A bit back an episode of the television series ER was filmed here, with guest star James Cromwell as a bishop.
A note on these photographs -
If you use any of these photos for commercial purposes I assume you'll discuss that with me.
These were shot with a Nikon D70 - lens AF-5 Nikor 18-70mm 1:35-4.5G ED.
Copyright © 2006 - Alan M. Pavlik - All Rights Reserved
The links, bottom right, will take you to the weekly
Just Above Sunset
, or to the daily web log
As Seen from Just Above Sunset
. These provide links to a variety of other photo albums.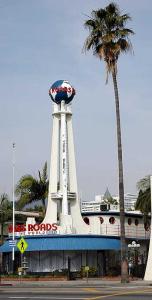 Crossroads of the World - Establishing Shot