Greystone Mansion, Beverly Hills - Architect Gordon B. Kaufman - English Gothic Revival - 46,000 square feet of living space - completed in 1928 for the Doheny family - landscape architect, Paul G. Thiene - gardens surrounding the estate a mix of gothic and neoclassic -
Oil baron Edward Doheny gave the property to his son Ned as a wedding gift. In 1928, Ned constructed this enormous, fifty-five-room Tudor-style mansion. Six months after Ned's family moved in, Ned was shot by his personal secretary (and, rumor has it, gay lover) in a murder-suicide. Ned's widow and children stayed on until the fifties, then the family gave the property to the city of Beverly Hills and it and the grounds are now a public park. It may look familiar. Many major Hollywood films were shot here.
Photos from Wednesday, November 23, 2005, late afternoon -
A note on these photographs:
1.) If you use any of these photos for commercial purposes I assume you'll discuss that with me.
2.) These were shot with a Nikon D70 - lens AF-5 Nikor 18-70mm 1:35-4.5G ED.

Copyright © 2005 - Alan M. Pavlik - All Rights Reserved
The links, bottom right, will take you to reference sites and the weekly
Just Above Sunset
, or to the daily web log
As Seen from Just Above Sunset
. These two provide links to many other photo albums.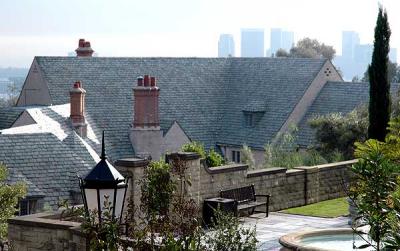 Named for its roof - in the background Century City and MGM offices -