From the window here at
Just Above Sunset
, a fire in the Hollywood Hills, Tuesday, August 9, at six in the evening. Nichols Canyon burns.
A note on these photographs:
If you use any of these photos for commercial purposes I assume you'll discuss that with me. These were shot with a Nikon D70 - lens AF-5 Nikor 18-70mm 1:35-4.5G ED or or AF Nikor 70-300mm telephoto.

Copyright © 2005 - Alan M. Pavlik - All Rights Reserved
The links, bottom right, will take you to the weekly,
Just Above Sunset
, or to the daily web log
As Seen from Just Above Sunset
. Both provide links to the many other photo albums.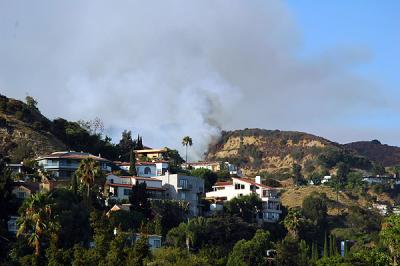 The start of the fire ...