On September 9, 1909, after sixteen months of construction, the Santa Monica Municipal Pier opened to the public. It's still there, with the Ferris wheel overlooking the 1922 carousel, the one Paul Newman operated in "The Sting." (It wasn't in Chicago.) Location Directors love this place. Judge Reinhold in "Ruthless People" drove his car off this pier. Forrest Gump ended his cross-country run here. Scenes from "Beverly Hills Cop III" and "The Net" and "Clean Slate" and "Funny Girl" - and most of "They Shoot Horses Don't They." Hundreds of television shows - lots of "Baywatch" of course.
Thursday, December 1, 2005, late morning, it looked like this.
A note on these photographs:
1.) If you use any of these photos for commercial purposes I assume you'll discuss that with me.
2.) These were shot with a Nikon D70 - lens AF-5 Nikor 18-70mm 1:35-4.5G ED.

Copyright © 2005 - Alan M. Pavlik - All Rights Reserved
The links, bottom right, will take you to reference sites and the weekly
Just Above Sunset
, or to the daily web log
As Seen from Just Above Sunset
. These two provide links to many other photo albums.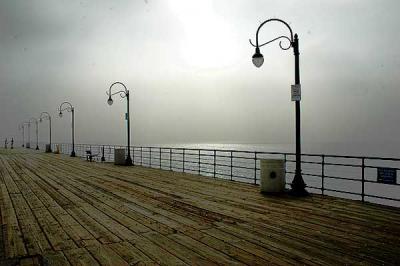 December begins - fog on the Pacific and the pier, empty -