Union Station, built in 1939 for the Union Pacific, the Southern Pacific, and the Atchison, Topeka and Santa Fe - considered to be "The last of America's great rail stations." Designed by the father and son team of John Parkinson and Donald B. Parkinson. Spanish Colonial, Mission Revival, Streamline Modern, mixed - add some Moorish and Aztec details, and travertine marble. You've seen it in many movies. Photos, Tuesday, August 16, 2005.
A note on these photographs:
If you use any of these photos for commercial purposes I assume you'll discuss that with me.
These were shot with a Nikon D70 - lens AF-5 Nikor 18-70mm 1:35-4.5G ED

Copyright © 2005 - Alan M. Pavlik - All Rights Reserved
The links, bottom right, will take you to the weekly,
Just Above Sunset
, or to the daily web log
As Seen from Just Above Sunset
. Both provide links to many other photo albums.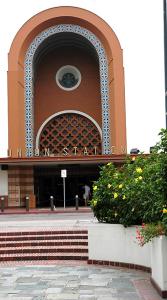 The front door, so to speak...