1927 Rococo Madness
Topic: Historic Hollywood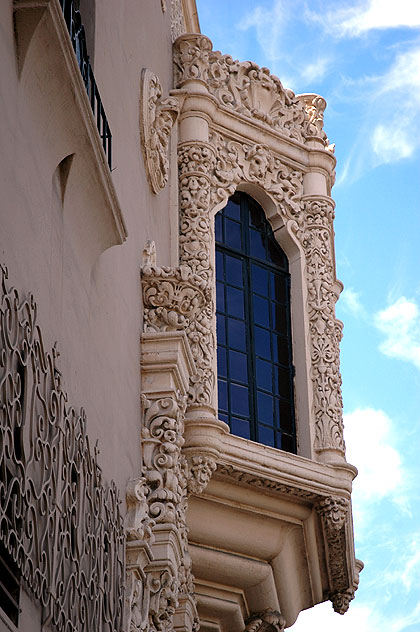 Rococo emerged in France in the early eighteenth century as a continuation of the Baroque business - but not as heavy and dark. The usual words used to describe it are opulence, grace, playfulness, and lightness - carefree stuff, not heroic battles or religious figures. The word Rococo is apparently a combination of the French rocaille, or shell, and the Italian barocco, or Baroque style. You do get a lot of shell-like curves and odd flowers and figures. Anyway, when the term was first used in English, sometime around 1836, it was a colloquialism meaning "old-fashioned." And by the mid-nineteenth century it was - everything had turned all neoclassical.

Rococo hit Hollywood big-time in the late twenties, when the film industry really took off, at the tail end of the silent film era. And a few of the Rococo palaces are still around.

This is the Avalon Hollywood, 1735 North Vine - just a few steps up from Bob Hope Square (Hollywood and Vine), and sort of across the street from the famous Capitol Records Building. This opened in 1927 as the Hollywood Playhouse, but it was the El Capitan in the forties, then the NBC Radio Theater, then the Hollywood Palace. It was the home of Ken Murray's "Blackouts" and "Hollywood Palace" - television variety shows from the fifties no one remembers. Some might remember the "Colgate Comedy Hour" and "This is Your Life," and "The Jerry Lewis Show" - and the first years of "The Lawrence Welk Show." Those were done here, as was the first nationally televised telethon. But it wasn't Jerry Lewis getting all weepy with the sick kids - it was to raise funds for the 1952 US Olympic Team. Bob Hope and Bing Crosby and Frank Sinatra were featured.

These days it's a techno-thump dance club, as explained here - "Avalon Hollywood and WiredLA present Avaland - voted one of the top three dance music clubs in the nation and Number One in Los Angeles. Avaland features the world's biggest names in the electronic dance-scene coupled by some of the cities best local talent. Residents include world renowned DJ's Sasha, Danny Howells, Roger Sanchez, Sander Kleinenberg, Hybrid, Ferry Corsten, Nick Warren and more - all presented with Avalon's own EAW Avalon Series Sound System, twenty-six moving lights, an LED wall, and top-of-the line decor."

Things change. It's still Rococo.