Off to Bayonne
Topic: Guest Photography
Our friend the high-powered Wall Street attorney looked out his office window this morning and saw this, the USS Intrepid in the Hudson River. The details of what was going on are below the picture, including - "As the Intrepid passed the World Trade Center site, about 20 former crew members unfurled a 50-feet by 90-feet American flag and stood in a silent salute."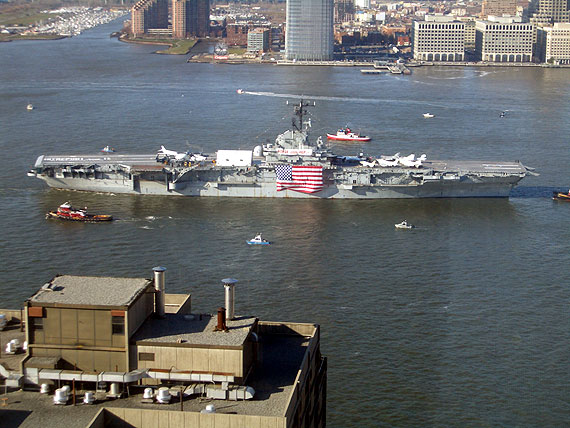 The Associated Press explanation -
A month after a failed attempt to move the USS Intrepid, the historic aircraft carrier was finally freed Tuesday from the Hudson River anchorage where it had sat for nearly a quarter of a century as a museum.

"This old baby is moving," a joyous Intrepid Foundation President Bill White said aboard the vessel. Some crew members cried and gave each other high-fives and hugs. Onlookers ashore cheered.

"It's like it used to be, only better. There's no bloodshed," said elated passenger Felix Novelli, who served on the Intrepid crew during World War II. "I'm 18 again. And I have my beautiful broad right here, my ship Intrepid."

As the Intrepid passed the World Trade Center site, about 20 former crew members unfurled a 50-feet by 90-feet American flag and stood in a silent salute.

The trip began with considerable effort, the historic aircraft carrier-turned-museum inched haltingly away from its anchorage. Finally, it began moving at about 3 to 4 knots, its pier growing more and more distant.

"Move baby, move baby!" the crew and passengers yelled. Then, "We did it, we did it!"

In the previous attempt, thick mud had proved too strong for six "tractor tugs" exerting some 30,000 horsepower. Another battle occurred this time, too - the blue water was churned dark brown as tugboats strained to budge the giant vessel from its longtime home.

"If she doesn't move, we are going to jump in and push her," a former crew member, 84-year-old Joe Cobert, said on the Intrepid's deck before the behemoth began to move on Tuesday.

Asked later if he was glad he didn't have to push the ship, Cobert said, "We did push. All the crew members. How do you think we got out of there?"

Recalling his years on the ship, Cobert said, "It brings back memories. It was always thrilling when we were under way. We'd yell to everyone onshore, 'See Ya when we get back.'"

The smaller boats moved the ship stern first into the center of the Hudson River, then nudged the bow until it was parallel with the shore and began heading downstream.

The carrier was being towed, still backward, down the river toward New York Harbor for a five-mile trip to a shipyard in Bayonne, N.J., where it will undergo renovations.

A Fire Department boat sailed alongside the Intrepid, shooting red, white and blue colored water from its hoses. River traffic resumed after being halted while the ship was pulling away from the pier.

Three weeks of dredging removed nearly 40,000 cubic yards of muck from under the ship and around its four giant screws. Based on an assessment by military engineers and tugboat operators, officials had said they expected a smooth departure for the 64-year-old World War II hero ship.

In the first attempt on Nov. 6, the 36,000-ton carrier moved only a few feet before the propellers dug into the bottom, the tide dropped, and the mission was scrubbed.

The second effort seemed almost like a stealth version of the first, without the ceremonial trappings. Instead of VIPs, only officials, journalists and ex-crew members were on deck.

"I don't know how moving an aircraft carrier around in New York could ever be low-key, but we had the celebratory event the first time and we are not having that again," White said earlier.

The Intrepid survived five Japanese kamikaze suicide plane attacks and lost 270 crew members in the last two years of the Pacific war. It later served off Korea and Vietnam and as a recovery ship for NASA astronauts.

Decommissioned in the late 1970s, it was destined for the salvage yard when rescued by New York developer Zachary Fisher and transformed into a floating military and space museum that opened in 1982, recently drawing upward of 700,000 visitors a year.

Intrepid officials said the $60 million overhaul, lasting up to two years, would include stem-to-stern "refurbishment and renovation" to repair deterioration and open up long-closed areas to the public. The ship's exhibits were put in storage and most of its 20-plus vintage warplanes shrink-wrapped for protection during the hiatus.
Shrink-wrapped vintage warplanes? Cool.
Photograph Copyright © 2006 - M. A. Hewitt, all rights reserved