The Capitol Records Building
Topic: Historic Hollywood
---
The Capitol Records Building
---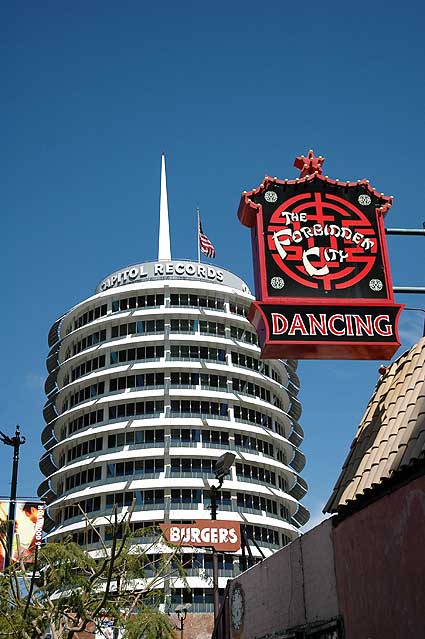 Coming in this Sunday's
Just Above Sunset
, photos and discussion of the Capitol Records Building, a local landmark - thirteen stories, designed by Welton Becket, the world's first circular office building, still home to a few recording studios. The tall spike on top makes it look like a stack of vinyl 45's on a turntable. Maybe that was the idea, maybe not. It was built in 1956 just north of the intersection of Hollywood and Vine - the consolidated West Coast operations of Capitol Records. The blinking light on the very top spells out the word "Hollywood" in Morse code. The Beatles recorded some stuff here, but really it's Frank Sinatra's place. The basement studio is where he recorded all those albums with Nelson Riddle.
EMI owns it now. Capitol Records is no more. EMI has about three hundred people in there, but it's dead. They want to sell the builidng so some developer can turn it into condos. The mayor of Los Angeles is making a fuss - keep it a working studio and industry place - Hollywood should be more than a theme park with expensive housing. EMI is not impressed. They're losing money.
This is how it looked, Thursday, March 23, 2006, just after noon.
A minor note - a major studio was across the street doing a shoot. Many trailers for the stars, and trucks full of fancy equipment. And the catering services had their rigs there, and they were cooking up some stuff that smelled wonderful, Thai barbeque and all that. Chatted with the security folks. No free lunch. Drat.
The Sinatra Society of America had this in a nearby alley, Frank Sinatra keeping a perpetual eye on the Capitol Records Building.