Places Time Forgot
Topic: Oddities
---
Places Time Forgot
---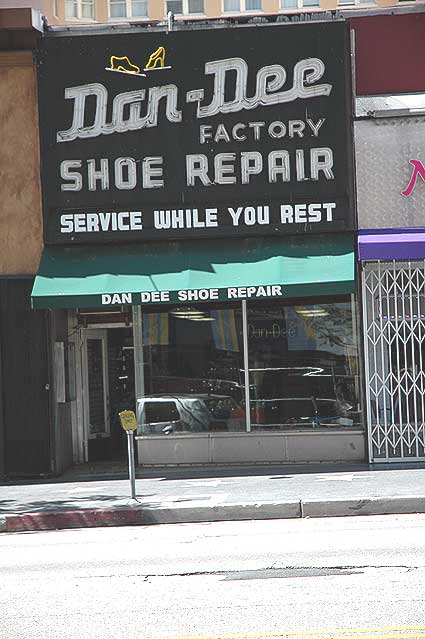 Vine Avenue, a few steps north of Hollywood and Vine (Bob Hope Square), there's this, a shop from the days when people actually had someone repair their shoes, instead of just tossing them out and buying new ones. Shoes got cheap. But Dan-Dee is still here, and still open. The place has a sort of 1943 feel to it. This was Thursday, March 23, 2006. Time is an odd thing.
Directly across the street, this hamburger stand, out of business for a long time, waits for the developers to wipe it out, and any memory of it. The gray wall in the back is the Pantages Theater, presenting "Cats" one more time. This is at the edge of parking lot of the
Capitol Records Building
, next to the Forbidden City club. This also is Thursday, March 23, 2006. It makes a nice composition. It'll be gone soon enough.