Zigzag Time
Topic: Historic Hollywood
---
Zigzag Time
---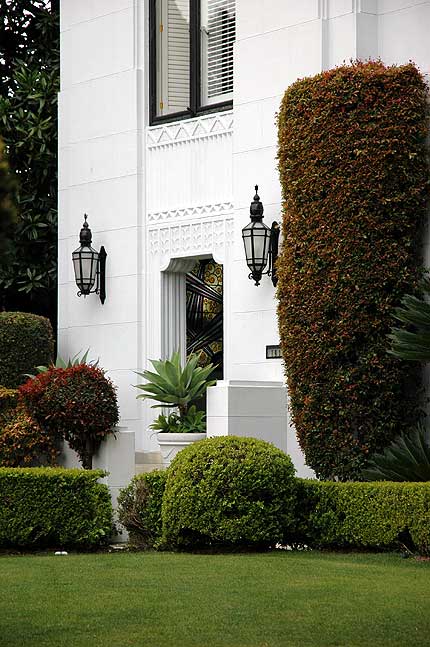 Sometimes driving around Los Angeles one is suddenly reminded of the old Astaire-Rogers "white telephone" musicals, with their French farce plots and Manhattan-skyline sparkle, as James Wolcott once described them. That might happen if you drive past this.
Smith House
1929-30 J.C. Smale
191 South Hudson Avenue
Los Angeles
"One of the few Zigzag Moderne houses in the area in the Los Angeles area and probably one of the greatest. It is very elegant in an extremely elegant neighborhood. Paris would be proud of it." - David Gebhard and Robert Winter,
A Guide to Architecture in Los Angeles and Southern California
, 1977, Peregrine-Smith
Paris? Maybe. Fred Aistaire could have danced here, but there's no record of that. But it feels right.
Zigzag Moderne
- "Zigzag Moderne developed from the classical-inspired designs of Bertram B Goodhue, the vertical Gothic schemes of Eliel Saarinen, the forms of the Paris Exposition des Arts Decoratif of 1925, and the early twenties designs of Frank Lloyd Wright. It was also influenced by the developing International style. The principal characteristics of Zigzag Moderne are: smooth surfaced volumes; windows arranged in sunken vertical panels; frequent use of central tower, whose summit recedes in a stepped pattern; a flat roof; symmetry and balance for each elevation; tendency for buildings to be monumental, formal and heavy; ornamentation of zigzags, chevrons, sunbursts, spirals and stylized plant and animal motifs."
It's very strange.
Photos, Saturday, April 1, 2006.