Architectural Detail and Hollywood History
Topic: Historic Hollywood
---
Architectural Detail and Hollywood History
---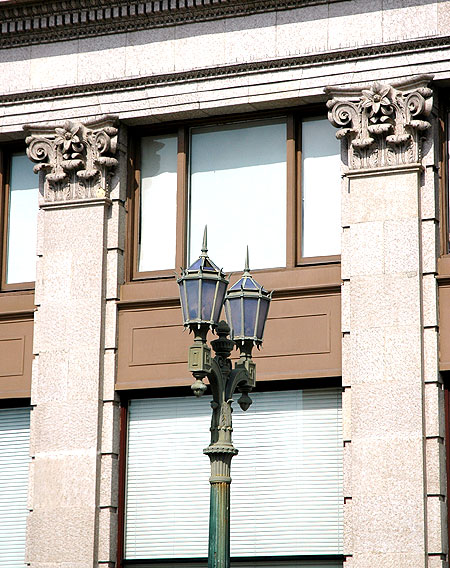 To the right, a lamppost at the Hollywood Guaranty Building, 6331 Hollywood Boulevard at Ivar, a twelve-story 1923 Beaux Arts office building by the architects John C. Austin and Frederick M. Ashley.
Charlie Chaplin and Cecil B. De Mille invested in this building and the gossip columnist Hedda Hopper worked here. Charlie Chaplin, Al Jolson and Cecil B. De Mille all once had their offices in this building. The Bank of America owned it for a time, and the building was sold in 1988 to the Church of Scientology in a straight cash transaction. It's now the executive offices for the international operations of those folks.
The building is dull. The lamppost is cool.
Below, details of the Security Pacific Bank Building at 6383 Hollywood Boulevard, at Cahuenga, from 1921 by the architects John and Donald B. Parkinson - also know as the Cahuenga Building, Philip Marlowe's office in Raymond Chandlers
The Long Goodbye
. It's part of Raymond Chandler Square, previously covered in these pages
here
. The building has interesting detail.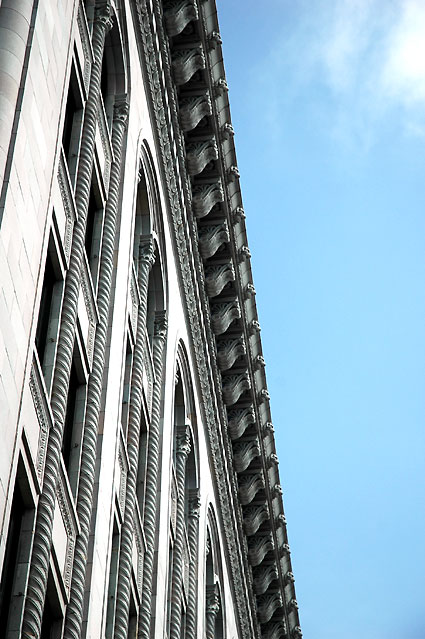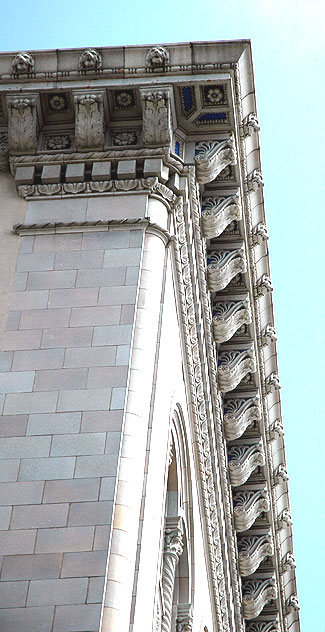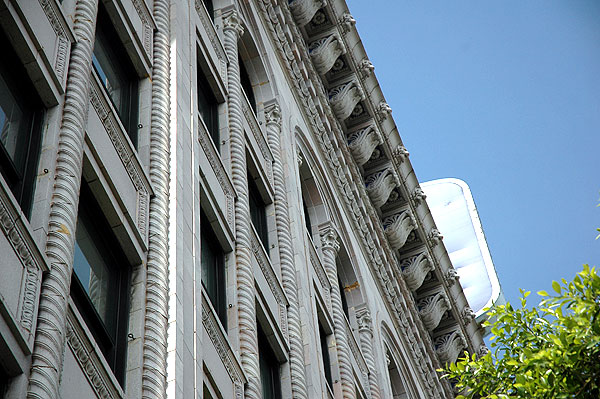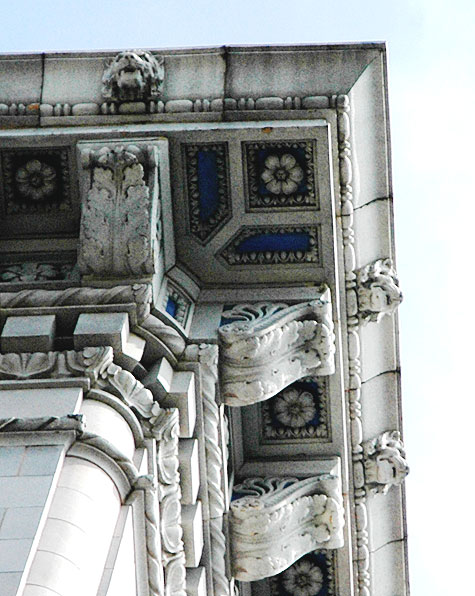 The Academy of Motion Picture Arts and Sciences Pickford Center for Motion Picture Study, 1313 North Vine at Fountain, built in 1947-48 as a radio and television studio facility and designed by Claude Beelman and his associate, Herman Spackler, and recently restored by Offenhauser/Mekeel Architects. It's amusing.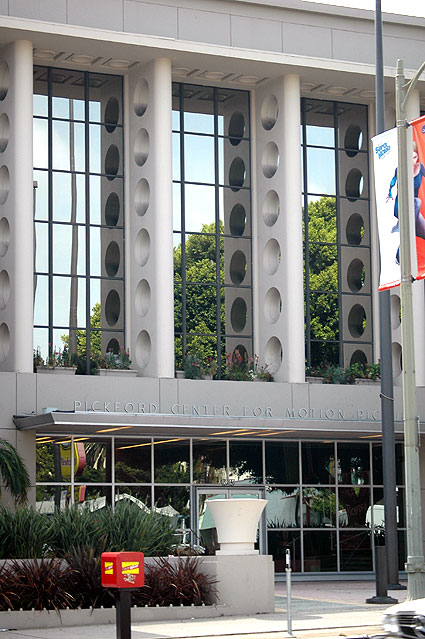 Notes -
The Academy's Pickford Center for Motion Picture Study was dedicated in honor of Mary Pickford, the legendary silent film actress, in 2002. In addition to the 286-seat Dunn Theater, the building houses several Academy departments, including the offices and collections of the Academy Film Archive and the Science and Technology Council.

? It is the oldest surviving structure in Hollywood that was originally designed specifically with television in mind.

Cadillac dealer Don Lee got into broadcasting to stay competitive with his friend Earle C. Anthony, a Packard dealer, who bought radio station KFI as a method of appealing to his customers. Lee bought KRFC in San Francisco and KHJ in Los Angeles, ultimately building the chain to 12 west coast stations. On Wednesday, November 5, 1930, Don Lee station KHJ and Paramount station KNX broadcast the third annual Academy Awards on Lee's Pacific Coast network.

Lee began dabbling in television in 1930 by hiring Harry Lubcke, a laid-off assistant to Philo Farnsworth, the inventor of television. Lubcke set up a station on the top floor of Don Lee's Cadillac headquarters at Seventh and Bixel streets. The station used the call letters W6XAO. Since tv receivers didn't exist yet, Lubcke designed and provided free schematics to electronics enthusiasts in the Los Angeles area to build their own. After 100 or so had built receivers, W6XAO, Channel 1, began to broadcast an hour a day, six days a week.

Though named for him, Lee, who had died 14 years earlier, never saw this building.

The building was the original home of Los Angeles Channel 2, which is now KCBS-TV, through the 1950s.

It was the studio for Johnny Carson's earliest mid-'50s television appearances before "The Tonight Show," including "Carson's Cellar" and "The New Johnny Carson Show."

It was the original home, from 1964 through 1971, of California Community Television, which grew into PBS station KCET.

It was the home of KHJ-TV in the 1950s.

It was ABC's headquarters for the Los Angeles 1984 Olympics and the home of many ABC television shows.

Among other shows broadcast from 1313 North Vine Street were: Queen for a Day, Heart's Desire, What's the Name of That Song?, Don Lee Music Hall, My Friend Irma, Jimmy Wakely Show, Bill Stulla Show, Oxydol Show, Your Claim to Fame, Joey Bishop Show, Barney Miller, Dating Game, Newlywed Game and The Andersonville Trial.
Ah but for real Hollywood history you can't the Knickerbocker Hotel, 1714 North Ivar Avenue, just off Hollywood Boulevard, built in the early twenties. It has a
cool history
, first a luxury apartment building, then a hotel, now apartments for seniors, almost all of them Russian. In the old days Rudolph Valentino hung out at the hotel bar, and liked to tango there. Harry Houdini made a deal with his wife Bess that if he died before she did he would try to contact her from the great beyond. On Halloween 1926, exactly one year after he died, she conducted a séance on the roof of the Knickerbocker, but he, or his spirit or whatever, didn't show. She tried that each Halloween up on the roof for the next ten years. No good. Oh well.
And then there's D.W. Griffith. He died of a stroke on July 21, 1948 under the crystal chandelier in the lobby. And that strange actress Frances Farmer was arrested here in 1942, dragged from her room, and that ended in her lobotomy and all. They made a film about it. The word is William Faulkner and Meta Carpenter, a script girl at Fox, began their eighteen-year affair here. Marilyn Monroe honeymooned here with Joe Dimaggio in January of 1954, and Elvis Presley stayed in suite 1016 back in 1956 while he was shooting "Love Me Tender." Who else lived here? Frank Sinatra, Barbara Stanwyck, Lana Turner, Mae West, Laurel and Hardy, Larry Fine of the Three Stooges, and Cecil B. DeMille. And William Frawley, who played Fred Mertz on "I Love Lucy," lived here for decades and on March 3, 1966, died of a heart attack on the sidewalk in front of the place.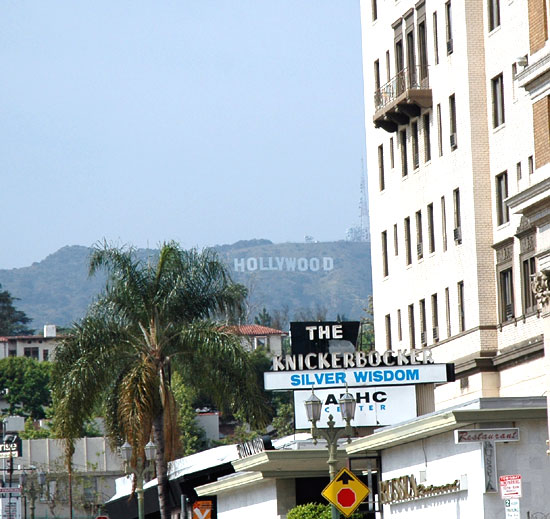 Quite a place. You can't get in now, even to see the chandelier in the lobby. History is over. The building has been "repurposed."