Jacaranda Time
Topic: Color Studies
---
Jacaranda Time
---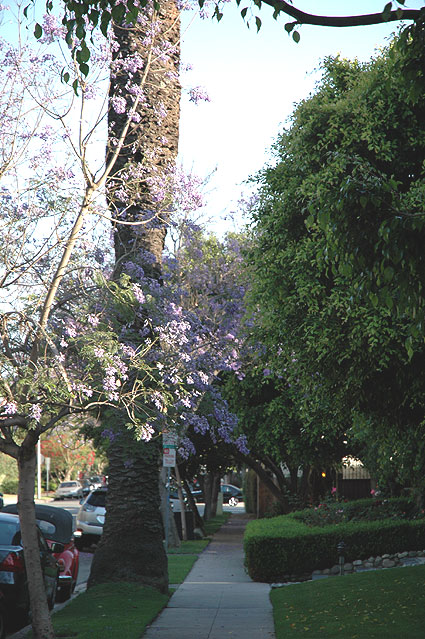 Here the weather has turned into "Jacaranda Time" - that period from mid-May to late June when the purple jacaranda trees bloom everywhere.
That would be
this
-
Jacaranda is a neotropical genus in the family Bignoniaceae. Its members range in size from subshrubs to large trees.

As is often the case with plants, the genus name is also used as the common name for cultivated varieties. The most often seen is the Blue Jacaranda, Jacaranda mimosifolia (syn. J. acutifolia). This is widely grown for its ornamental value.
And more specifically
this
-
The Blue Jacaranda, more often known simply as the "Jacaranda", is a sub-tropical tree native to South America that has been widely planted elsewhere because of its beautiful and long-lasting blue flowers. Older sources give it the systematic name Jacaranda acutifolia, but it is nowadays more usually classified as Jacaranda mimosifolia. It is also known as the Black Poui, or as the fern tree. In scientific usage, the name "Jacaranda" refers to the genus Jacaranda, which has many other members, but in horticultural and everyday usage, it nearly always means the Blue Jacaranda.

… Pretoria, the administrative capital of South Africa is popularly and poetically known as Jacaranda City or Jakarandastad in Afrikaans because of the huge number of the trees which turn the city blue when they flower in the spring. The name Jakarandastad is frequently used in Afrikaans songs, such Staan Op by Kurt Darren.

People in Australia sing a Christmas song about Jacaranda trees, as the blooms are only seen in summer time - as the song explains, "When the bloom of the jacaranda tree is here, Christmas time is near."

Argentine writer Alejandro Dolina in his book "Crónicas del Ángel Gris" ("Chronicles of the Gray Angel") refers the legend of a massive jacaranda tree planted in Plaza Flores (Flores Square) in Buenos Aires which was able to whistle Tango songs on demand.
These Jacaranda, one block south of Sunset Boulevard on Hayworth just before Fountain Avenue, weren't whistling any tangos, but then no one asked. And this a quiet street, just below the big
Directors Guild of America headquarters
- you can hardly hear the traffic up on Sunset at all.
At the end of the street, at Fountain, this Art Deco vaguely French apartment building from the forties is being restored. They have a vacancy. That might be cool - old Hollywood and all that.