Not Just Paris - Another Russian Submarine
Topic: Oddities
Not Just Paris - Another Russian Submarine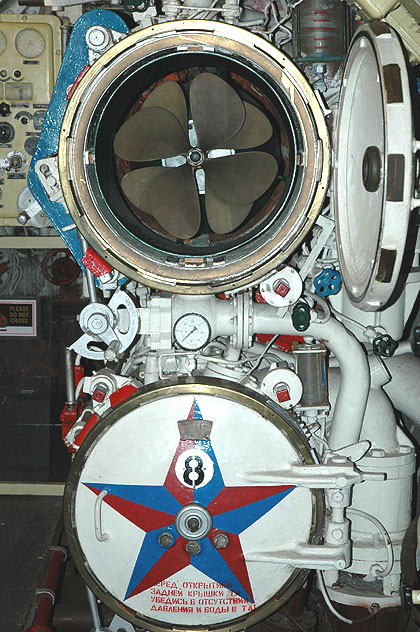 In last weekend's
Just Above Sunset
, Our Man in Paris, Ric Erickson, editor of
MetropoleParis
, told us of
the odd Russian submarine in the middle of Paris
, with pictures and everything. It was just sitting in the round pond at the Tuileries gardens - really.
Every major city should have a Russian submarine. In Long Beach, docked next to the actual Queen Mary, there's our Russian submarine -
Russian Attack Submarine 'Scorpion' b-427
- and it's real too (to the right, the aft torpedo room) -
Russian Designator: Project 641
NATO Designator: Foxtrot-Class
Manufacturer's Number: b-427
Built: 1972
Decommissioned: 1994
Length: 299 feet, 6 inches
Beam: 24 feet, 7 inches
Draft: 20 feet
Displacement: 1,952 tons surfaced, 2,475 tons submerged
Built: Sudomekh Shipyard, Leningrad
Construction: 3/8 inch outer light hull comprising ballast tanks. 7/8 inch QT28 Nickel Steel pressure hull.
Complement: 12 officers, 10 midshipmen, 56 seamen
Maximum Diving Depth: 985 feet
Speed: 16 knots surfaced, 15 knots submerged, 9 knots snorkeling
Range: 20,000 miles surfaced at 8 knots 11,000 miles snorkeling 380 miles submerged at 2 knots
Endurance: 3 - 5 days submerged
Propulsion: 3 x Kolomna 2D42M diesel engines, 2,000 hp each. 3 x electric motors; 2 with 1,350 hp and 1 with 2,700 hp. 1 x auxiliary motor with 180 hp. 3 x propeller shafts, each with 6 bladed propellers.
Torpedoes: 22 maximum
Radar: Surface search: Snoop Tray; I band.
Sonar: Herkules medium-frequency active/passive. Feniks passive search/attack.
Click on the link for more information on our sub. You'll find a full photo tour in this weekend's Just Above Sunset, which should be online Sunday morning.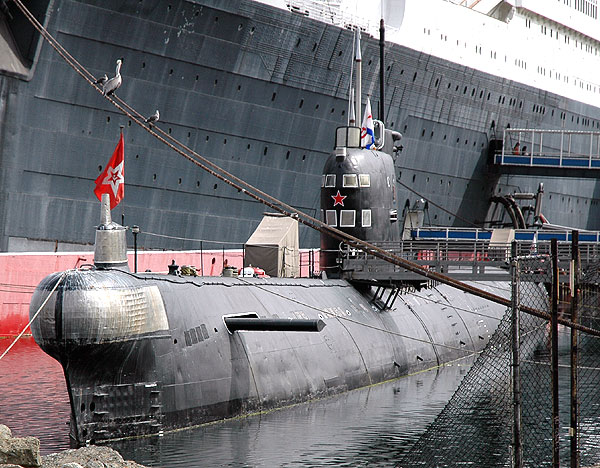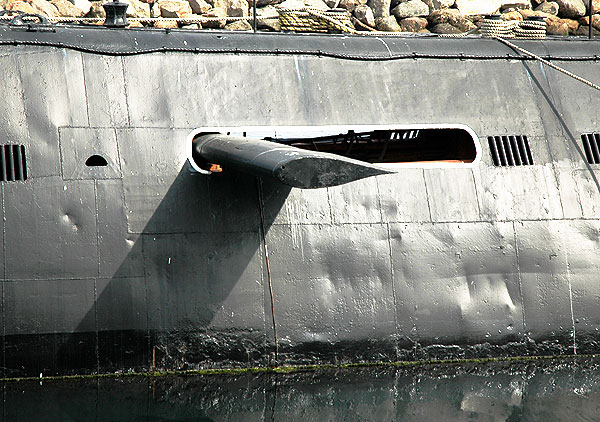 Long Beach, through the sub's periscope -