It happens every year in Pasadena, and millions around the world watch. And here we go again. The 117th Rose Parade - themed
It's Magical
- will take place on Monday, January 2, instead of the usual New Years Day. The Rose Parade features three types of entries: floral floats entered by a participating corporation or community organization, equestrian units, and marching bands. The only cars that appear in the Rose Parade are those that carry the Grand Marshal - Sandra Day O'Conner this year (in 1947 it was Bob Hope and in 1953 Richard Nixon) - the Mayor of Pasadena, and the Tournament of Roses President. Here these floral floats are being assembled, Thursday, December 29, in and around the Rose Bowl. The Rose Bowl game, USC versus Texas, is January 4th, by the way.
A note on these photographs -
1.) If you use any of these photos for commercial purposes I assume you'll discuss that with me.
2.) These were shot with a Nikon D70 - lens AF-5 Nikor 18-70mm 1:35-4.5G ED.

Copyright © 2005 - Alan M. Pavlik - All Rights Reserved
The links, bottom right, will take you a number of related sites, and to the weekly
Just Above Sunset
, or to the daily web log
As Seen from Just Above Sunset
. These last two provide links to a variety of other photo albums.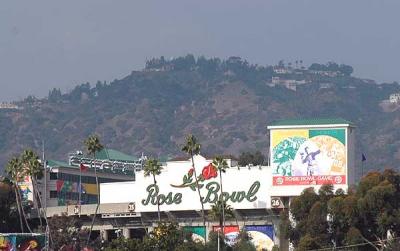 The scene - the Rose Bowl -