From the odder places at the beach, these are from Wednesday, June 8, 2005, almost all after 5:30 in the afternoon, when the light starts to get long. Venice Beach and inland from Venice Beach. It can be strange out here.
A note on these photographs:
If you use any of these photos for commercial purposes I assume you'll discuss that with me. These were shot with a Nikon D70 - lens AF-5 Nikor 18-70mm 1:35-4.5G ED - or AF Nikor 70-300mm telephoto.

Copyright 2005 - Alan M. Pavlik - All Rights Reserved
To go to
Just Above Sunset
, the weekly online magazine where you will find larger versions of some of these photos, with better resolution, click here:
JAS
.
Previous Photo Albums:
Hollywood Rides (
LINK
)
Manhattan and Hermosa Beach (
LINK
)
Botanicals and Oddities (
LINK
)
Venice California and its Canals (
LINK
)
A Flight in a Restored WWI B-17 (
LINK
)
Manhattan, New York (
LINK
)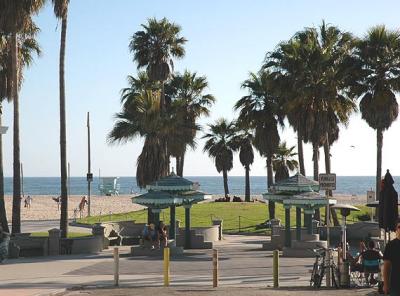 Establishing shot: Venice Beach