Topic: Oddities
---
Paris versus Hollywood – Star Wars on the Champs Elysees and Palm Wars on the Internet
---
Courtesy of
French Word-A-Day
, an invaluable and rather pleasant language tool –
J'ai decide d'etre heureux parce que c'est bon pour la sante.
- Voltaire (I decided to be happy because it's good for the health.)
Okay, that's out of the way.
This week's issue of
Just Above Sunset
- Volume 3, Number 20, for the week of May 15, 2005 - the parent site to this web log, has more than the usual pages from and about Paris, in addition to its Hollywood and current affairs items. Covering the Cessna scare in Washington, and the president's simultaneous and blissfully unaware bicycle ride, Jeremy Stahl, a freelance writer in Paris, offers us
My Pet Goat Re-dux: The safer we are, the less they know?
- and perhaps we will hear more from him. Recommended.
Not appearing on this web log, but of note, check out
Scatology: Protests in Germany
- even if the language is a bit rough. There Ric Erickson, editor of
MetropoleParis
, who was a journalist in Germany before he settle in Paris, has some amusing comments. Also exclusive to the weekly are the columns of Bob Patterson. This week he and Ric in Paris go back and forth on a very odd topic in
Naked Aggression
- and Bob does a number on the Raymond Chandler world of
noir
as the
Book Wrangler
and provides this week's
noir quotes
.
The Hollywood sections? Those would be the photography pages. Exclusive shots from an auction of custom cars built for the movies and television, including what you might remember from The Beverly Hillbillies, the Flintstones and Grease – and much more – in
The George Barris Collection
. An amusing statue of John Wayne in
John Wayne and Larry Flint, and Harry Shapiro from Chicago, a good friend of Jackson Pollock, channeling Frederic Remington
- really. A Double Mini Cooper and Captain Kirk's motorcycle in
Oddities
, and four color studies in
Architectural Color: West Side Whimsy
.
But the real French business? Ric Erickson and I decide to open the Palm Wars. Which city has the most impressive palms – and yes, they do have palms in Paris.
My opening salvo was
Palm Wars: Hollywood versus Paris
- on how this started. Ric returned fire with
Our Man in Paris: A Fool for Palms
.
Recent developments?
I suggested there was another war going on in Paris, pitting Paris against Hollywood.
STORMTROOPERS INVADE PARIS IN FIRST EUROPEAN STAR WARS MEET
AFP -
l'Agence France-Presse
- by way of The Tocqueville Connection - Friday, 13 May 2005 18:48:00 GMT
What is this about?
PARIS, May 13 (AFP) - Darth Vader and the Imperial stormtroopers gave shoppers a nasty shock Friday when they took over part of a Paris boulevard at the start of the first ever official Star Wars convention in Europe.

Some 3,000 fans of George Lucas' action-packed space saga, which has kept fans on the edges of their seats since its launch in 1977, have gathered in Paris for the three-day convention to be attended by some of the films' stars.

The convention coincides with the launch of "The Revenge of the Sith" the long-awaited episode three of the prologue, which brings audiences back to the beginning where the first three films started. Here Lucas finally reveals why the fresh-faced Anakin Skywalker moves over to the dark side to become the frightening, deep-breathing incarnation of evil that is Darth Vader.

The convention was launched with a parade outside the striking Art Deco Grand Rex cinema with some of the most hard-core fans decked out in costumes many of which have been lovingly made by hand.

Confusingly there was more than one Darth Vader, but then everyone loves a bad guy and there were gasps and applause as parents hoisted children onto their shoulders to get a better look.

For many fans unable to afford a trip to one of the official conventions so far only hosted in the United States, this was a unique opportunity to swap news and gossip and show off their own costumes. ?
Geez, there is no end to what Hollywood does to Paris.
How bad is this?
Former policeman Nicolas Hure, 26, from Montarges, became so impassioned by his Star Wars role that he gave up his day job, to work a full-time volunteer job as an extra called on for Star Wars advertising.

"It's just great to be part of another world, another universe," he said.

But getting together the costumes, takes time and money. Video technician Thierry Monmahou, 28, from Besancon, spent around 500 euros (650 dollars) on his garb and looks the spitting image of Anakin played by Hayden Christensen in "Attack of the Clones".

"I was seven, when my father took me to see 'Return of the Jedi', and that was it," he said, explaining how he had to get a riding shop to help him make up the boots, and a tailors to make the costume just right.

But even when the mystery is finally to be solved, Star Wars fans are taking heart from plans for a television series and a cartoon version.

"I think it's going to be bigger than ever, the best is yet to come," said Hure.
Or maybe this is as good as it gets.
Ric?s reaction, on the ground there?
I sat in front of my TV and saw this on the news but it failed to register. I saw chaos and clown costumes, hysteria and insanity, civilians acting weird without reason. This is Cannes film festival time when anything might spring to the little screen. All the excitement is followed closely by the endless and terminally boring tennis at Roland Garros. When I see tennis I think, 'Oops, Cannes must be over.'

On tonight's TV-news, George Lucas was interviewed in Cannes.

Frankly I seem to be operating under the misconception that the latest 'Star Wars' is number 17. Can it be true that the first one was 28 years ago and this new version is only part 3? If so then you have to give the guy credit for keeping it alive with endless 'between-marketing.'

Lucas said, to an overlong question in French, that he thought that the mental level of the newest 'Star Wars' was about 12 years. That's what I thought about the first one; and admired him for doing it that way. Too many adults take it too seriously. As for Lucas, he looks like he's been at it far too long.

And for 'Stormtroopers' in Paris, you know that until recently students were demonstrating here regularly, always surrounded by squads of the CRS riot troops. These look amazingly like Lucas' stormtroopers except for being uniformed in black. White stormtroopers look like Schmoos.

Whatever it is, it'll turn up on TV in three years.
Indeed it will.
But Paris should be Paris. As I have mentioned before, Christmas shopping there five years ago I noted one door from my hotel a store selling California beach wear, and from my window I could see the cinema behind Les Deux Magots was showing Mulholland Drive, and around the corner on rue de Rennes, across the street from the GAP store, was a junk jewelry store named Sunset Boulevard.
Something is wrong here. And they shouldn?t have palm trees.
Sidebar:
In the May 8 item on Iran -
Nuclear Ambitions, Automotive Ambitions
- I reported that Iran is considering a rescue of the failed MG Rover company and might be willing to continue production in Birmingham in the UK ? or move the whole factory to Iran. Then I came across this:
END OF AN ERA AS IRAN BIDS GOOD RIDDANCE TO BRITISH CAR
AFP -
l'Agence France-Presse
- by way of The Tocqueville Connection - Sunday, 15 May 2005 10:47:00 GMT
This gives a great deal more detail on the Paykan, a descendent of Britain's long-gone Hillman Hunter, that is being phased out. MG Rover is one answer. But note this on what they build there now:
? the firms now assemble more modern cars such as the functional Peugeot 405 and the trendy Peugeot 206, and a project involving Iran Khodro, Saipa and France's Renault has also been set up to produce the Logan model - a potential replacement for the Paykan as the budget car of choice for ordinary Iranians.
Paris turns Hollywood, and they drive French cars in Tehran. Very odd.
In any event ? here are two Paris palms from Ric you have not yet seen ?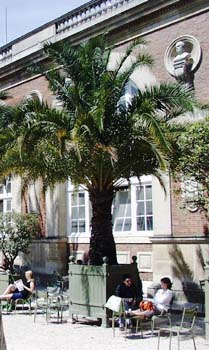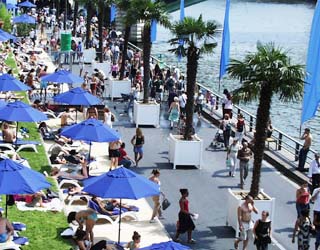 This is all very odd.
By the way, at this week?s
Just Above Sunset
you will find modified versions of items that first appeared here ?
-
Fish Stories: A Conversation on Displaying One?s Faith
-
Ambiguity: We don?t recommend him, so let?s vote!
-
Fretting: The Price of Failure in Iraq
-
Ethics in Three Parts: The State of Things
-
Infamy: Was he number three, or are you?
-
Our Turn: The Greatest American of All Time