Topic: Photos
---
Late Afternoon Light and the Strangeness of Southern California
---
A day away from current events – working with new photographs – and you will find forty-three of them at
Late Afternoon Light and the Strangeness of Southern California
in a new album.
These are from the odder places at the beach, from Wednesday, June 8, almost all after 5:30 in the afternoon, when the light starts to get long. Venice Beach and inland from Venice Beach. It can be strange out here.
A selection of these in higher resolution with more detail will appear in
Just Above Sunset
, the parent site to this web log, on Sunday. These in this album were snapped on the way to the media softball game Bob Patterson insisted we cover, and we did,
here
. Newspaper and magazine writers, even for the major publications, don't do softball well, but Ric Erickson, editor of
MetropoleParis
, got an invitation and, since Montparnasse in Paris is a long way from Venice Beach, we covered the event for him. The photos are amusing.
But the really odd stuff?
Jonathon Borofsky's "Ballerina Clown" (1989) - the Renaissance Building at Rose and Main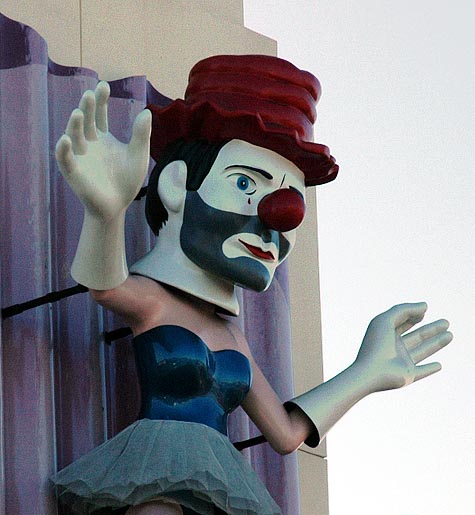 Giant Binoculars 1985-1991, Claus Oldenburg ? Giant binocular shape incorporated into the Chiat/Day Building - architect Frank Gehry ? and the interior of the binoculars forms a conference room. Main Street, Venice (five shots in the ablum)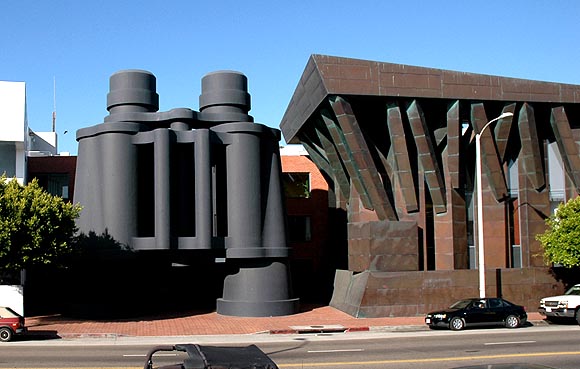 Malibu as seen from Venice Beach

Looking the other way? Sailboats...