Topic: Photos
---
Union Station, Los Angeles
---
No politics today - a photo shoot late this morning, downtown.
Union Station, built in 1939 for the Union Pacific, the Southern Pacific, and the Atchison, Topeka and Santa Fe - considered to be "The last of America's great rail stations." Designed by the father and son team of John Parkinson and Donald B. Parkinson. Spanish Colonial, Mission Revival, Streamline Modern, mixed - add some Moorish and Aztec details, and travertine marble. You've seen it in many movies. Photos, Tuesday, August 16, 2005.
Four high-resolution shots here. A photo album of twenty-eight shots
here
, including shots of one of the many locomotives here built by my friends in London, Ontario. Almost all the Los Angeles Metrolink locomotives were built there.
Not here or in the album? In the adjoining courtyard, a union rally - the AFSCME (American Federation of State, County and Municipal Employees), Local 1902/1001. These folks run the water system here, and they want a new contract. Be that as it may, for this rally they hired a mariachi band - the best I've ever heard. The photos of the band and the rally will appear in this coming Sunday's
Just Above Sunset
as a special feature.
__
Enter and buy your tickets...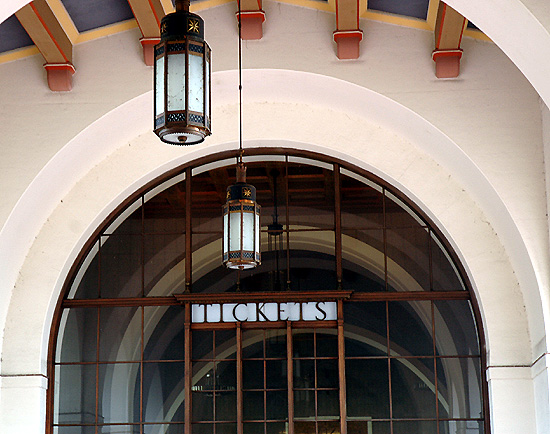 The old restaurant - architect Mary Colter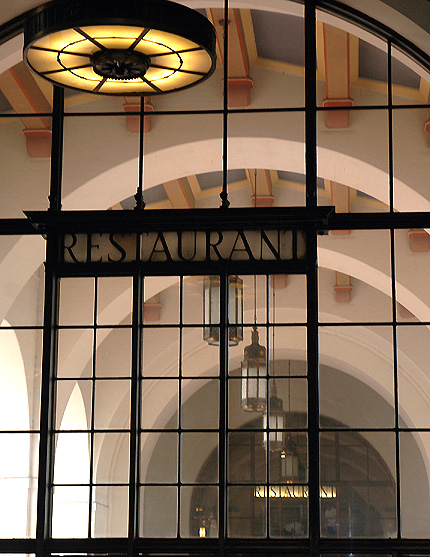 One of those Canadian locomotives...

The front door, so to speak...