There was no issue of Just Above Sunset last week. I was visiting family in Cincinnati. What's new in Cincinnati? The Rosenthal Center for Contemporary Art downtown. All the architecture magazines are calling it an "important building." Here it is. It opened Saturday, May 31, 2003 - designed by a London based woman, Zaha Hadid, born in Iraq. She is currently Professor at the University of Applied Arts, Vienna.
From the official website... A central feature of Hadid's design and an integral part of her strategy to engage visitors is a design element that the architect calls the "Urban Carpet." Fabricated from concrete that was cast on site, the Urban Carpet extends from the city's existing intersecting grid lines at Sixth and Walnut streets, forming the floor of the Center's ground level and gradually curving upward to form the back wall of the new structure - drawing the public sidewalk into the CAC and further erasing the boundary between indoor and outdoor space. As it curves and rises to become the back wall of the building, the Urban Carpet serves as a backdrop leading visitors up an open ramp/stair that zigzags from the mezzanine to each successive floor above. The openness of the space and the sightlines into the galleries from the ramp/stair gives visitors unique and unexpected glimpses of the art objects and installations on each level as they move through the building.
From the Los Angeles Times... Seeing it from a distance for the first time, while approaching it at one of the busiest intersections in this old Ohio River city's downtown, is both soothing and invigorating. Its concrete rectangles float up and jut out from a first-floor glass base as if, like birds, they had decided to take flight. The new building - the first by the Iraqi-born architect to be built in the U.S. - has the power to calm and center the visitor with its quiet palette and materials. Hadid's innovative "urban carpet" design technique - the concrete floor curves up in a graceful swoop to become a rear wall - turns the arts center into a kind of playground. Near that wall are long, black walkways. I found myself running up and down them like a kid walking long, dark pirate-ship planks. Everyone I passed seemed to be having just as much fun.

Well, here it is, set off by the other architecture one finds in these old river cities, here and in Pittsburgh where I grew up -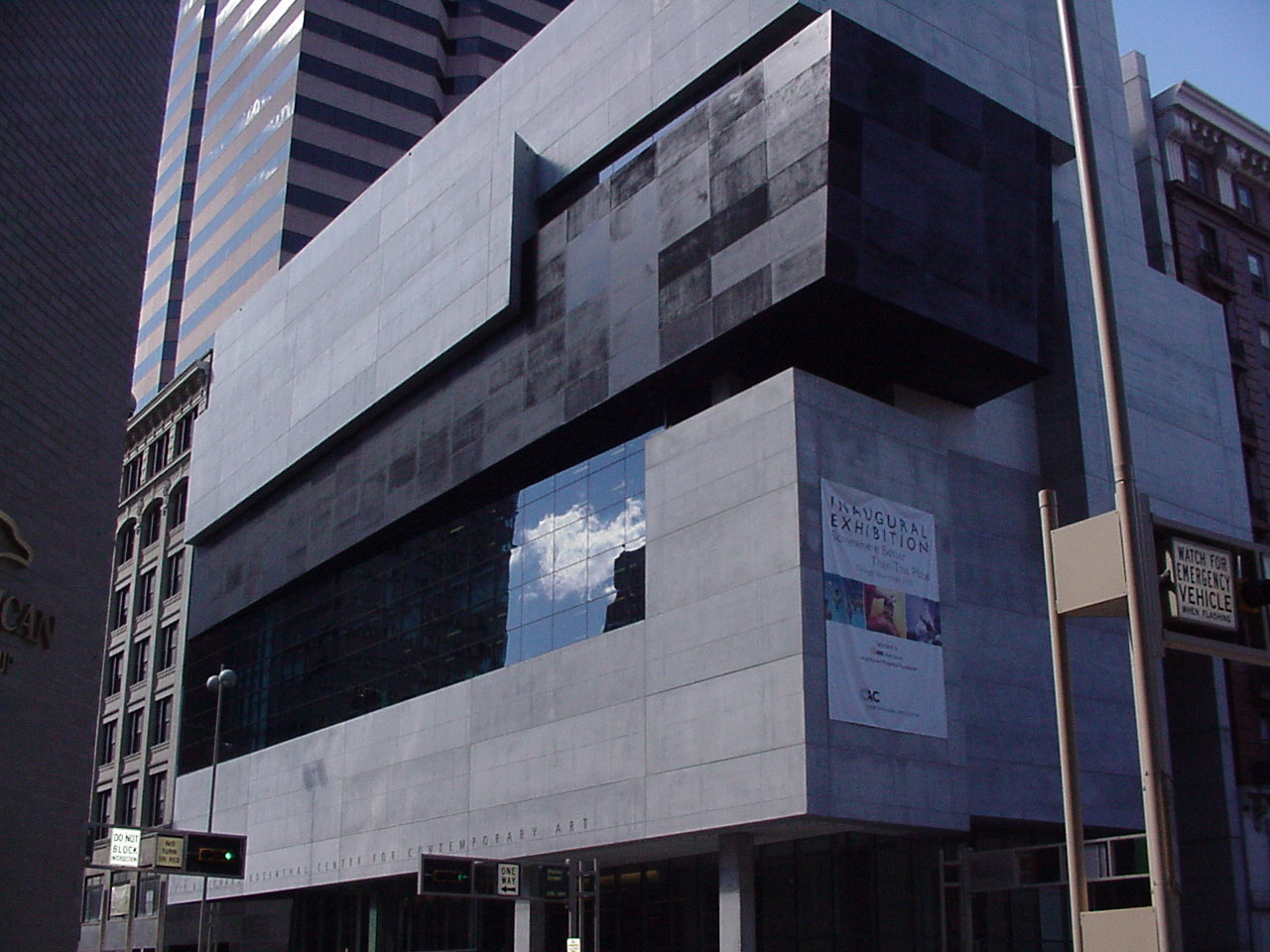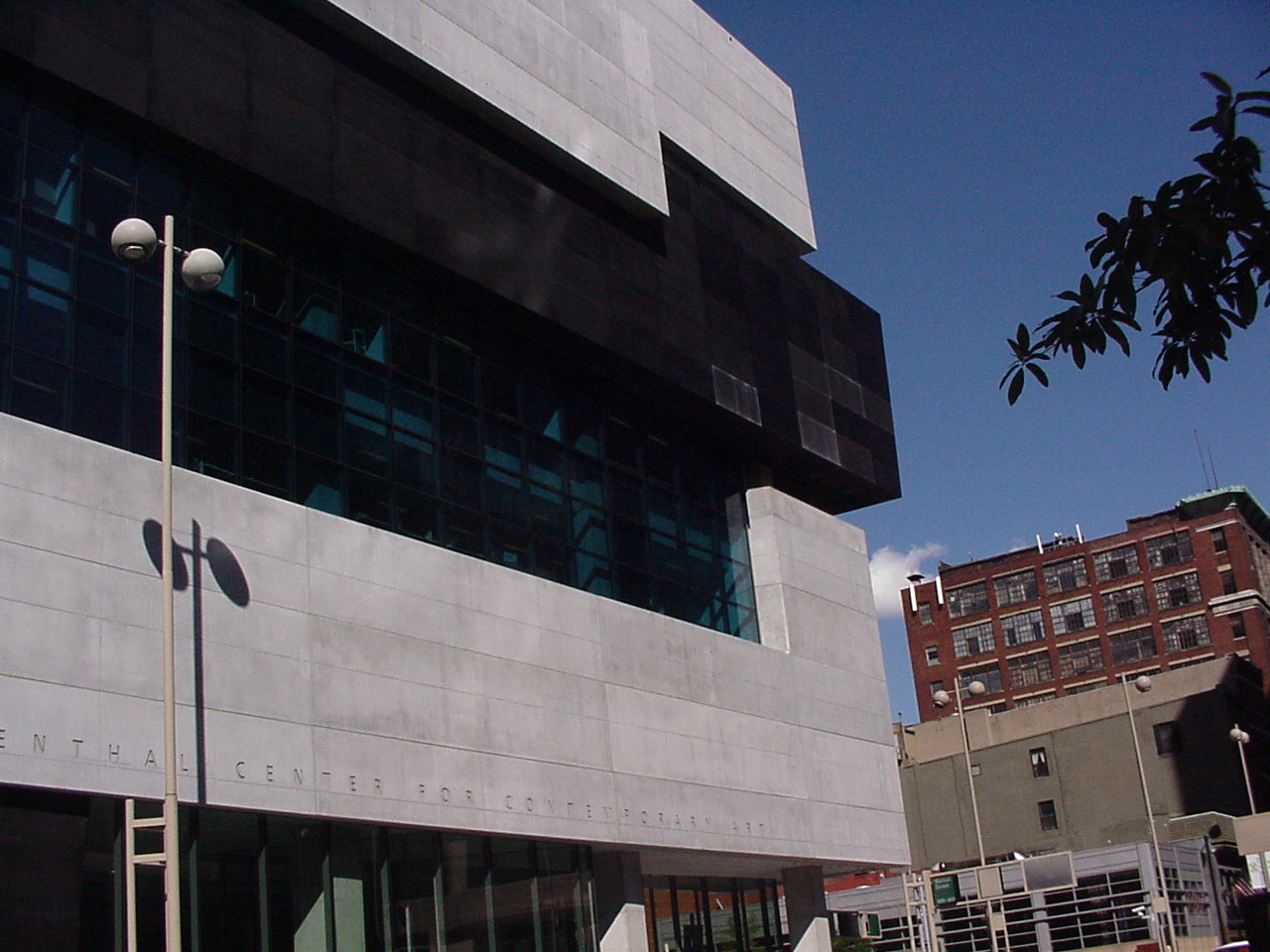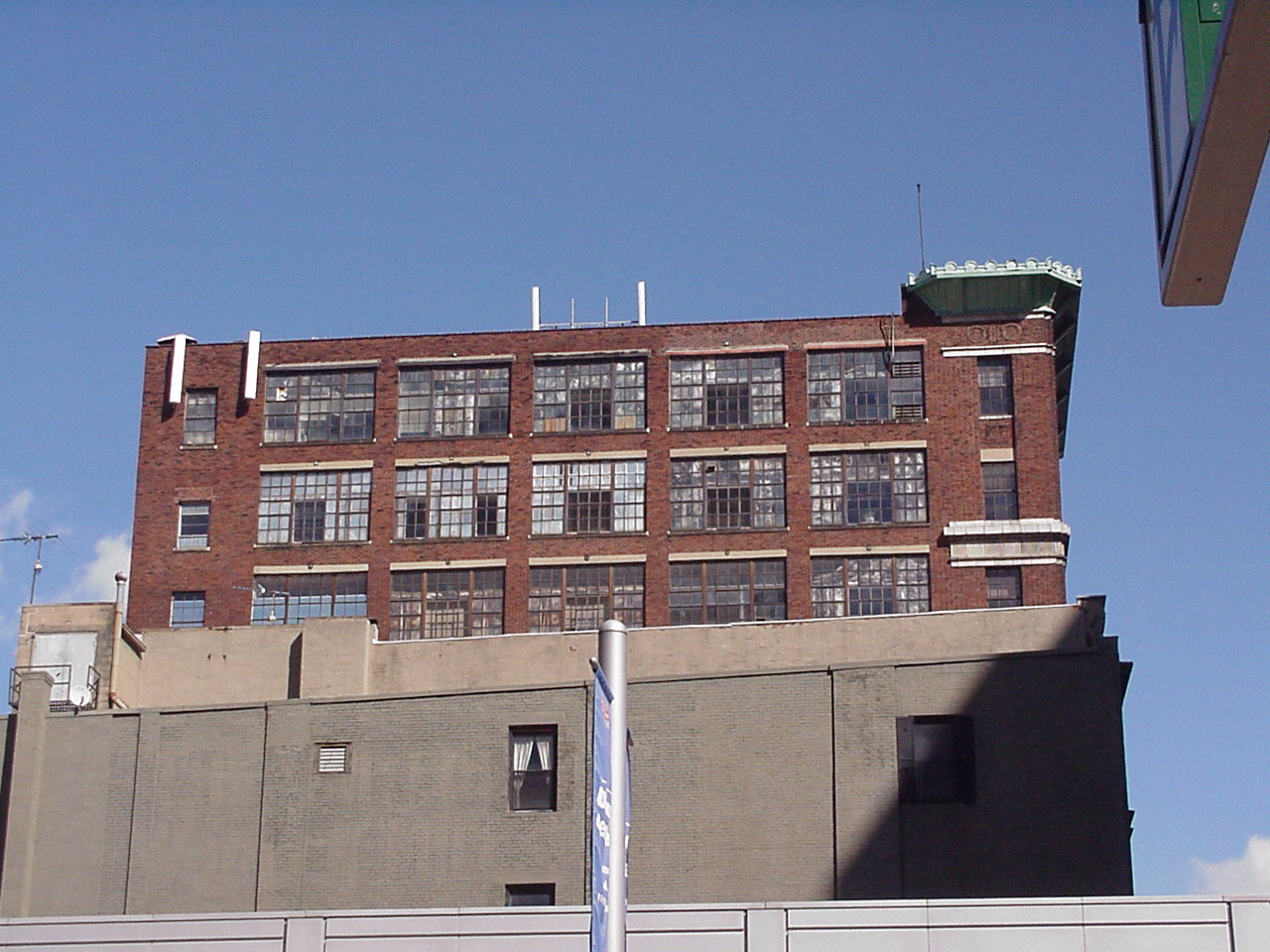 Inside. One of the ramps, as mentioned above, with mirrored disco balls? Yep.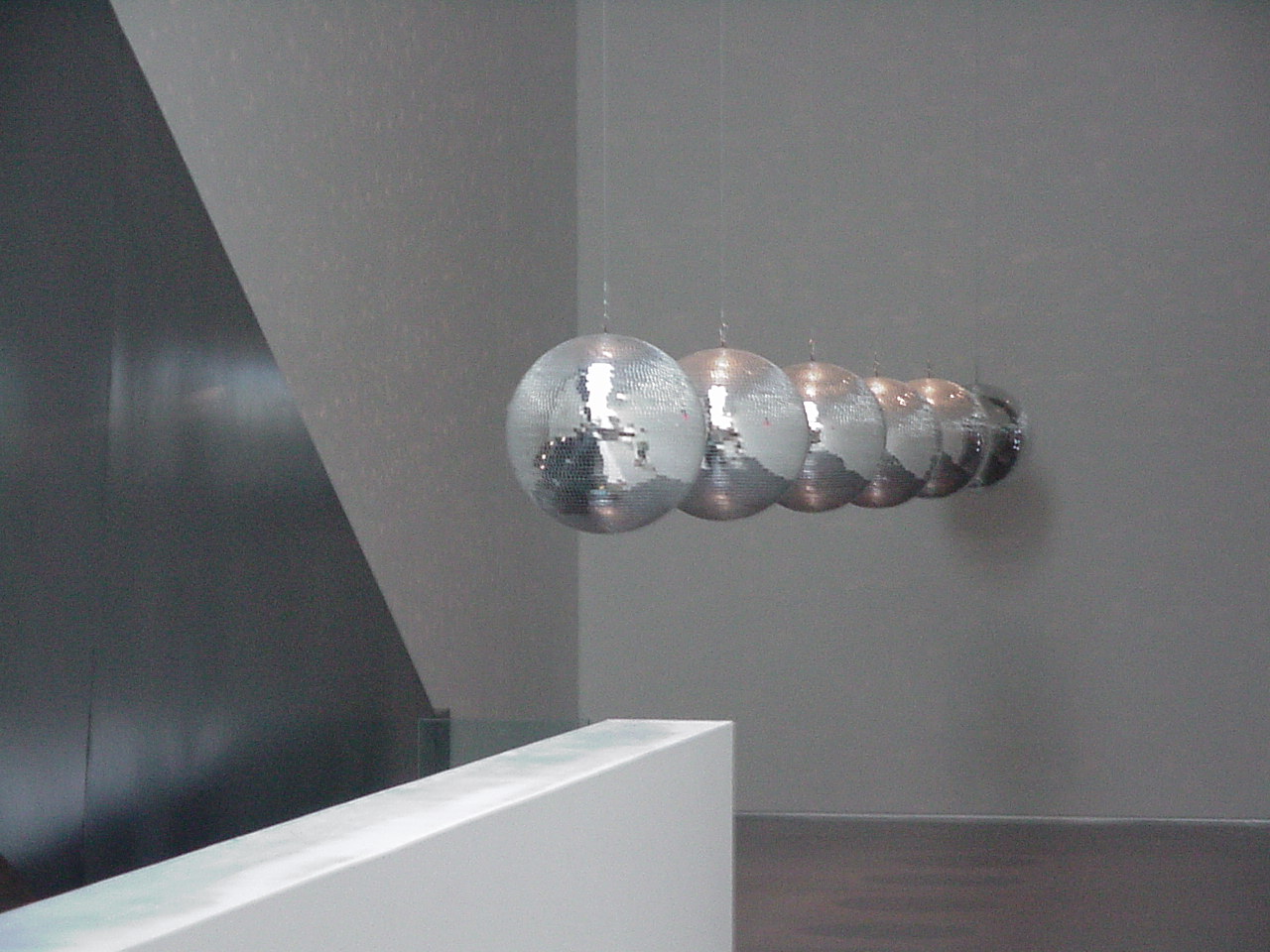 A display of Japanese promotional manikins. A bit unsettling. Corporate life.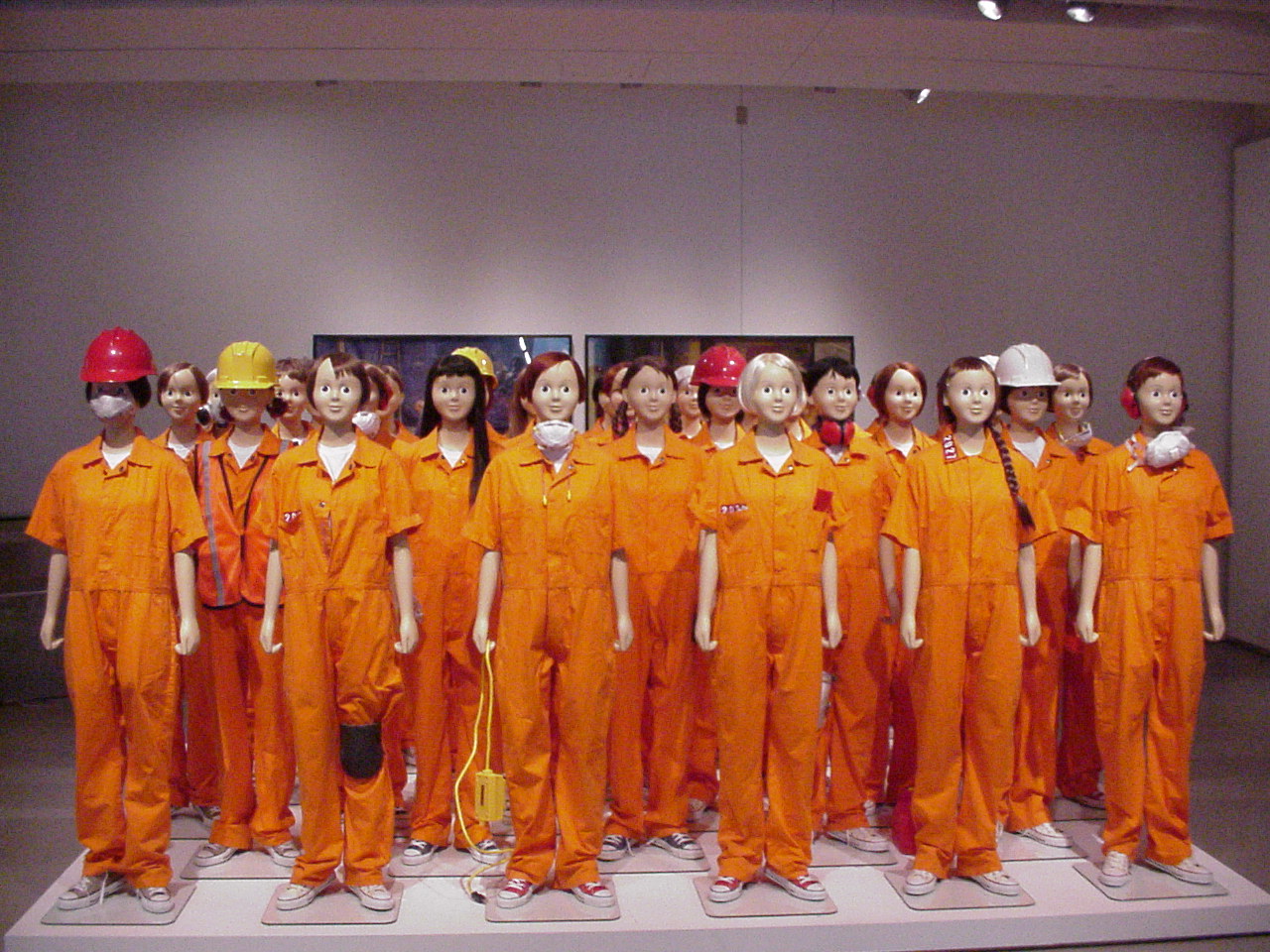 Not pictured... In Janet Cardiff's Forty-Part Motet (2001), 40 speakers around the perimeter of an empty gallery project 40 distinct voices in a performance of English Renaissance court composer Thomas Tallis' sacred Spem in Alium. Listeners can walk around and experience each voice separately, small groups of singers together or, sitting in the center of the space, the unified choir. Cardiff's work has appeared at the San Francisco Museum of Modern Art and the Tate Modern's opening exhibition, Between Cinema and a Hard Place.
Forty-channel stereo? Yep. It was spooky. And cool.
And outside on the streets, more odd art. No, not Andrew Leicester's controversial "flying pigs" sculpture, a whimsical tribute to Cincinnati's 19th century heyday as a meat processing center known as Porkopolis. Not even the giant pig carved from Ivory Soap you might have seen two weeks ago on all they national news shows in their "around America" human interest segments. Last week everything was made from baseball bats. And just outside the Rosenthal you will find "Batzilla" and a very large, "sexy" woman's shoe - with a real "home plate" on top.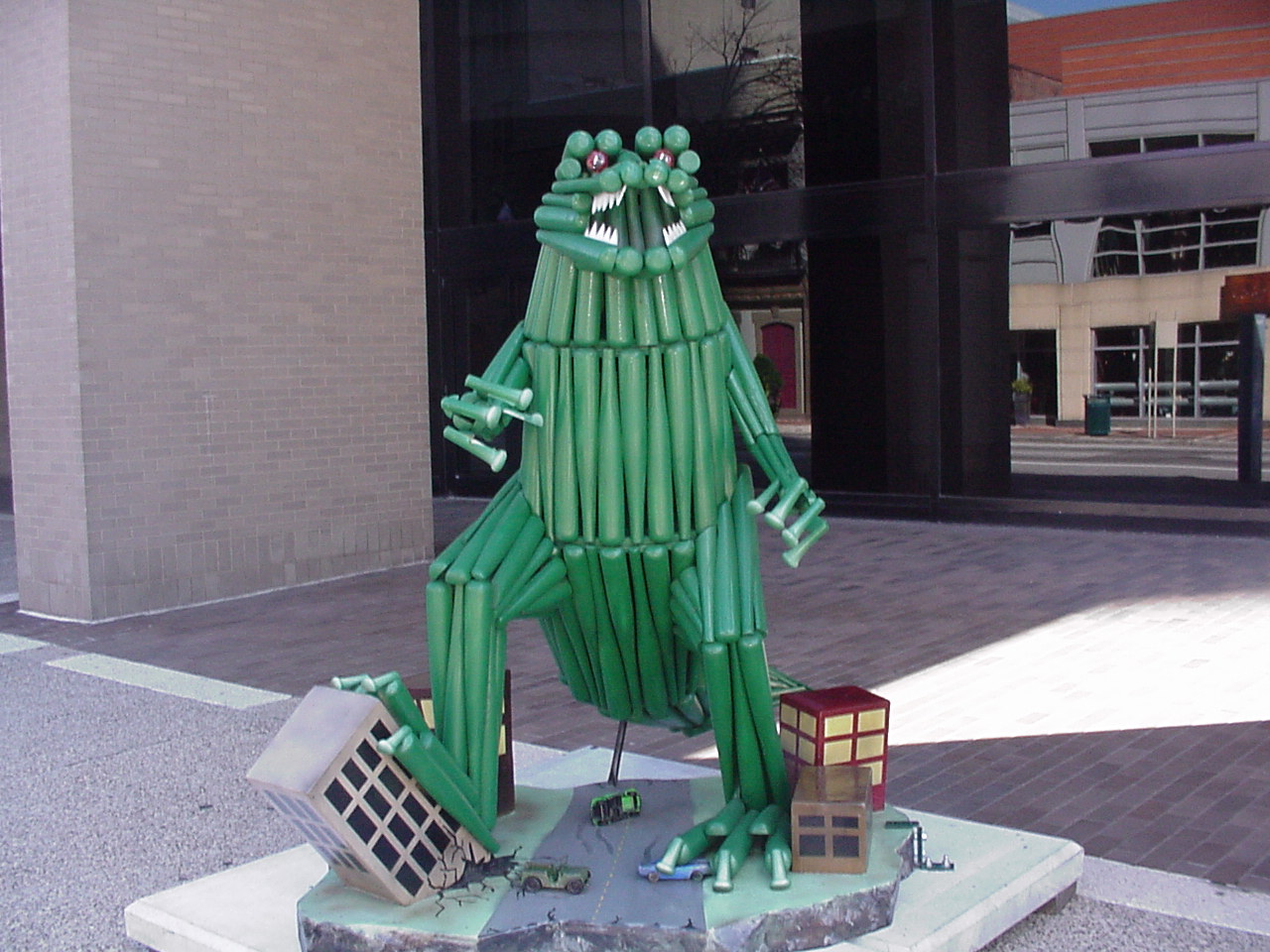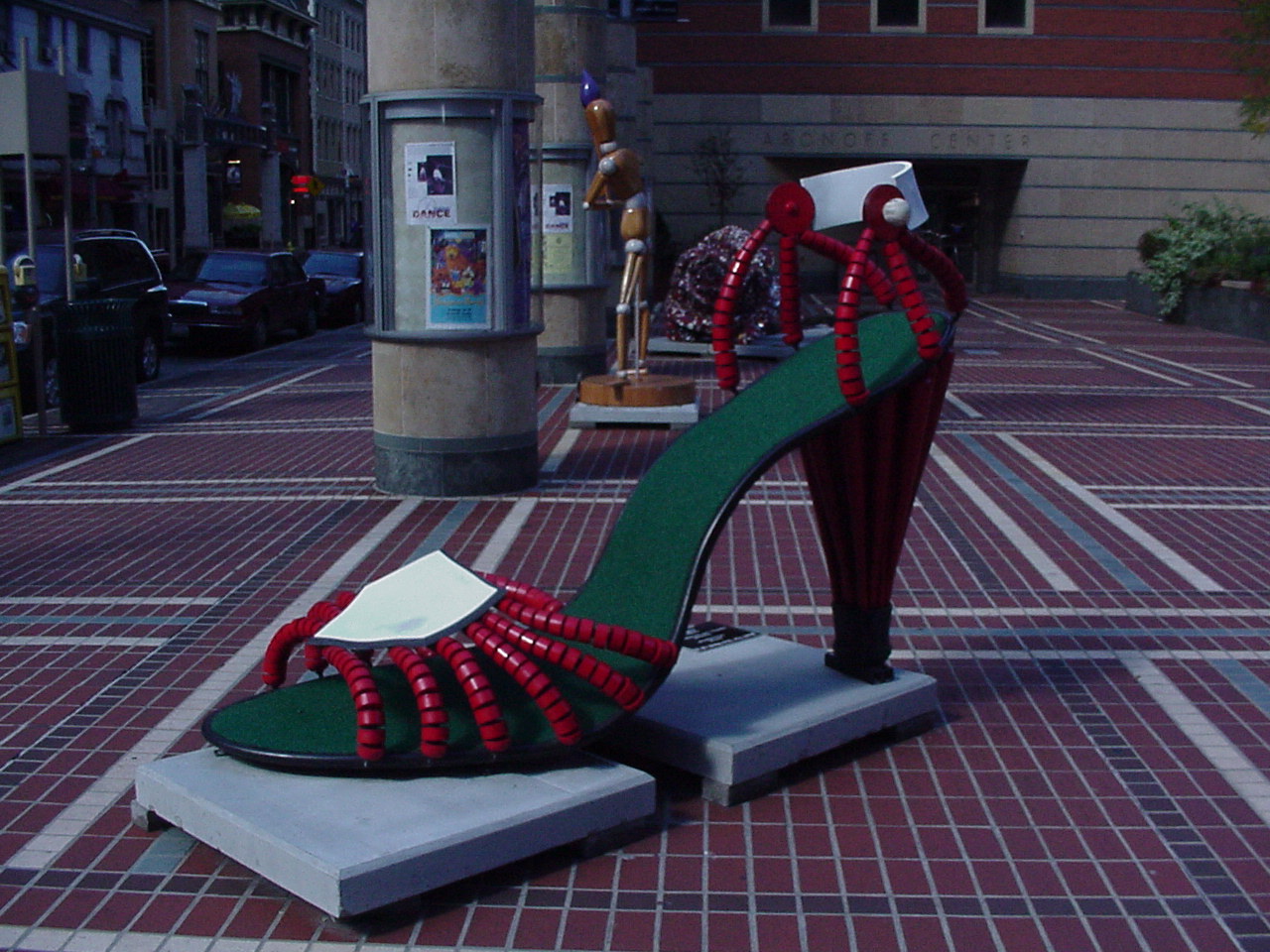 ________________________ ...back home
From last week's home page, complex palm trees on Sunset in Beverly Hills, and a companion shot to the red trees on this week's home page.