On the Scene: Another Day in Hollywood
Topic: The Movies
---
On the Scene: Another Day in Hollywood
---
Just another day in Hollywood...
The press release is here -
Warner Bros. Pictures Presents in Association with Virtual Studios the Los Angeles Premiere of POSEIDON Wednesday, May 10th at 7:00 PM
-
WHAT: Red carpet arrivals at the Premiere at Grauman's Chinese Theater

WHO: From the film: Kurt Russell, Josh Lucas, Richard Dreyfuss, Jacinda Barrett, Emmy Rossum, Mike Vogel, Mia Maestro, Jimmy Bennett, Andre Braugher, Kevin Dillon, Freddy Rodriguez, Stacy Ferguson and director Wolfgang Petersen - Other special guests include: Dean Cain, Ricardo Antonio Chavira, Josh Duhamel, Harry Hamlin, Jay Hernandez, Oliver Hudson, John Legend, Carol Lynley, Gabriel Macht, Lisa Rinna, Taboo, Jon Voight, Kate Walsh

WHEN: Wednesday May 10th - Check-in: 5:00 pm - Red carpet arrivals begin: 6:00 pm - Screening begins 7:00 pm

WHERE: Grauman's Chinese Theater, 6925 Hollywood Blvd.
A bit on the film
here
and you can watch the trailer
here
- directed by Wolfgang Petersen, the screenplay by Mark Protosevich from the novel by Paul Gallico - "In this remake of the 1972 disaster classic 'The Poseidon Adventure' (1972) , a luxury ocean liner capsizes from a colossal tidal wave, leaving its survivors to fend for themselves as they find a way out."
From
Michael Phillips
in the
Chicago Tribune
Wolfgang Petersen deals in earth, air and fire, but at heart he is a water-based director. He made "Das Boot." He marshaled "The Perfect Storm," released in his native Germany as "Der Sturm." And now he has made a film about das Boot und der Sturm, otherwise known as "Poseidon."
From the
London Free Press
(London, Ontario, Canada),
this
, one of those insider accounts of how hard it was on the set what with the actors getting injured, or sort of injured in that Hollywood star way (a sprain, getting wet), and from the
Seattle Post-Intelligencer
,
an early review
- not like the original as the effects are amazing these days, and the tension impressive, but it is kind of stupid fluff.
The Hollywood premier was, as usual, two days before the thing opened nationwide, or worldwide, or whatever. It may be the big hit of the summer, or a turkey. Who knows?
The traffic was awful, but the camera was handy. No stars at 6:15 - on the way home from the supermarket - but there were these fans, hoping. It's Hollywood.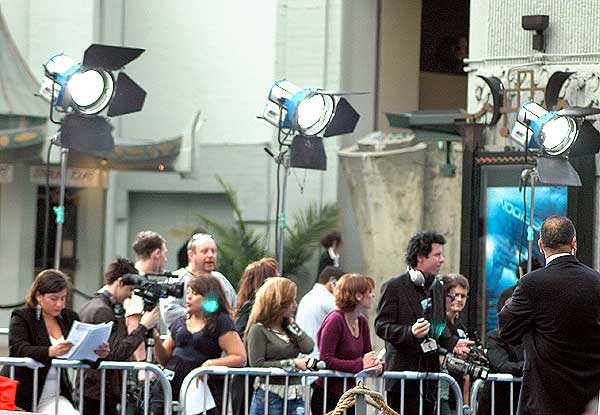 Look up.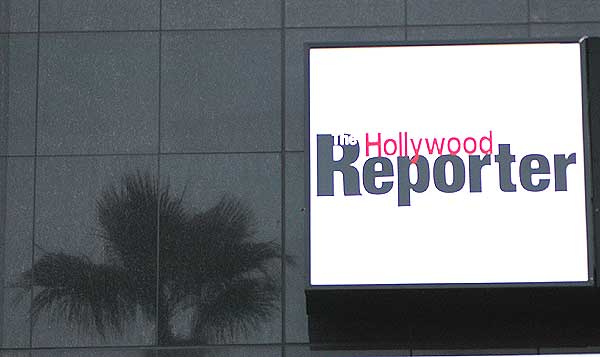 Elsewhere in Hollywood it was calm. Just before the evening fog rolled in the light of the sun going down caught this bunch of orange lines and brick on the hill just above the Actors Studio on the Sunset Strip.