Things To Do On A Sunday Afternoon In Hollywood
Topic: Unusual Events
Things To Do On A Sunday Afternoon In Hollywood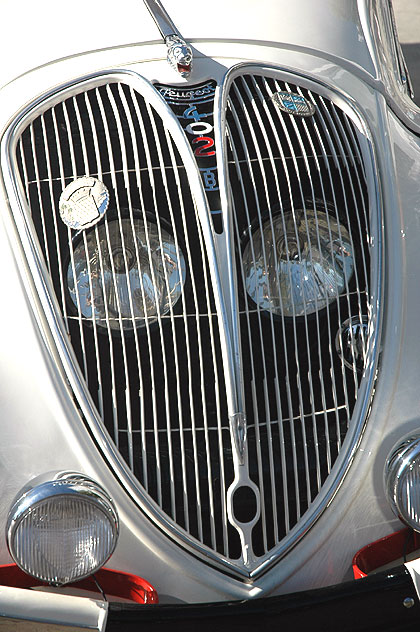 Sunday in Hollywood - slept in, as production of the weekly magazine-format Just Above Sunset ran late. So it was lots of black coffee and plowing through the Sunday Los Angeles Times, run a few errands, and then walk down the hill for a photo shoot.

Downhill - a few steps down to Sunset Boulevard, one block down to Franklin, and one block down to Santa Monica Boulevard. That's Historic Route 66 - just like in the 1946 Booby Troop song - get your kicks on Route 66 and all that. There's a sign that says so - "Historic Route 66" - just so you know.

The day's kicks were a few blocks west at Barneys Beanery - the Second Annual Route 66 Highway of Dreams Charity Car Show - ninety vintage cars and celebrity classics, exhibits, food, festivities and a car competition, as they promised. George Barris - the "Kustom King" - was this year's Honorary Chairmen, but I missed him. No matter - I've covered his cars before, twice actually.

And I've photographed and commented on Barneys Beanery before (see the last photo on this page) - on October 4, 1970, Janis Joplin sat at her favorite booth, thirty-four, and downed two screwdrivers before heading up to the Landmark Hotel (gone now). She died there later that evening.

But the cars were great - took a hundred shots and the best will appear in next Sunday's weekly. There was a very cool 1938 Peugeot 402 Eclipse DeCapotable with a retractable hardtop - just like the little Benz SLK I used to own (not really). It won Best in Show. The European machines were impressive - a pristine 1956 Benz 300SL Gull Wing Coupe (very red), a perfect 1954 Jaguar XK120 Fixed Head Coupe (egg shaped and egg white), and there were the two blonds in the 1963 Ferrari 250 GTO - but the Ferrari turned out to be a reproduction, built on a Datsun 240Z with Ferrari parts. Well, the girls were trying their best to do the Paris Hilton thing, but that wasn't working out either. The American machines were great - old Packard monsters and custom rods and all. There was even a 1962 Amphicar - the little convertible your drive into the water and then use as a boat. It was turquoise and the twin propellers under the rear bumper were white. Cute.

But there was the Janis Joplin vibe, and the best cars were parked in the shade under Emser Tile - the building used in Lethal Weapon for the scene where the businessman wants to commit suicide and Mel Gibson goes all crazy and jumps off the roof with him. They're handcuffed together. Yipes. I walked home to my place, a few doors from where F. Scott Fitzgerald drank himself to death while working on The Last Tycoon. It was his birthday. It seemed best to hide and process the photos.

Here are some of them, starting with the Peugeot, followed by the 1956 Benz 300SL Gull Wing Coupe, then the 1954 Jaguar XK120 Fixed Head Coupe.