Topic: Photos
---
Our Man in Paris - Goodbye November
---
From Ric Erickson, editor of
MetropoleParis
- an account of how the month ended in Paris. Here in Hollywood, seventy-three and no clouds, just a milky haze all day, and palm trees and all that.
Goodbye November
PARIS - Wednesday, November 30, 2005
Just because it's cold outside is no excuse for not covering Paris, but I put off going out as long as possible. A good thing too because it is damp and humid, with a breeze that slices, and the sky looks like torn nylons. It is almost dark in the afternoon, with the fallen leaves looking like pieces of eight, now worthless in our plastic age.
Outside the door, the Toyota veteran of the Dakar, for the days of January sun in the Sahara, racing to the beach of Senegal. There's more Africa on the Morris column up at Maine. Another animal movie for the kids on their Christmas holidays. The avenue itself is bitter with the wind blowing up from the Porte d'Orléans. I cross from the police station to the unemployment office and find a new poster on the bus stop. 'Le Tigre et la Neige' is another kids' film, by Roberto Benigni, wearing wings and white shorts.
There's so much Africa out here that I slip into the boulangerie where other people are taking refuge in the smells of bread, with the cakes filling in with their candy for the eyes. Then down Daguerre where the wind can't find itself and there's a crowd in the café, warming itself at the cold bar, not bothering with the oysters out front. In half an hour it has gone from dim to dark but the horse players care not at all. The Joe is standing outside the Poste, opening the door for tips, and I pass him a euro, thankful that I can walk home as fast as I want.
__
Outside the door, the Toyota veteran of the Dakar -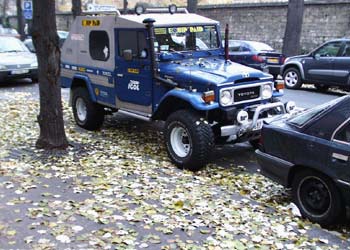 ... up at Maine (four in the afternoon) -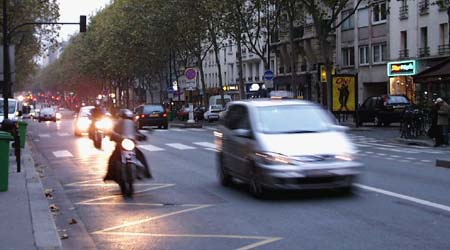 ... the cakes filling in with their candy for the eyes -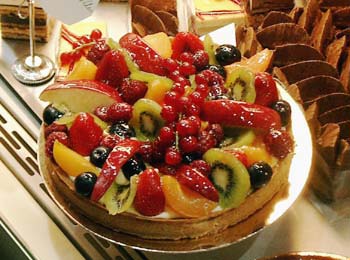 ... Daguerre where the wind can't find itself and there's a crowd in the café -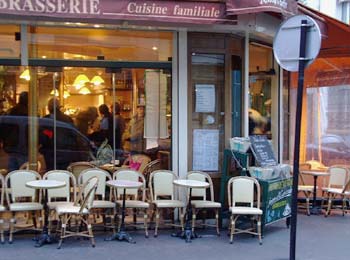 Text and Photos, Copyright © 2005 Ric Erickson, MetropoleParis