Water Taxi Beach, Long Island City, Queens
Topic: World View
Our Man in Paris - New York, Water Taxi Beach, Long Island City, Queens
Our Man is Paris is Ric Erickson, editor of
MetropoleParis
, who this August isn't in Paris at all. One leaves Paris in August, of course. At least the Parisians do.
So Ric is in the Big Apple. Well, actually he's not in Manhattan. He's across the East River in Long Island City, Queens. Oh, you know - Astoria, Hunters Point, Blissville, Ravenswood, Dutch Kills and Bowery Bay - where you'll find the former Silvercup bakery, now home to Silvercup Studios, where they film
The Sopranos
for HBO. And there's the Frank Sinatra School of the Arts, and the largest fortune cookie factory in the United States, owned by Wonton Foods, producing four million fortune cookies a day. That place.
This is not Paris, but Ric is having a fine time -
Arrived here with 100 degrees at JFK. No air-conditioning. But now New York has settled down to best summer weather many can remember. Coney Island doing fine. Had my cheesecake at Junior's. Been on the terrace of the Athens Cafe in Astoria, twice. Dancing on dirt at Flushing town hall - plus fancy eats for cheap. Man, New York City at 85 degrees, 35 percent humidity, 10 mph breeze - very, very fine. No need for Florida.

Here, Long Island City's very own and unique Water Taxi Beach, right across from 34th Street. Blindingly white sand blitzed most photos - overexposure! The photos - beach entry, beach flag, and beach cocktail area.
Here they are -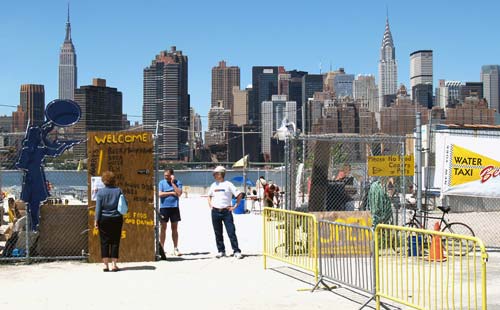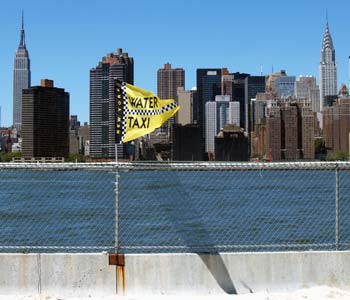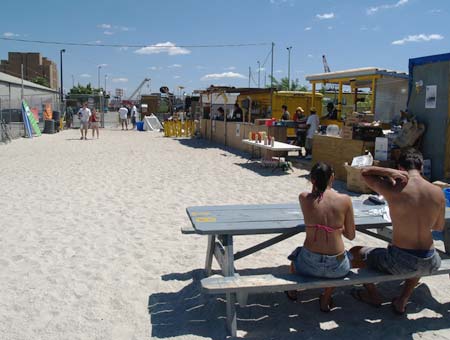 Editor's grab from Google Earth - Manhattan on the left, the East River in the middle, and Water Taxi Beach, Long Island City, Queens, from about 6,750 feet up.