Topic: Corrections Noted
---
Correction: Good Stuff, Actually For Sale
---
On one of the photo pages in
Just Above Sunset
- August 28, 2005,
Very Far Above Sunset
- you would find a shot of the only vineyard in Beverly Hills, sister city to Cannes, with the comment that this was not a commercial vineyard - the fellow keeps the wine to himself.
Ah, it's not true.
My information came word-of-mouth from someone who lived in the area, as we walked by the place on the street below.
I see in my local paper that the place is actually in Bel-Air, not Beverly Hills, which is a bit further east. Secondly, this place, Moraga Vineyards, is not only Los Angeles' lone commercial wine grape grower, the owner is now building an on-site winery, the first to be bonded in the City of Los Angeles since the start of prohibition. Thirdly, the house on the grounds - a 1939 "ranch-style" home - was built for the director Victor Fleming ("Gone With the Wind," "The Wizard of Oz") when Howard Hawkes was his only neighbor, and the stables on the grounds are where Clark Gable kept his horse. Ah, Hollywood history.
The vineyard: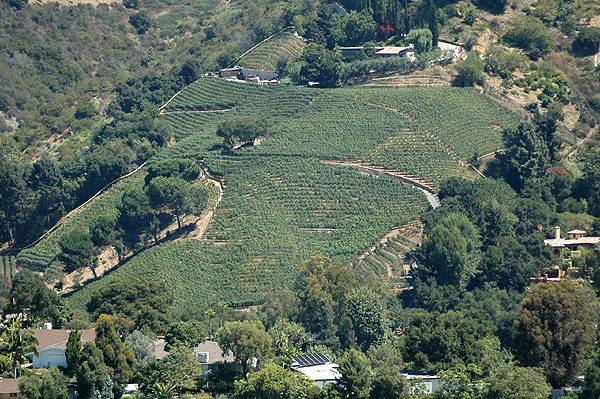 All the facts are here:
Finally, a winery in Bel-Air
Corie Brown -
Los Angeles Times
- September 28, 2005
It seems the place is "home to one of California's most highly regarded Cabernets" and has been owned for years by Tom Jones. No, not the Welsh singer wildly popular in the early seventies, but the Tom Jones who for thirty years was the chief executive of Northrop Corporation - an aeronautical engineer by training. He retired in 1990, so he was nominally my boss when I landed my first job there after I moved to Los Angeles from upstate New York in 1980 - although I was a lowly fellow instructing supervisors on employee relations and never saw him. Little did I know he was a major conservationist - a trustee of the California Nature Conservancy for fifty years - and that in 1959 he bought this fifteen acres of unused land for a little under a half million dollars. My handy
CPI Inflation Calculator
says his 450,000 outlay is the equivalent of well over three million these days. For fifteen acres of chaparral?
Well, it worked out. The land was cleared and planted - they even got rid of the hippies growing marijuana on the hillsides in the sixties. They planted their first grapevines in 1978 and Jones and Scott Rich, his winemaker, now produce really good wine:
And at $125 a bottle for his Cabernet, which includes 20% Merlot, and $65 for his Sauvignon Blanc, Jones certainly makes a profit on Moraga wine. He sells out his annual production of 600 cases to a list of 500 loyal mail-order customers, a handful of Parisian restaurants including Alain Ducasse, and a number of the most expensive restaurants in New York City and Los Angeles. Hotel Bel-Air carries Moraga as its "neighborhood" wine. And the wine is usually on the shelf at the only two stores that Jones allows to stock it: Wally's in Westwood and the Beverly Hills Cheese Shop.

Is it good enough to be one of California's most expensive wines? British wine critic Jancis Robinson called it one of her favorites when she tasted through a flight of 1994 and 1995 California Cabernets in 1999. But she hasn't tasted it since, she says. American critic Robert Parker gave the 1993 Moraga Cabernet an 89 on his 100-point scale.
Not bad for a sort of mom-and-pop operation - Alain Ducasse serves it in Paris.
The
Times
has much more detail.
Just Above Sunset
stands corrected.