Our Man in Paris: The Heat Wave
Topic: World View
The Heat Wave
Cole Porter may love Paris in the summer, when it sizzles, but it can be unbearable. Our Man in Paris, Ric Erickson, editor of
MetropoleParis
, sends us the status midweek, with photos.
Paris - Wednesday, July 19 -
I don't know how things are in Hollywood today, but here the thermometers are popping their gaskets. The breeze - there is one - feels like it is full of fine sand from the Sahara. So appropriate for the beginning of "Paris-Plages" tomorrow.
Captured, Matt z'Art standing under the famous pharmacy thermometer, convinced that it gets its temperatures from Yahoo France because that is what he has on his Internet radio. He can look out the window and see if the sign is right. While standing there the temp hopped up another half degree, to blood temperature. Cool, eh?

























The previous afternoon, 15h00 [3:00 pm], in the 14th arrondissement -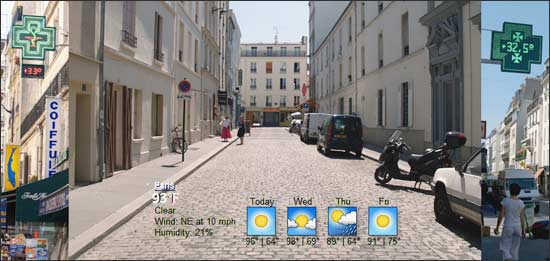 My Fahrenheit to Celsius converter says 37 Celsius in the first photo is 98.6 Fahrenheit. And Ric has much more to say about all this here.

Out here? At three in the afternoon on the 19th it was 104 at the corner of Laurel Canyon Boulevard and Ventura Boulevard, over the hill in Studio City. That's what the thermometer on the bank said anyway. That would be 40 Celsius.

Wednesday, July 19, USA Today says Europeans Struggle to Keep Cool in Heat Wave.

A few paragraphs on France -
In France, several days of dry heat and high temperatures - which reached 97 degrees in Paris on Wednesday and 102 degrees in Bordeaux a day earlier - recalled a heat wave in 2003, when 15,000 people died from dehydration and heat-related disorders. Many were elderly and were in some cases left alone while families vacationed. Since then, France's government has adopted measures to avoid a repeat of the disaster. On Wednesday, French Health Minister Xavier Bertrand and Prime Minister Dominique de Villepin visited a retirement home to check on the prevention plan.

In Paris, heat-busters included four giant humidifiers placed around the Eiffel Tower, one at each foot, that sprayed passersby with water vapor as they tried to escape the sun's punishing rays.
And some news nuggets from London -
At the historic Royal Courts of Justice, judges were allowed to remove their traditional wigs for court proceedings. One of Britain's largest trade union federations, the Trades Union Congress, issued a statement urging people to wear shorts to work.

And in a rare move, the two-hour shifts of the royal guards who stand outside Buckingham Palace were reduced to one hour at the beginning of the week in preparation for the heat, said the London headquarters spokesman, Col. David Sievwright.

At the Colchester Zoo, zookeepers gave lions ice blocks flavored with blood, and monkeys got blocks containing fruit.

But the heat failed to dash one of Queen Elizabeth II's annual garden parties. Nearly 8,000 people lined up to enter Buckingham Palace.
Did they serve ice blocks flavored with blood?

A screen capture at 6:30 in the evening, Wednesday, July 19, 2006 in Hollywood, 9:30 in New York, and 3:30 in the morning in Paris -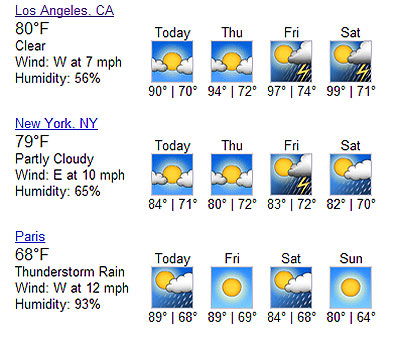 Global warming, or just summer?
Paris photos and text, copyright © 2006 - Ric Erickson, MetropoleParis