Topic: Breaking News
---
Just In: Police Pack Paris on Veterans Day (Armistice Day)
---
Today's news from France, from Ric Erickson, editor of
MetropoleParis
- an account of the situation on the ground there today, Armistice Day, celebrating the end of the first World War.
Police Pack Paris
PARIS - Friday, November 11 - Security was reinforced today in Paris to prevent any incidents during the traditional ceremony to mark the end of World War I at the tomb of the unknown soldier beneath the Arc de Triomphe at the Etoile.
The ceremony passed without incident this morning. Jacques Chirac placed the wreath in the presence of World War II veterans and the minister of defense, Michèle Alliot-Marie. The six poilus still living who participated in WWI are all over 100 years old and a bit too fragile for even short ceremonies.
In total, 3000 extra police were mobilized for the long weekend in the city. The préfet of police in Paris decided to forbid all public demonstrations on Saturday, from 10:00 until Sunday morning at 8:00, in reaction to calls for 'violent action' posted on the Web or distributed via SMS messages.
Today's demonstration in favor of urban peace, called by 'Banlieues Respects' for 15:00 at the Peace Wall on the Champ de Mars, drew 250-300 persons. Similar demonstrations are planned for Lyon and Toulouse tomorrow.
Overnight violence diminished again, with concentrations in 20 areas out of 160 communes affected. In Bordeaux police cars parked at the Palais de Justice were set on fire, while the number torched in the Paris suburbs rose slightly to 111, up from 82 on Wednesday night. Throughout France 463 vehicles were destroyed Thursday night. Police arrested 201 persons.
Also on Thursday night, minister of the interior Nicolas Sarkozy appeared on the France-2 TV program 'A Vous de Juger.' He refused the idea of confusing the kids from poor suburbs with hoodlums, saying, "When I say they are hooligans or rabble, I persist and sign - and in no case in this sense do I mean all youth" - repeating controversial terms used in Argenteuil.
Insurance companies have estimated that the cost of damage from the urban unrest is going to total 200 million euros. On TV-news tonight a spokesman said that owners are burned cars would be compensated, regardless of whether they had clauses covering fire.
Marseille Strike Resumes
Transport workers in Marseille voted to resume their strike of municipal buses and the Métro after a five-day pause. Part one of the strike lasted 32 days, causing many residents to become foot-weary, even with a belated system of replacement buses. The employees are protesting against a city plan to have a private company operate the Marseille tram lines when they are built.
Photo, Paris, Friday, November 11, 2005 -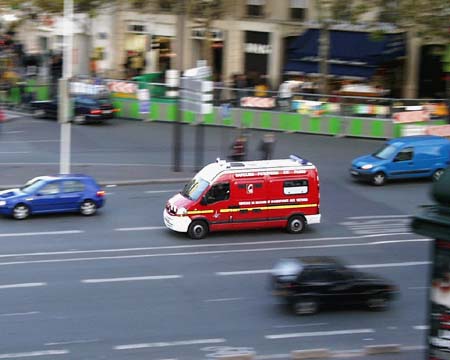 Photo and Text, Copyright © 2005 – Ric Erickson, MetropoleParis