Topic: Photos
---
Travel: In the Land of Spiritual Elevators
---
This is Sedona, Arizona the afternoon of October 1, 2004 in a photograph taken by a friend - with the camera built into his cell phone. He was impressed with the place. I was impressed with the phone.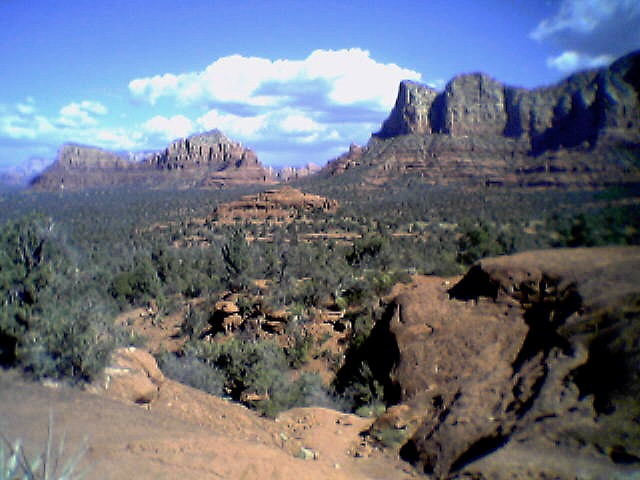 The folks over at
Lonely Planet
have
this
to say about Sedona.
Nestled among crimson sandstone formations at the southern end of Oak Creek Canyon, Sedona benefits from one of the prettiest locations in Arizona. Sedona is the foremost New Age centre in the Southwest and one of the most 'important' anywhere.

In the 1960s and '70s, its surroundings began attracting retirees, artists and tourists in large numbers, but it wasn't until around 1980, when New Agers began touting Sedona's vortexes - points where the earth's energy is focused - that the free birds really started flocking in.

Today, Sedona's New Age Information Center offers lectures, seminars, psychic readings, massage healings and vortex information. Likewise, the Healing Center of Arizona offers anything from an hour in a sauna to several days of holistic healing, reasonably priced vegetarian meals and as much acupressure, massage, yoga, nutrition counseling, herbology, tai chi, meditation and psychic channeling as you can handle. Various other New Age outfits in town - look for the word 'crystal' in their names - distribute free maps showing the vortex sites and sell books, gems and other New Age paraphernalia.

... Sedona began as a quiet agricultural community near Phoenix. In the 1940s and '50s, Hollywood began using Sedona as a movie location, shooting such classics as Billy the Kid and Apache. In the 1960s and '70s the beauty of the surroundings started attracting retirees, artists and tourists in large numbers and the town experienced much growth.

Native American tribes have long regarded the area around Sedona as sacred, to be used only for special ceremonies. Around 1980 New Agers began finding vortexes - specially charged areas of energy - giving rise to a new and thriving spiritual industry in the area.

The Sedona Vortex Guide Book, edited by serial documenter of the metaphysical Robert Shapiro, discusses such wide-ranging phenomena as pink dolphins, spiritual elevators, energy grids and polar tunnels.
If you like that stuff, you can buy your very own copy of
The Sedona Vortex Guide Book
here
at Amazon.
They show these two customer reviews -
One Star: If you are looking for information regarding vortexes from channeled sprits and aliens, then this is the book for you. Besides the channeled information on vortexes, the book discusses pink dolphins and crystal cities 450 under the ground with spiritual elevators that are not working right now, but will. If you find the X-Files fiction and not reality and are more of a Scully, then this book is not for you.

Five Stars: When I first read this book, I found it hard to believe and went searching for Portals. As an Engineer I figured I was pretty smart. Wow, was I in for a shock. I saw the Portal at the Chapel of the Holy Cross and it forever changed my life. My sighting and experience helped me to realize how little I really knew about the world I live in.
Yeah, yeah. I spent a day or two in Sedona once, with the British psychotherapist I was dating at the time, a stunning woman whose clientele was mostly Warner Brother executives and a few of the movie stars, a woman who when she first arrived in America found a job as the personal assistant to Orson Welles. Did that experience drive her to become a psychotherapist? Perhaps. We were with another couple - and as I recall that other woman was a vice president for Sony Pictures, in change of facilities planning.
Hell, if you find yourself in Hollywood for too many years you do risk turning into a cheap imitation of Aldous Huxley - and suddenly there you are standing in the desert chatting about psychology and mystical silliness with the earnest people from the dream factories. Spiritual elevators? I didn't see any, or sense any nearby, nor did I feel the vortexes all around me. Portals? Nope. But I was polite and said the appropriate things. Huxley had mescaline to make this all work. It was painful without that aid.
But as you see, Sedona is pretty.