Topic: Photos
---
Friday night: La rando du vendredi ? Paris
---
Ric Erickson drops a line from Paris -
With all the publicity I've been giving Paris Plage in the sunshine and yesterday's rain - it seems only fair to mention that the year-round Paris Friday night roller rando carries on, rolls on, rolls around Paris for 3 hours every Friday night. Attached photo taken on Avenue du Maine, shortly after 22:00 start tonight from the Gare Montparnasse. Some liberal things never change.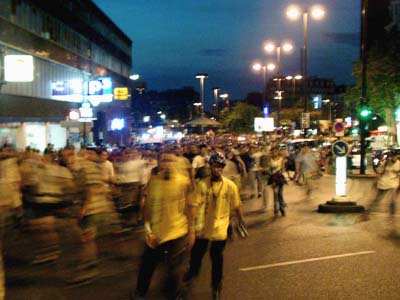 Paris Plage
? - Ric's photo and text at
Eighteen More Days of Paris Plage
from 31 July.
And there is
this
general explanation.
In was back in 2002 that this brave project was launched to turn two miles of the Right Bank of the Seine (near the Pont Neuf and Hotel de Ville) into a beach, complete with white sand, palm trees, sunbeds and parasols, for the summer season. It has returned every year since - welcome to the Paris Plage. The ?1 million initiative, branded by the Socialist mayor Bertrand Delanoe, as "a bit crazy", has become a permanent annual event. The Parisians literally took to the beach and showed what a good idea they thought it was! In addition to lounging on the sunbeds, visitors can take part in a range of free sporting activities, including petanque and volleyball, and dance in the old-time dance cafes, known as ginguettes.
A beach with palm trees in Paris? Why not? Everyone needs a little beach time.
Ric also mentions the word
liberal
because the posting here -
Words, words, words...
- on that term - has generated a lot of comment that will be incorporated in a much longer version of same in this Sunday's issue of
Just Above Sunset
- the weekly parent to this web log. Parisians are liberals, of course. And John Kerry speaks French.
I sent this back to Ric -
I wish I could capture the rumble as the hoard approaches - and I do remember the first time I heard that low rumble in the distance. As an L.A. guy my first thought was - Shit, another damned earthquake! - but then I got it, and they rounded the corner from rue des Rennes and right onto boulevard St-Germain under my hotel window and off toward the Odeon. Cool.
Ric shot this back -
Apropos 'rumble' - the patience of held-up automobilistas is astonishing. While the horde passes, somewhat slowly if there's a lot of them, the conducteurs cool their Friday night heels with nary a beep from a klaxon. With traffic stopped, yes, you can hear the rollers - but it's more of a swishing sound. So, as they traverse Paris the first thing you notice is the fall-off of traffic noise. Why did it get quiet? Then this wagon train of party people on little wheelies comes along, passes for ten to twenty minutes, and the end is swept up by six police vans and a couple of SAMU ambulances with the twinkling blue lights.
Yes, they pass in a swish - but you hear a distant rumble first.
So Paris has this thing on Friday evenings when thousands of rollerbladers take to the streets
en masse
. It is odd, no?
Every Friday evening of the year, from ten (22h00) to one in the morning (01h00) and the route for 8 August (
Le parcours du
06/08/2004) is
here
: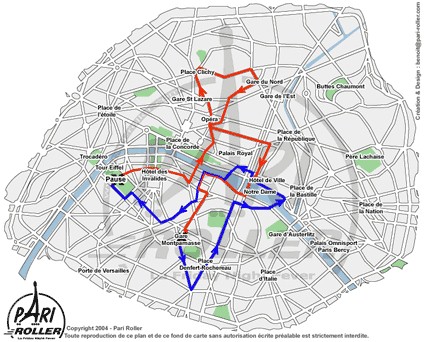 And the website is
pari-roller.com
(click on the little UK flag for the English version) -
You can watch or join a group at Friday Night Fever starting from Gare Montparnasse. At 22h00 (that's ten at night) rollerbladers take off for an eighteen mile tour around the city (with police escort). If in town, give a call for details - Rollerbladers Association: Loi 1901 23-5 Rue Jean-Jacques Rousseau Tel 01 44549442
But I think you can just go join in.
Ric sort of did once - see
Paris:- Friday, 30. July 1999
:
The Friday Night Roller 'Rando'
for the real deal.
But at ten at night here in Hollywood on any Friday it is already seven the next Saturday morning in Paris. Ah. Over. Missed it.