Topic: Breaking News
---
France Stops, America Helps
---
Last weekend, in his regular "Our Man in Paris" column for
Just Above Sunset
, Ric Erickson, editor of
MetropoleParis
, covered a very odd labor dispute in France. See
Sailing Off with a Whole Ship, and the Question of Corsica
- and yes, the disgruntled workers took the ship, and the authorities took it back, and Corsica is a dangerous place, even with native-son Napoleon long gone from the scene.
At the end of the column there was a link to a news item that there was to be a nationwide strike in France, Tuesday, October 4, to demand public sector pay-rises and to protest new labor laws.
There was, and Ric was on the scene with a brief note and these exclusive photos -
As of 18:30, today's anti-government demonstration parade is still marching through Paris to the Place de la Nation. I caught up with it before it reached Bastille, after its launch from République.

Radio news is saying Paris is seriously scrambled - east Paris at least - and is mentioning 'hundreds of thousands.' Other strikes were held today throughout France, with a big turnout mentioned for Marseille.

Will get the 'score' from tonight's TV-news. If they have one.
Photo One: The Leaders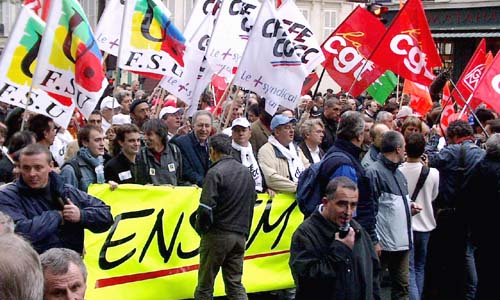 Photo Two: The Parade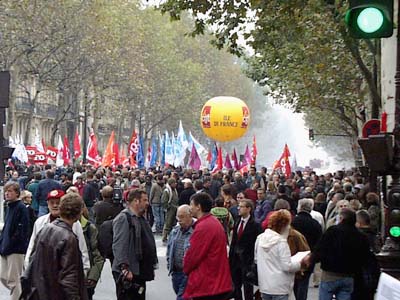 Photos Three and Four: Flares and Smoke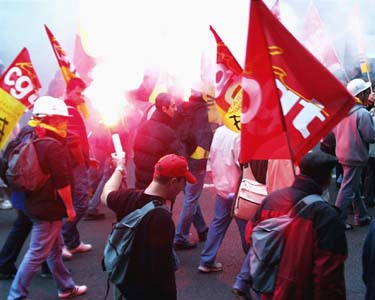 Photo Five: International Participation - British Air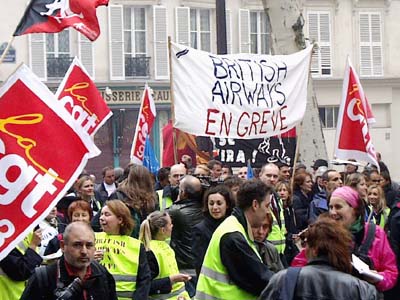 Photo Six: International Participation -
Local 9423
of the Communications Workers of America ("The Union for the Information Age"), from way out here in California - from San Jose, actually. Read their resolution again the war in Iraq
here
.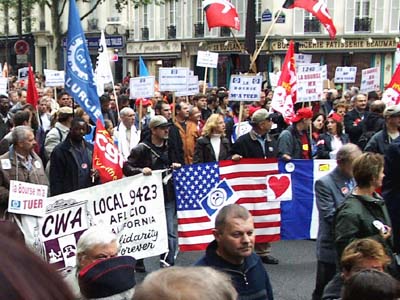 Photo Seven: Those with no papers being harassed -