Our Man in Paris: What's LA Smell?
---
Our Man in Paris: What's LA Smell?
---
Ric Erickson, editor of
MetropoleParis
, attends the opening of "Los Angeles 1955-1985" at the Pompidou Center in, of course, Paris. Three more of Ric's photos follow the text, and some items from the
Los Angeles Times
on the show. This is the week Los Angeles made the big time, or something. The original text of this item can be found at MetropoleParis
here
in a quite different format.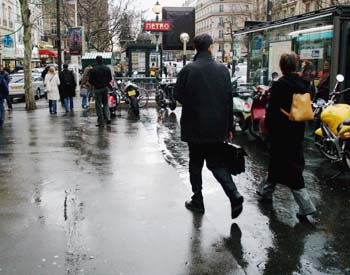 What's LA Smell?
Paris, Wednesday, March 8
- Did I say it is raining? Before I went out I popped an eye out the window to see if the windshield wipers were wiping on the cars swimming past down below. If they were not, it was not raining. But we are having changeable weather and by the time I arrived on the sidewalk it was raining. At the corner of the building it was like a North Sea gale.
I wouldn't try to say it never rains in Paris, but for the past dozen years it hasn't rained much. This year seems to be trying to catch up, possibly because of the drought. Next thing you know we will be having the flood of the century. If it wasn't for the rain and the snow in the far off Alps, we'd be aces.
Anyway, while it was raining I hopped on the Métro and rode through dry tunnels down to Les Halles, where I realized that I'd made a mistake. Les Halles in rush hour is always a mistake. By the time I got out of that jam I knew I should have got off one stop before, at Chatelet, and walked the extra block. As it was I walked two extra blocks underground in
le maze des Halles
.
Then it was, still raining, as I skipped over to, head down, to the Pompidou culture factory to see the
Los Angeles
exhibition that had its opening night free drinks binge Tuesday. I was on this case in January when Gary De la Rosa was here for his annual forget-LA visit, and Tomoko sent me an email yesterday saying he's back, and the plan was to meet in the Pompidou, and there I was, damp but on time.
The Pompidou is a big thing. I didn't know where I was supposed to meet Tomoko and Gary, with his free tickets, so I bought a ticket at full price because I forgot to take the welfare card I don't have, and there's no discount for beauty or age. Going in I got all three ticket-takers to electro-flash the ticket, but it blew no gaskets.
Then I took the escalator to the 6th floor. It is actually about a dozen escalators and it takes about two days but there's was fine view of a soaking Paris, gray and fleeting golden with rain, Tour Eiffel stabbing the horizon, take a photo, buy a postcard. There are other sights to see and it's worth the admission price, since the lookout on top of Samaritaine closed. [Editor's Note - see Ric's photo coverage of that in these pages in
Taps for Samaritaine
, July 12, 2005.]
I found the LA expo at the end of a long corridor, and then Tomoko found me, and asked, "Where's Gary?" for not the first time this year. She also got in for free because she brought her welfare card. We flashed our tickets at the
flasheuse
and trawled the exhibition.
This went along fine until I decided to ask if I could take some photos to go along with this piece. There are royalties concerned, the museum might want to collect something, the artists certainly, and most important, never on the 'Net, the short answer was 'non.' As the conversation moved into its 2nd hour and displaced from inside to the entry, Tomoko came past, saying she was going to park herself someplace.
In the entry I took the only legal photo. Then Gary arrived, with one of my club members who is not Tomoko but Linda. Gary said he arrived from Los Angeles Tuesday night, with a pass to the drinks uproar, but they wouldn't let him in because it was past his bedtime. He put up a fuss, for an hour - honest - he told me! - then he was overcome with jetlag.
I started with the expo again. Gary had to read all the little tickets on everything so I quickly got ahead of him. The expo is called 'Los Angeles 1955-1985, etc etc.' I began to realize it is really different. LA is something smelly. There was this thing of Ketchup bottles, blood, black gunk. I thought, maybe it's ripe.
Another sign said, "NAHSBOF," which is a new word for 'sneeze' in German. There were fine photos, like the one for the poster all over Paris, shot by Dennis Hopper in 1961. Further on, after much other odd stuff, another message said, "A hell if there ever was one," attributed to Alexis Smith, in 1982. Art in LA has the talkies.
My day, rain and all, was made complete by the fine piece that was a chicken in a small but elaborate coffin, titled 'Blink's Coffin.' Nearby there was a map showing the location of Blink's coffin in the LA cemetery. For fans of French the translation was not a big hurdle, with
La version originale de Blinky le poulet sympa,
1978.
This reminded me that it was news time, which meant that I was hungry. Outside it having become night, wet, slick, glistening, and the yellow lights were lit and glittering in the puddles. I skipped Les Halles and caught the Métro at Chatelet's Opportune hole, the underground looking grimly like St. Pauli on a wet day in Hamburg.
This LA show - is worth a visit, if you like strange stuff than smells, and it continues until July 17, which is a Monday I bet. Open from 11am to 9pm daily except Tuesdays, and on Thursdays late until 11pm. At the
Centre Georges Pompidou
, Place Georges Pompidou, Paris 4. M&eacutetro: Rambuteau. InfoTel.: 01 44 78 12 33.
__
... but there's was fine view of a soaking Paris, gray and fleeting golden with rain, Tour Eiffel stabbing the horizon, take a photo, buy a postcard.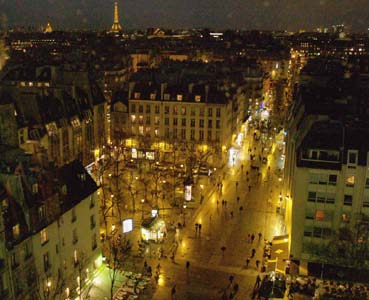 In the entry I took the only legal photo...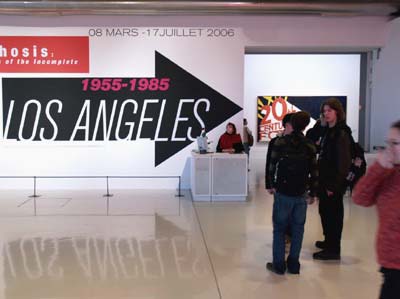 Did I say it is raining?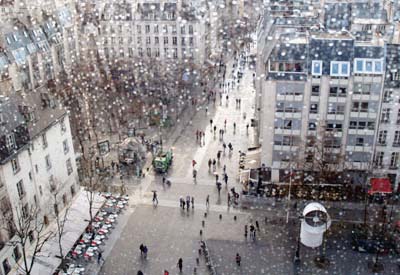 Photos and Text, Copyright © 2006 - Ric Erickson, MetropoleParis
__
The Local Review
Angels in the City of Light
Los Angeles artists find a like-minded audience in Paris as their work is chronicled in a major show at the Pompidou.
Geraldine Baum -
Los Angeles Times
- March 10, 2006
PARIS - There are probably no two cities with less in common than Paris and Los Angeles. But in spite of that, and perhaps because of it, Parisians this week embraced with a passion - yes, with a kiss on each cheek! - a generation of Los Angeles artists and their work.

The French turned out by the thousands in a cold rain for the opening night of a new exhibition, "Los Angeles 1955-85," at the Centre Pompidou. They were fawning and gushing even as they admitted they knew little of the place that produced the artists and their creations.

"I love it," said Valentine Gautier, a young Frenchwoman, as she listened to an older African American poet in the packed first gallery of the Pompidou. Wanda Coleman, the noted L.A. poet, had spontaneously broken into verse as she stood in front of Ed Kienholz's brutal assemblage about abortion, "The Illegal Operation." The French stood in rapt attention, listening earnestly as Coleman's warrior voice boomed...
And so on and so forth.
Ric's comment -
On a rainy night, the night following the vernissage, Wednesday to be precise - there were hardly 'thousands' ogling the LA exhibit. There was no line, no waiting, and it was easy to circulate within the expo.

If I were to say how it struck me, I'd say LA as presented by these artists, is a small, self-conscious burg. Little folks doing their little LA things. This is not to say that many pieces were not amusing - a good sign - they don't take themselves too seriously - but there were not, unless I overlooked them somehow - there were no big pieces, no grand visions. A room-sized white panel fringed with blue neon was hardly engrossing or thought-provoking. Where the hell is Ed Roth?

What Gary wanted, tried to make happen - show the barrio artists, your taggers, the wild hombres with the pure colors, the sultry senoritas with the red fingernails - nowhere, not to be seen in this LA show. Maybe Gary will get his homies together; it will take some time - but they are already booked for Madrid.
From the
Times
-
Elisabeth Lebovici, art critic for the newspaper Libération, said it will be an effort to get the French from A to Z because they simply don't know L.A.'s history. "There are beautiful pieces, but it's odd to see so much about a place I know so little about." She had just perused works that made reference to the Watts riots. "I heard about those Berkeley riots," she said, confusing her California towns, "but I can't tell you anything about them.

"For me," Lebovici added, "this is like going to the Louvre of L.A."
Whatever.
From the
Los Angeles Times
, February 25, 2006 -
In an official expression of support for the arts, Mayor Antonio Villaraigosa held a media conference Friday at the Caltrans downtown headquarters to celebrate landmark exhibitions of Los Angeles contemporary art and architecture coming soon to Paris.

"Los Angeles 1955-1985," featuring about 350 works by 87 artists, and "Morphosis," exploring a prominent architectural firm's work, will open March 8 at France's Pompidou Center.

"This is a transformational milestone that will establish Los Angeles as a leading artistic and cultural capital," Villaraigosa told an audience of artists and representatives from museums and art schools. "Los Angeles" will track the art scene's coming-of-age in a sprawling survey. "Morphosis" - to appear at L.A.'s Museum of Contemporary Art in 2007 - will present recent projects of the group whose founder, Thom Mayne, won the 2005 Pritzker Prize and designed the Caltrans building.

As the media conference evolved into an L.A.-Paris love fest, Scott Stover, head of the Pompidou Foundation, announced plans to base the support group's American branch in Los Angeles.
See also -
L.A.'s so aujourd'hui
Paris puts up 30 years of Southern California art history - or at least one interpretation.
Suzanne Muchnic - Los Angeles Times - February 26, 2006