Topic: Photos
---
It's Only Rock 'n' Roll: "Guitar Row" on Sunset Boulevard
---
The basics about
Sunset Boulevard
are pretty well known, and the link here has them for you.
In reference to my neighborhood, the eight thousand block, nothing much is mentioned. But just east is the seven thousand block, and we get this:
Sunset Boulevard in Hollywood has also gained notoriety as a red-light district for its large amount of prostitution, drag queens and other unusual activity, especially at night. Though this type of activity went on for many years, especially around Western Avenue, in the 1970s the area between Gardner Street and La Brea Avenue became seedy and afflicted with street prostitution that continues to a lesser extent to the present day. It was at the corner of Sunset and Courtney Avenue that actor Hugh Grant pulled over and picked up prostitute Divine Brown in the early morning of June 27, 1995. He then drove a few blocks east and parked at the corner of Curson and Hawthorn Avenues. Police arrested him and the prostitute for lewd conduct in a public place and he was later fined $1,200.
Whatever. There is also a link to this:
The Rock 'n' Roll Ralphs is located in the Hollywood district of Los Angeles, California, at 7257 Sunset Boulevard. Part of the Ralphs chain of supermarkets, it is so-named because of its proximity to the sheet music and instrument stores that line the boulevard and because rock and movie stars are known to frequent it late nights between club gigs and party hopping. The supermarket featured in the film Go by Doug Liman is reportedly based on the Rock 'n' Roll Ralphs. It's a good place for celebrity spotting.
No, it isn't. I'm in there at least once a week. That's where I shop. But maybe I'm just not paying attention.
And I had to look up
that film
.
And the Ralphs chain is owned by the Kroger folks out of Cincinnati.
Hollywood indeed.
But the cool thing is this:
That same area of Sunset in Hollywood is sometimes called "Guitar Row" due to the large number of guitar stores and music industry related businesses. Also, many young, struggling actors, musicians, and the like continue to live in the area.
Late morning, Wednesday, October 12th, parked the car at Gardner and Sunset, fed a few quarters to the meter, and checked out "Guitar Row" - an amazing place.
You will find an album of thirty-four photos of the place
here
. More will follow this weekend in
Just Above Sunset
.
Here are some shots from the album.
The Guitar Center -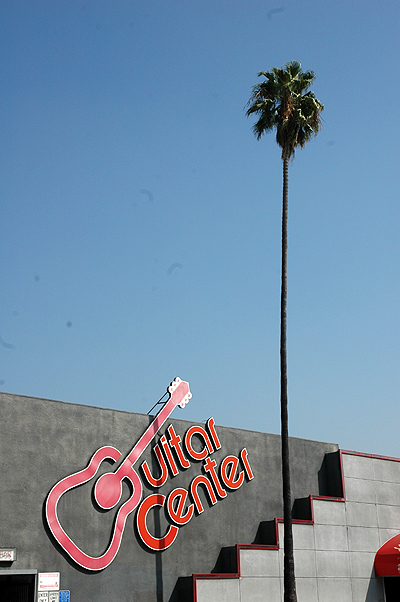 Mister Music Head has a gallery!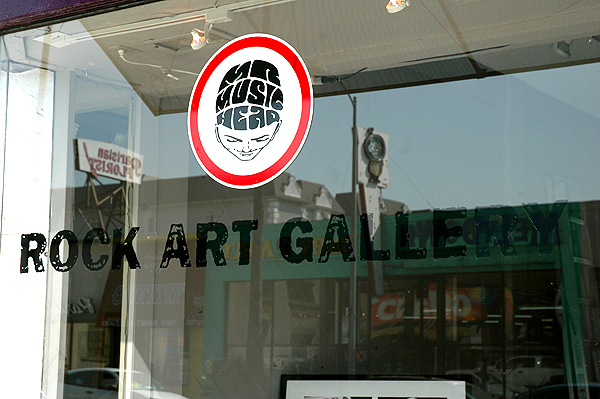 Anna Nicole Smith looks down on the Mesa/Boogie factory store -