Neighborhood Ghosts - Marlene Dietrich
Topic: Historic Hollywood
Neighborhood Ghosts - Marlene Dietrich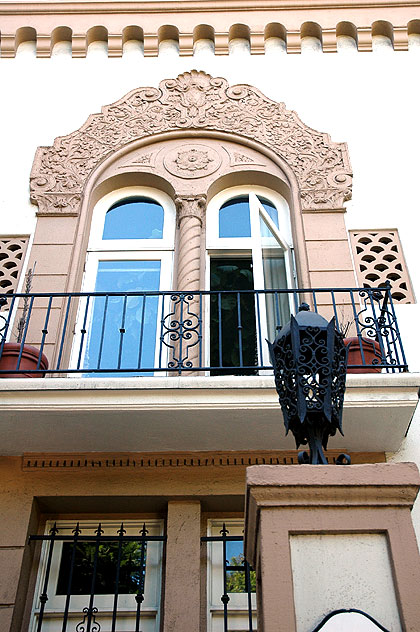 After living for fifteen years in Hollywood you'd think you'd at least know the neighborhood. But then one day this week, with traffic jammed on the Sunset Strip, three short blocks from home, an angry impulsive right turn at the Chateau Marmont, downhill on Harper to get around it all, led to the North Harper Avenue Historic District - roughly North Harper Avenue between Fountain and De Longpre, in what is now West Hollywood. It's on the National Register of Historic Places and everything. It's a block of fantastic and elaborate apartment buildings from Hollywood's Golden Age - where the likes of Katherine Hepburn, Norma Talmadge and Gilbert Roland once lived, in an odd sort of splendor. The buildings have been carefully restored, and they're still in use. The street, in spite of being one block below the heart of the Sunset Strip, is very quiet. It's like stepping back in time.
It's an architectural giggle - extreme Art Deco, Spanish Colonial Revival, Monterey Revival, elaborate Italianate monsters - and fountains and statues, hidden gardens and fantastic ironwork and detailing. It's a bit off the beaten path, but rather wonderful. There will be a full photo spread in the upcoming Sunday issue of
Just Above Sunset
, the magazine-format parent to this website. But here's a taste of it.
Romanesque Villa
(1928)
1301-1309 North Harper Avenue
In 1928, Michael and Isaac Mann commissioned Leland Bryant to design an apartment building at the corner of Harper and Fountain Avenues. Bryant combined Spanish Colonial Revival and Churrigueresque style was named after the 18th century Spanish architect, Jose Churriquera, who used lavish ornamentation in his designs. It was at this building that the infamous "triangle" between Marlene Dietrich and Josef and Riza Von Sternberg took place and led eventually to the divorce of the Von Sternbergs.
That's amusing. You can imagine her here.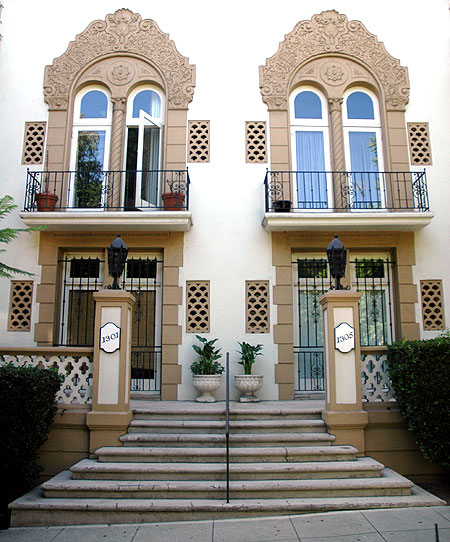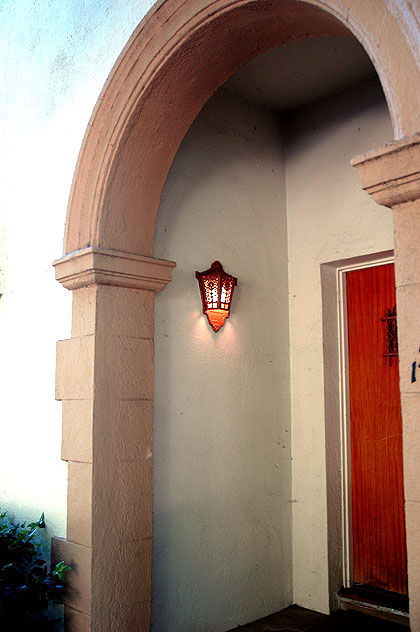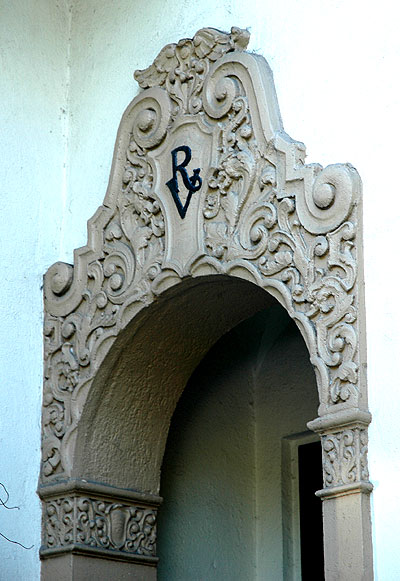 Facts (perhaps) -
Marlene Dietrich (December 27, 1901 - May 6, 1992) was an Academy Award-nominated German-American actress, entertainer and singer. The American Film Institute named Dietrich among the Greatest Female Stars of All Time, ranking here at number nine.

She was born Maria Magdalene Dietrich in Berlin-Schöneberg, Germany to Louis Erich Otto Dietrich and Wilhelmina Elisabeth Josephine Felsing on December 27, 1901. Nicknamed "Lena" within the family, she contracted her two first names to form the then-unusual name, Marlene, when she was still a teenager. Marlene studied the violin before starting work as a chorus girl and actress for Max Reinhardt in theatre productions in Berlin and Vienna throughout the 1920's.

Marlene made her film debut in 1923. In 1929, she got the role of "Lola-Lola" in UFA's production, The Blue Angel (1930), which was one of the first European sound films. The film was directed by Josef von Sternberg.

She then moved to Hollywood to make Morocco, for which she received her only Oscar nomination. Her most lasting contribution to film history was as the star in several films directed by von Sternberg in the pre-Code early 1930s, such as The Scarlet Empress and Shanghai Express, in which she played "femmes fatales" She gradually broadened her repertoire in Destry Rides Again, The Spoilers, A Foreign Affair, Witness for the Prosecution, Touch of Evil and Judgment at Nuremberg.

In 1937, while her film career stalled in Hollywood, she made a film in London for producer Alexander Korda. In later interviews, she claimed that while in London to film Knight Without Armour (1937) she was approached by representatives of the Nazi party to return to Germany, but turned them down flat. Her US film career was revived with the Western Destry Rides Again (1939) costarring James Stewart, and featuring a famous fistfight with the character played by actress Una Merkel. Dietrich became an American citizen in 1939.

Unlike her professional celebrity, which was carefully crafted and maintained, Dietrich's personal life was kept out of public view. She married once, to director's assistant Rudolf Sieber, a Roman Catholic who later became a director at Paramount Pictures in France.

Her only child, Maria Elizabeth Sieber (married name Maria Riva), was born on December 13, 1924. When Maria Riva gave birth to a son in 1948, Dietrich was dubbed "the world's most glamorous grandmother." The great love of the actress's life, however, was the French actor and military hero Jean Gabin. Their relationship ended in the mid-1940's. During the 1950's, she had relationships with Edward R Murrow, Yul Brynner and Frank Sinatra. As for her husband, he had a tragically unstable longterm mistress, Tamara Matul, with whom he lived on a chicken farm in California. Dietrich and her husband remained close.

She was reportedly offered a king's ransom to return to Germany, due to her immense popularity as well as Hitler's ardour, which she declined. It is true that she quipped that she would return only when one of her Jewish friends (possibly Max Reinhardt) could accompany her.

It has also been indicated that she was bisexual, having romantic affairs with actresses like Ona Munson and writer Mercedes de Acosta. Dietrich was also involved with President John F. Kennedy.
No mention of the Josef and Riza Von Sternberg triangle.