Hollywood Twilight
Topic: Historic Hollywood
This is a bit of delving into the past, cleaning up photos taken with the old Sony Mavica digital still camera (MVC-FD-88) - before the Nikon. These are from September 2004, documenting how Hollywood has faded.
The pastel globe at the old RKO Hollywood Studios
, 780 Gower Avenue, at Melrose, now owned by CBS Paramount Television. The Fred Astaire - Ginger Rodgers movies were filmed here, including "Flying Down to Rio." RKO (Radio-Keith-Orpheum) Pictures was formed in October 1928 as a combination of the Keith-Albee-Orpheum (KAO) theater chains, Joseph P. Kennedy's Film Booking Offices of America (FBO) studio, and RCA Photophone, the new sound-on-film division of the Radio Corporation of America (RCA). First under the majority ownership of RCA, in later years it was taken over by maverick industrialist Howard Hughes and finally by the General Tire and Rubber Company. The original RKO Pictures ceased production in 1957 and was out of business as of 1960. There's a complete corporate history
here
. It's wild. But the glory days are long gone.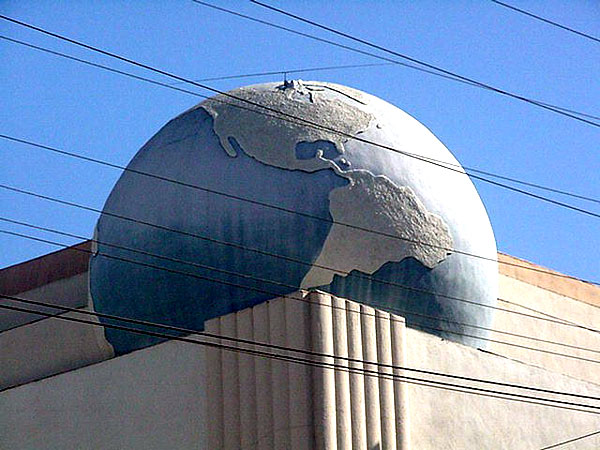 In Hollywood,
the Hollywood Tower apartments
on Franklin Avenue -
The plaque by the front door reads: HOLLYWOOD TOWER. 1929. SOPHISTICATED LIVING FOR FILM LUMINARIES DURING THE "GOLDEN AGE" OF HOLLYWOOD. PLACED ON THE REGISTER OF HISTORIC PLACES BY THE UNITED STATES DEPARTMENT OF INTERIOR.
No one remembers who actually lived here. They remember the classic episode from the Twilight Zone concerning the building, and what Disney
did with that
-
The Twilight Zone Tower of Terror, more commonly known as Tower of Terror, is a simulated freefall thrill ride at Disney-MGM Studios in Lake Buena Vista, Florida and at Disney's California Adventure Park in Anaheim, California. It is based upon the television show The Twilight Zone. The Disney-MGM Studios ride opened in 1994 and the California Adventure version in 2004.

As part of the "Happiest Homecoming on Earth" celebration, another Tower of Terror attraction will open at Tokyo DisneySea in Japan (2006), and later at Walt Disney Studios in France (2008). The Tokyo DisneySea version of Tower of Terror will not have a Twilight Zone theme.

The ride is themed to resemble the fictional Hollywood Tower Hotel. The storyline of the ride is that on October 31, 1939, the hotel was struck by lightning, transporting an elevator car full of passengers to the Twilight Zone. The exterior of the ride resembles an old hotel with a blackened scorch mark across the front of the façade where the lightning destroyed part of the building.
No blackened scorch mark across the front of the façade of the original. It's not very scary. Apartments are available. October 31st, Halloween, isn't that far off. Maybe there'll be storms and lightning this year. You never know.