Santa as Voyeur
Topic: Oddities
"He sees you when you're sleeping, he knows when you're awake, he know if you've been bad or good, so be good for goodness' sake." He's a bit strange. This is part of the Christmas display at Bijan on Rodeo Drive - a little bit ominous. Christmas is strange out here. Irving Berlin was so freaked out by it he wrote "White Christmas" while sunning himself at a pool one December in 1940 about a mile north of this Santa (check out
the verse
).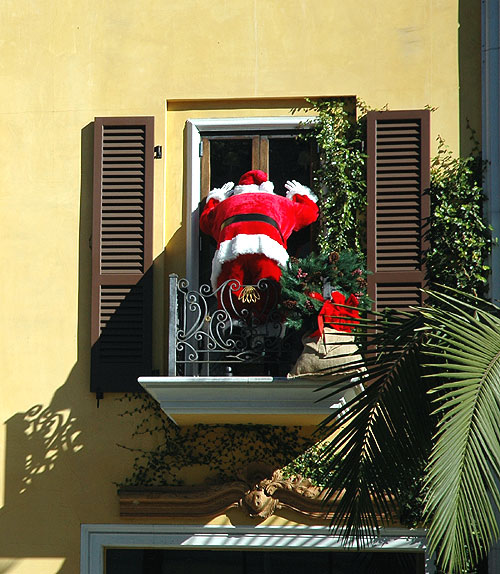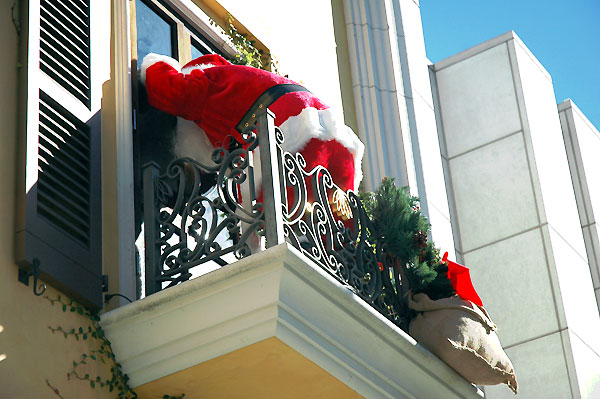 Bijan, at 420 Rodeo Drive, is the single most expensive store in the world. You must make an appointment in advance to shop at Bijan (which was named after its Iranian owner). On a typical visit, Bijan's average customer spends about a hundred grand on men's fashions, which range from fifty dollar pairs of socks to the fifteen thousand dollars suits.

Suzy Menkes in the International Herald Tribune on 27 November says Rodeo Drive is so last decade. The important center of fashion is now Melrose Place - "The intimacy of Melrose Place compares to the bustling, youth-oriented Robertson Boulevard, a five-minute drive away, and the glossy plate glass and palm trees of Rodeo Drive (which has chandeliers as its Christmas lights)." She quotes Bill Blass when he found an old house on Melrose Place he could buy - "I had my eyes on Melrose Place for four years and then this house came up. I think it is very chic and I am in love with this space. It is going to be the most important street in fashion. Rodeo Drive is for tourists." Blass' place opened last month. Note that Melrose Place is just around the corner from Trashy Lingerie.

This is an odd town.