Topic: The Culture
---
Barney Does Paris
---
As a break from the war – the top commanders in our military risk angering the president and reluctantly
admit things are getting worse and worse
- and our guys won't be coming home any time soon – along with all the other dismal news – it may be time to consider why kids like dinosaurs.
They do. I did when I was a kid – always off to the natural history museum to see them bones. These days the children of my nephews have movies and television - check out
The Ten Best Dinosaur Movies of All Time
where
Godzilla
(1954) come in fifth, and Pat Boone and James Mason in
Journey to the Center of the Earth
(1958) comes in eighth. Of course
Jurassic Park
(1993) is number one. This all may have started with the first really popular dinosaur movie, the animated
Gertie The Dinosaur
(1914) made by one Winsor McCay. Tiffany and JT prefer the cute Disney sort of movies one gets these days.
And there is, for the real young kids,
Barney
on PBS – "Barney is an incredibly lovable, warm, and friendly six-foot purple dinosaur who comes to life from a plush toy by way of children's imaginations. Barney serves as a guide or facilitator for the children to use their imaginations to problem solve and to discover the world around them… Barney is a friend to all children-they feel safe with Barney and look to him for reassurance and security."
Much has been written about this Barney – but my favorite comment comes from the
New Yorker
writer, Adam Gopnik, in his book
Paris to the Moon
(Random House, 2001) - on living for many years in Paris with his family while writing the
New Yorker
's Paris Journals - "Bill Clinton is Barney for adults … Barney and Bill are not amiable authority figures, like the Friendly Giant and Ronald Reagan. They are, instead, representations of pure need: Wanting to be hugged, they hug."
Barney is creepy. Clinton could be too.
But as a diversion you might want to check out what Keith Stewart Thomson has to say in
Dinosaurs as a Cultural Phenomenon
in the May-June issue of
The American Scientist
- Volume: 93 Number: 3 Page: 212
Thomson digs deep into the origins of this all -
The key to modern dinomania may have been the discovery in 1884 of a whole herd of intact Iguanodon skeletons in a Belgian coal mine. Two years later, Camille Flammarion's popular book on Earth history, Le Monde avant la Creation de l'Homme (or The World Before the Creation of Man), showed an Iguanodon in a theatrical pose: taking a meal from the "fifth floor" of a Paris apartment building (in France, the ground floor is the unnumbered rez-de-chaussee). Even so, it took a while for this sort of dramatic depiction of dinosaurs to catch on in the USA, until American newspapers followed in 1897 (American Century) and 1898 (New York World and Advertiser) with similar depictions of the far larger Brontosaurus against a backdrop of skyscrapers. The reception given to these fantastic images firmly established the potential of dinosaurs to capture public interest.
And Thomson provides this illustration from Camille Flammarion's
Le Monde avant la Creation de l'Homme
(1886) – which is pretty cool.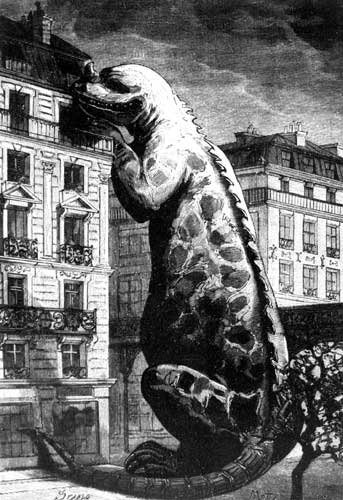 But as much as dinosaurs have captured the popular imagination, and kids like them, there are problems.
Given the recent hearings in Kansas which resulted in the Intelligent Design folks winning equal time in the public schools there with the evolution theory pushers ? covered in these pages
here
,
here
,
here
and
here
- what are we to believe? A few witnesses on the winning side argued that early man and dinosaurs lived together at the same time ? and the scientists say no, the evidence shows not. A few witnesses on the winning side argued that God ? or Satan ? messed with our minds and placed them bones in the sediment or whatever to test our faith, and all this geology is wrong as the earth couldn?t be more than six thousand years old, if you read the Bible carefully.
What is one to believe?
Paul S. Taylor has one answer. In
DINOSAUR MANIA AND OUR CHILDREN
first published in
Impact
in 1987 ? the magazine of the Institute for Creation Research - and republished last year, he explains. And he is, after all, Production Director of the Films for Christ Association.
His thoughts?
Dinosaurs are the newest fad. Will they lead children away from our Creator? Or to Him?

Ever since the first dinosaur reconstructions in the mid-1800's, dinosaurs have been big business. They have been used to sell everything from breakfast cereal to gasoline. And now interest is greater than ever. A new craze for dinosaurs and related merchandise is sweeping America and other western nations.

Almost anywhere children go these days, they are exposed to dinosaurs in one way or another, even on school milk cartons. Furthermore, these creatures are almost as popular with adults.

Much of the trendy merchandise appeals to the "yuppie" generation. Articles on new dinosaur extinction theories and fossil discoveries are frequently featured in major national magazines. And a steady stream of new adult-level dinosaur books continues to be issued by humanistic publishers each year. Even adults are fascinated by these great beasts--and likewise the history and controversy surrounding them.
So what?s the problem?
Dinosaurs are being used on a monumental scale to promote evolution. Parents are often amazed at how much even kindergartners know about them. Portrayed as strange, fierce-looking creatures, they are effectively used to indoctrinate millions of children with false evolutionary concepts, such as the following:

1. Dinosaurs and many other animals are pre-historic. Most of the earth's history took place long before the Bible or any other book was written and long before any man existed.

2. It is a scientific fact that the earth is exceedingly old--perhaps 5 billion years.

3. Evolution is a fact. God did not create the world as portrayed in the Bible.

4. There once was a time when the land was inhabited only by reptiles--the Great Age of the Dinosaurs.

5. Dinosaurs and other animals evolved into completely different kinds of creatures. Every creature evolved from lower forms of life, even man.

6. Man is just an animal--a highly-evolved primate.
Dangerous misconceptions corrupting our youth? Maybe so ? in Kansas. But they are fixing that problem!
David Albrecht offers a satire about that:
Kansas Outlaws Dinosaur-Themed Toys, Cartoons
"Barney Ban" Will Protect Children, Says State Attorney General Kline. Legislative Leaders' Goal: "Healing Wounds of Darwinism"
May 13, 2005 ? posted at
Democratic Underground
TOPEKA, KS - Kansas Attorney General Phill Kline stunned many Kansans yesterday by announcing that books, toys and cartoons depicting or featuring dinosaurs were now illegal across the state.

Kline, no stranger to controversy on such hot-button issues as abortion and gun control, defended the actions of the Kansas Legislature, which in a special late-night session overrode Democratic Governor Kathleen Sebelius' veto of the Childrens' Defense & Truth in Science Act.

"The people of the Sunflower State understand rock-bottom honesty," he said. "They know that this is not some sort of anti-science conspiracy. We're not moving backwards. We simply believe that this is the best way possible to heal the partisan wounds that decades of rule by the secular left have inflicted on this state."

Kline emphasized that information on dinosaurs would remain available to students in university paleontology classes, provided they supplied waivers signed by their parents or guardians.

The new state law, effective immediately, makes it illegal for Kansans to purchase for or supply to children any book, toy, game, video or electronic media which portrays dinosaurs or "to import, send or ship" any such materials into Kansas from outside the state.
And on it goes. It?s pretty amusing.
It ends with this -
Many at a press conference called by the attorney general questioned whether diverting law enforcement resources to raiding bookstores, searching cars and opening packages in search of black-market brontosauruses was a sensible use of taxpayer dollars. Kline, however, was outspoken in his support of the new law.

Pressed by one reporter for the Kansas City Star, who pointed out that methamphetamine-related crime had risen 37% in the past year, Kline posed a rhetorical question: "Who can say where the road to drug abuse begins? I believe that it begins for many young Kansans with the cold, brutal message of Charles Darwin, imposed and enforced by the secular left. It ends, as you point out, in meth labs and prisons across the state."

In Lawrence, home of the University of Kansas and arguably the most liberal corner of the state, Borders Books & Music was one of the first targets of suddenly reassigned KBI agents. General Manager Lisa Bakke stood by in shock as officers hauled boxes of Barney videos, Dinotopia books and Jurassic Park DVDs off to waiting police cruisers.

"It's just beyond belief," she said, noting that she had still heard nothing about compensation for businesses like hers in cases where authorities seize merchandise. Also seized in the raid were works by Stephen Jay Gould, Dougal Dixon, E.O. Wilson and Richard Dawkins.

KBI agents who participated in the raid said they had no idea whether CDs by the seminal alt-rock group Dinosaur Jr., or the popular 1980s AOR dance track "Walk The Dinosaur" by Was (Not Was), would be covered by the ban.

"We're just waiting for clarification from Mr. Kline's office", said Sgt. Frank Pickering, who declined further comment. However, legislators are preparing to revise the law with an eye towards answering troublesome enforcement questions.

This will include just what Kansas intends to do about national broadcasts of Animal Planet and Discovery Channel. Law enforcement officials are also concerned about how to handle comic strips like BC and The Far Side, which occasionally depict dinosaurs, as well as the caveman-themed 1950s hit song "Alley Oop," the 1933 horror classic "King Kong," and Blue Oyster Cult's 1980 heavy metal magnum opus "Cultosaurus Erectus."

For the time being, Kansas "Flintstones" fans and collectors of Sinclair gasoline memorabilia will also be left hanging.
Satire? I guess it is.
An additional irony is, of course, that Barney the Purple Dinosaur, like George Bush,
is a TEXAN!
- "A six-foot purple dinosaur, Barney is the star of the children's TV show Barney and Friends. Barney began in 1987 as the star of direct-sale videos created by
Dallas teacher Sheryl Leach
. The tapes caught the eye of the Public Broadcasting System, who put Barney and Friends on the air in 1992."
Well, Texan or not, Barney is not really in trouble. That was satire above. On the other hand, Barney has been in court.
You will find
this
of at
Case Law
- and it is quite real -
IN THE UNITED STATES COURT OF APPEALS FOR THE FIFTH CIRCUIT
No. 98-11003

LYONS PARTNERSHIP, Plaintiff-Appellant,
versus
TED GIANNOULAS, doing business as Famous Chicken; TFC, INC., Defendants-Appellees.

Appeals from the United States District Court for the Northern District of Texas

July 7, 1999
Before REAVLEY, JOLLY, and EMILIO M. GARZA, Circuit Judges.
What the heck is this about? Here is E. Grady Jolly, Circuit Judge:
Lyons Partnership LP ("Lyons"), the owners of the rights to the children's caricature Barney, sued Ted Giannoulas, the creator of a sports mascot--The Famous Chicken ("the Chicken")--because the Chicken had incorporated a Barney look-alike in its act. The district court granted summary judgment to Giannoulas and awarded attorneys' fees.

On appeal, Lyons raises six issues, the most important of which is whether the district court erred when it determined that there was insufficient evidence that Giannoulas's use of the Barney trademark caused consumer confusion under the Lanham Act. (1) Because we agree with the approach taken by the district court, we affirm.

I .

This case involves a dispute over the use of the likeness of "Barney," a children's character who appears in a number of products marketed to children. (2) Barney, a six-foot tall purple "tyrannosaurus rex," entertains and educates young children. His awkward and lovable behavior, good-natured disposition, and renditions of songs like "I love you, you love me," have warmed the hearts and captured the imaginations of children across the United States. According to Lyons, the owner of the intellectual property rights for Barney and the plaintiff in the suit below, the defendants--Giannoulas d/b/a The Famous Chicken and TFC, Inc. ("TFC"), the owner of the intellectual property rights to the Chicken--sought to manipulate Barney's wholesome image to accomplish their own nefarious ends.

The Chicken, a sports mascot conceived of and played by Giannoulas, targets a more grown-up audience. While the Chicken does sell marketing merchandise, it is always sold either by direct order or in conjunction with one of the Chicken's appearances. Thus, the Chicken's principal means of income could, perhaps loosely, be referred to as "performance art." Catering to the tastes of adults attending sporting events, most notably baseball games, the Chicken is renowned for his hard hitting satire. Fictional characters, celebrities, ball players, and, yes, even umpires, are all targets for the Chicken's levity. Hardly anything is sacred.

And so, perhaps inevitably, the Chicken's beady glare came to rest on that lovable and carefree icon of childhood, Barney. Lyons argues that the Chicken's motivation was purely mercenary.
Seeing the opportunity to hitch his wagon to a star, the Chicken incorporated a Barney look-alike into his acts. The character, a person dressed in a costume (sold with the title "Duffy the Dragon") that had a remarkable likeness to Barney's appearance, would appear next to the Chicken in an extended performance during which the Chicken would flip, slap, tackle, trample, and generally assault the Barney look-alike.

The results, according to Lyons, were profound. Lyons regales us with tales of children observing the performance who honestly believed that the real Barney was being assaulted. In one poignant account related by Lyons, a parent describes how the spectacle brought his two-year-old child to tears. In fact, we are told, only after several days of solace was the child able to relate the horror of what she had observed in her own words--"Chicken step on Barney"--without crying. After receiving such complaints from irate parents who attended the Chicken's performances with their children, Lyons sought to defend this assault on their bastion of child-like goodness and naivete.
Oh, the humanity! The poor kid.
But from the record -
Giannoulas offers a slightly different perspective on what happened. True, he argues, Barney, depicted with his large, rounded body, never changing grin, giddy chuckles, and exclamations like "Super-dee-Dooper!," may represent a simplistic ideal of goodness.

Giannoulas, however, also considers Barney to be a symbol of what is wrong with our society--an homage, if you will, to all the inane, banal platitudes that we readily accept and thrust unthinkingly upon our children. Apparently, he is not alone in criticizing society's acceptance of a children's icon with such insipid and corny qualities. Quoting from an article in The New Yorker , he argues that at least some perceive Barney as a "pot-bellied," "sloppily fat" dinosaur who "giggle[s] compulsively in a tone of unequaled feeblemindedness" and "jiggles his lumpish body like an overripe eggplant." The Talk Of The Town: Pacifier, The New Yorker, May 3, 1993 at 37. The Internet also contains numerous web sites devoted to delivering an anti-Barney message. (3) Giannoulas further notes that he is not the only satirist to take shots at Barney. Saturday Night Live, Jay Leno, and a movie starring Tom Arnold have all engaged in parodies at the ungainly dinosaur's expense.
So THERE!
But wait! There?s more!
Perhaps the most insightful criticism regarding Barney is that his shows do not assist children in learning to deal with negative feelings and emotions. As one commentator puts it, the real danger from Barney is "denial: the refusal to recognize the existence of unpleasant realities. For along with his steady diet of giggles and unconditional love, Barney offers our children a one-dimensional world where everyone must be happy and everything must be resolved right away." Chala Willig Levy, The Bad News About Barney, Parents, Feb. 1994, at 191-92 (136-39).
You see, Giannoulas is claiming that, through careful use of parody, he sought to highlight the differences between Barney and the Chicken. He says he was not merely profiting from the spectacle of a Barney look-alike making an appearance in his show. Instead, he was engaged in a sophisticated critique of society's acceptance of this ubiquitous and insipid creature.
But, you ask, who won, Barney or the chicken?
Because this case comes to us on appeal from a summary judgment motion, we review the district court's decision de novo applying the same standards applied by the district court. See Boyd v. State Farm Ins. Cos., 158 F.3d 326, 328 (5th Cir. 1998). The moving party is entitled to summary judgment if the record establishes that "there is no genuine issue as to any material fact and that the moving party is entitled to a judgment as a matter of law." Fed.R.Civ.P. 56(c).

A trademark is a word, name, symbol or device adopted and used by a manufacturer to identify the source of goods. To establish a trademark violation, Lyons must establish that Giannoulas has used in commerce a mark confusingly similar to Lyons's. 15 U.S.C. ? 1127. (4) The district court held that there was no likelihood of consumer confusion. In reaching this decision, the district court relied on its finding that the Chicken's performance was clearly meant to be a parody.

Lyons makes two arguments with respect to its trademark confusion claim. First, Lyons argues that Giannoulas's use of Barney was not intended as a parody. Because Lyons continues to contest this issue on appeal, we first address whether there are any genuine issues of material fact regarding whether Giannoulas was engaged in parodying Barney. Lyons's second argument is that the district court accorded too much weight to its finding that Giannoulas's use was a parody.

In general, a parody is defined as an "artistic work that imitates the characteristic style of an author or a work for comic effect or ridicule." Campbell v. Acuff-Rose Music , 510 U.S. 569 (1994)(quotation omitted). In general, a reference to a copyrighted work or trademark may be permissible if the use is purely for parodic purposes. To the extent the original work must be referenced in order to accomplish the parody, that reference is acceptable. Giannoulas claims that his use of a Barney look-alike clearly qualifies as a parody. He used the minimum necessary to evoke Barney--while he used a character dressed like Barney that danced like Barney, he did not make any other references to the mythical world in which Barney resides. He did not, for instance, incorporate any of Barney's other "friends" into his act, have the character imitate Barney's voice, or perform any of Barney's songs. According to Giannoulas, Barney was clearly the butt of a joke and he referenced the Barney character only to the extent necessary to conjure up the character's image in his audience's mind.

Lyons argues that the conduct was not a parody but simply the use of Barney. To support this claim, Lyons points to two kinds of proffered evidence. First, Lyons notes that Giannoulas himself admits that he did not have a definite plan when he incorporated Barney into the act. Lyons argues that this creates an issue of fact regarding whether Giannoulas really intended to parody Barney or simply intended to profit from incorporating the Barney character into his act.

This argument is meritless. Clearly, in the context in which Giannoulas intended to insert a reference to the Barney character, the humor came from the incongruous nature of such an appearance, not from an attempt to benefit from Barney's goodwill. This point is clearly established by the fact that the Chicken's actions toward Barney seem to have always been antagonistic. Although the performance may have evolved into a far more sophisticated form of commentary, even at its inception, it was clearly meant as a parody.

The second argument made by Lyons is that the audience could not have understood the performance to be a parody. Lyons assumes that the target audience here is children and that children would clearly believe that the caricature actually was Barney. Although Lyons is correct that the intended audience is an important factor in determining whether a performance qualifies as a parody, Lyons presented no credible evidence that a significant portion of the audience at evening sporting events are children. Even if young children--like the two-year-old who had such a traumatic reaction to the down-trodden Barney--are in attendance, we would expect them to be supervised by parents who could explain the nature of the parody.

We therefore agree with the district court that Giannoulas's use of the caricature clearly qualifies as a parody. We note that Lyons's insistence that the Chicken's act is not a parody is, in our view, a completely meritless argument.
So score one for the chicken. The dinosaur loses. "Chicken step on Barney."
This is, course followed by a long discussion of the Lanham Act and copyright issues. Go to the link and read all about Elvis Presley Enters. v. Copeck , 141 F.3d 188, 194 (5th Cir. 1998); Conan Properties, Inc. v. Conan's Pizza, Inc., 752 F.2d 145, 149 (5th Cir. 1985); Armco, Inc. v. Armco Burglar Alarms Co. , 693 F.2d 1155, 1159 (5th Cir. 1983). Or don?t.
Lyons cites to Elvis to argue that a strong mark can be relevant even in the context of a parody. In Elvis, however, the issue was whether the Elvis trademark had been infringed by a nightclub titled "the Velvet Elvis." In that case the parody was not of Elvis but of cheesy sixties bars. Therefore, because Elvis was not the brunt of the joke, the fact that Elvis is a strong trademark could be regarded as an endorsement of the nightclub.
Geez!
But kids still like dinosaurs. Go figure.
__
LATE UPDATE:
Rick,
The News Guy
in Atlanta, defends Barney (somewhat) ?
First of all, as a parent and a catch-as-catch-can observer of "kid kulture," I think the famous dinosaur mania may be dying way down, just as the Hopalong syndrome of my day eventually did.

But I must also happily admit, I really think that insipid Barney character actually helped reinforce those attitudes of niceness we tried to instill in our son - back when he was old enough to watch it without losing his lunch, that is; he's now eleven.

I also remember my mom back then sneering that parents just use Barney as a babysitter; my reply was that, "Well, duh! I mean, SOMEBODY has to baby-sit, and you sure-the-hell aren't going to do it!" (She was living 3,000 miles away in California at the time.)

On the other hand, this legal case seems to me like a slam-dunk for parody from the get-go.

The only chance the Lyons Partners had, as far as I can see, was to put all their emphasis on the target audience, which was

everybody

in the stands - not just adults, who could presumably tell the difference, but also some little kids, many of whom probably genuinely believed it was Barney having the crap kicked out of him, and would only see their parents telling them otherwise as a version of, "Who ya gonna believe, your loving dad, or your lying eyes?"

The only recourse I can see for the plaintiff in this case is to hire some humongous professional wrestler, dress him up in a Barney suit, have him show up at a game and go out on the floor and beat the living f**king sh*t out of that goddamned chicken.

With any luck, every tiny tot in the place will jump up, with fists waving in triumph, and shout, "Whoa!!! Go, Barney, go! Testify! Truth to Power!" And then they could turn to their parents, and by way of explanation, sing a little snatch of Dylan's "The Times, They Are A'Changing!" - and then sit back down.

It's just this fantasy I have.
Wednesday, 18 May 2005
Tuesday, 17 May 2005