Topic: Photos
---
Check it out!
---
In addition to spending two hours this morning at the eight annual Rodeo Drive Annual Concours - the amazing cars on display in the middle of Beverly Hills – late this afternoon I posted the new issue of
Just Above Sunset
, the weekly parent site to this daily web log. That would be Volume 3, Number 25 - for the week of June 19, 2005 - posted at 4:21 PM Pacific Time.
This may be the first
travel and celebrity issue
- Tom and Katie and Paris - and an exclusive letter for Tel Aviv, an intimate view of life there today. That, and three pages of photos from Paris this week. The local photography is full of celebrities too. Real ones. Here in Hollywood. And the quotes this week pertain to that.
But there are big doings in current events too - many people now are asking some basic questions about what we are doing, a famous dispute is settled, perhaps, the US Senate offers a rare and useless apology, and various people rethink what we should think about. That would include the wrap of the Michael Jackson business, and what we missed because of the attention we paid to it. Much of those are extended versions of what first appeared here.
And of course Bob Patterson is back with something on what the American Trucking Association can teach us, and with his book notes on the basics, and more. None of that appeared on the web log.
As for the automobiles on display on the swankiest shopping street in the world, well, I took 235 pictures and it will take some time to edit them into a photo album.
What was there?
- Nicolas Cage's 1954 Bentley Fastback
- The Hearst Family's 1960 Jaguar Mark 2 Fastback
- A 1959 Corvette formerly owned by televison's Lone Ranger, Clayton Moore
- Wayne Gretzky's 1989 Porsche Speedster Fastback
- Laurence Fishburne's Suzuki Hayabusa motorcycle from the
Biker Boyz Fastback
(huh?)
- The 1932 Howard Hughes Duesenberg featured in the film
The Aviator
- Jean Harlow's 1932 Packard Sport Phaeton
There was much more - old Ferraris from ages ago, Cords, rare one-of-a-kind Bentleys, two old gull-wing Mercedes, a Minerva, a Cadillac V16 monster from the thirties and so on and so forth.
Just to give you a flavor, some close-ups (in 1919 the Hispano-Suiza company decided to use a stork as its symbol, the emblem used by French ace Georges Guynemer, who flew an Hispano-Suiza-powered Spad VIII):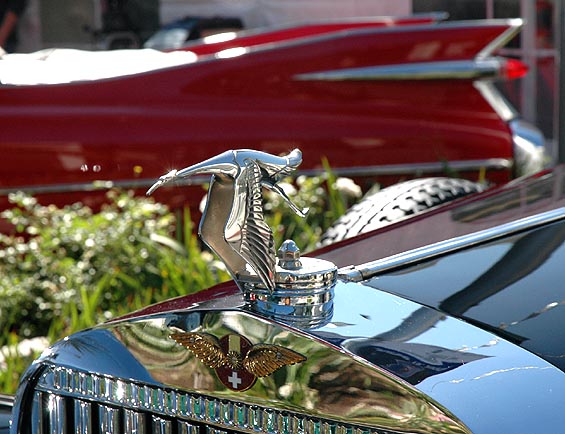 Jean Harlow's 1932 Packard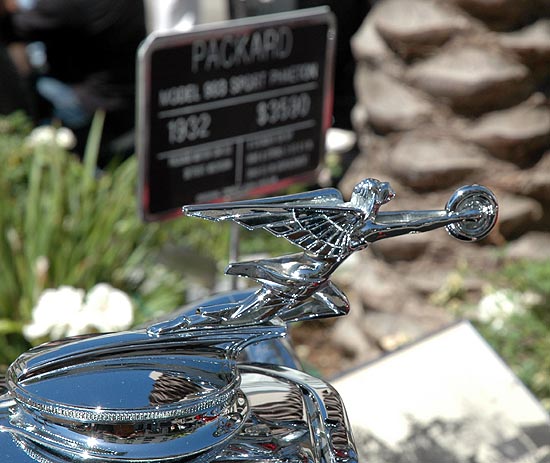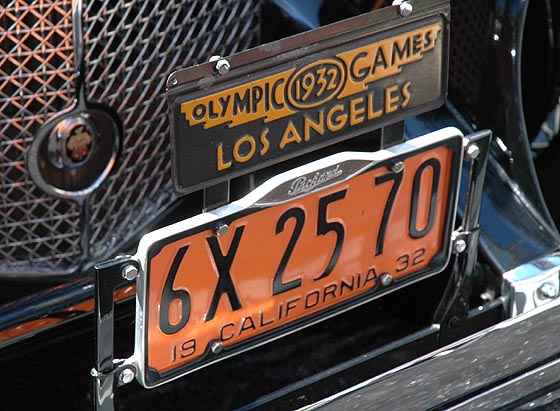 Quick access to pages in the new
Just Above Sunset
:
Current Events _________
Why Thursday?
: After all this time it's now time to talk about the war?
Case Closed
: Dead, Autopsy, Enough Said
Race
: "Never apologize, son. It's a sign of weakness."
Dissent
: Conversations About Odd News Items
Book Notes
: Hedging Your Bets
News Notes
: What to cover is the question?
News and Fame _________
Enough Already
: Michael Jackson So Over
France Turns a Bit American
: What's Up with That?
Other News
: While Fox, CNN, MSNBC and the networks deal with Michael
Paris News
: Cruise, Holmes, Dump Cruz and Klein, Climb Eiffel
Quotes
regarding Michael Jackson in Santa Maria and Tom Cruise on the Eiffel Tower
Bob Patterson _________
WLJ Weekly
: from the desk of the World's Laziest Journalist - Online Magazines Should Learn from the American Trucking Association: There's Strength in Numbers
Book Wrangler
: Barmecide Banquets - and other imaginary items from Baghdad
Features _________
Our Man in Tel-Aviv
: Israeli Contrasts
Guest Photography _________
Vrai Paris
: More from
Left Bank Lens
Etonnant par Paris
: Unusual shots from Left Bank Lens (held over)
Our Man in Paris
: Summer in the City
Local Photography _________
West Hollywood Parade
: Where was Paris Hilton?
Somehow Unsettling
: Odd LA