Eye on Hollywood - No Politics Today
Topic: Photos
---
Eye on Hollywood - No Politics Today
---
Thursday is photo shoot day, so no discussion of current events for the day.
Instead, two new photo albums -
Gritty Hollywood
- a walk through the streets a block north and a bit west of the famous intersection of Sunset and Vine. The streets are Ivar and Cosmo, and Selma and Wilcox. Visually interesting. The glamour is elsewhere. But this is how Hollywood actually feels. Twenty-nine photos.
Groundhog Day Blooms
- back east in northwestern Pennsylvania, in Punxsutawney, the groundhog saw his shadow. Six more weeks of winter. Here in Hollywood, these were in bloom, in the quiet residential streets just south of Sunset Boulevard, a few blocks west of Vine . This is the middle of winter here. A dozen blooms.
To be posted soon -
Crossroads of the World
(6671 Sunset Boulevard) - historic landmark built as "the world's first modern shopping center" in 1936 - Streamline Moderne, Spanish Colonial, Tudor, Moorish and French Provincial styles, all mixed together. It's listed on National Register of Historic Places. In the 1993 film "Indecent Proposal" Demi Moore worked in a real estate office here. It plays its part in the 1997 film noir "L.A. Confidential" - Danny DeVito worked for a tabloid in one of the offices. It's in many other films. It's very odd.
De Longpre Park
- a "pocket park" in Hollywood a block south of Crossroads of the World (De Longpre Avenue at June Street) where young Rick Nelson, on a break from nearby Hollywood High, wrote "Travelin' Man" on a tree-shaded bench, or so he said. The Nelson family lived nearby - for forty years at 1822 Camino Palermo. The odd thing in this park is the two sculptures honoring Rudolph Valentino. Go figure.
The Good Ship Coca-Cola
- in the warehouse district of Los Angeles, east of the city, the old Coca-Cola bottling plant was designed to look just like an ocean liner. Major kitsch.
Politics resume here tomorrow.
From the albums -
Hollywood News on Wilcox (1930) - the building is for sale, and will probably become condominium for the trendy. The place is empty at the moment - no linotype machines or anything in there.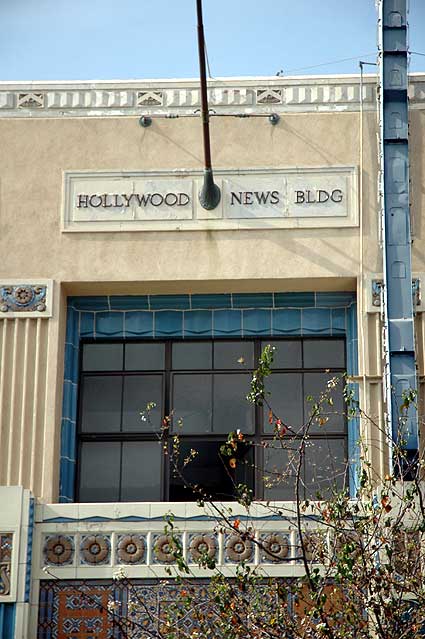 A bee gathering pollen on Groundhog Day in De Longpre Park, just to the left of the bust of Rudolph Valentino -