Times Change: The Old Queen Mary Meets the New Queen Mary
Topic: Photos
---
Times Change: The Old Queen Mary Meets the New Queen Mary
---
Thursday is photography day. Commentary resumes tomorrow.
Thursday, February 23, 2006 - the historic first meeting of "two of the world's great ocean liners." The recently launched Queen Mary 2, the new giantess, sailed into Long Beach Harbor, up beside the original Queen Mary, permanently docked out here. The old Queen Mary is in financial trouble - its operating company is owned by a business that filed for bankruptcy last March and owes the city millions in back rent. The hotel and museum are still open, for now. The Queen Mary 2 is part of Carnival Cruise Lines, as they bought the Cunard Line, and the Queen Mary name, in 1998. They operate Cunard as a two-ship subsidiary. Times change.
Thousands of people turned out to see these two together - the roads were jammed and the skies filled with news helicopters and there were skydivers and such things. An unusual event, and a good photo-op, of course.
You will find a new photo album of the event
here
, thirty-five shots, mostly at high shutter speed with the telephoto lens.
The
Los Angeles Times
write-up of the event is
here
and there's more background form the
Times
here
. In 1936 the first-class cabin round trip in the Queen Mary from New York to England and back cost $536. The Queen Mary 2 is charging from $7,749 to $79,349, per person, double occupancy, for its thirty-six day South America cruise from Los Angeles.
Here are a few shots from
the album
. More will appear in high-resolution in the next issue of
Just Above Sunset
. And
here
you will find the
Just Above Sunset
page of aerial views of Long Beach and the Queen Mary from August 2005.
The new Queen Mary 2 with mixed shipping -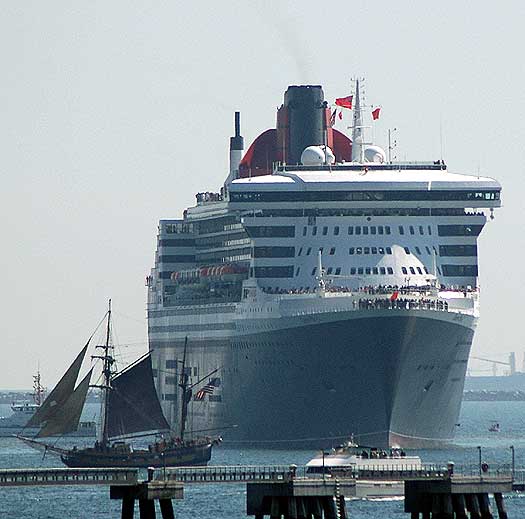 You have to love the flourishes –