A Day at the Beach
Topic: Photos
---
A Day at the Beach
---
Thursday is photography day, not a day for political commentary. That meant a drive west to the beach, to seek out the unusual.
The results are in two photo albums –
The Edge of the Pacific
- as photographed Thursday, February 9, 2006, the very edge of the Pacific, at Venice Beach. The Santa Ana winds are blowing in off the desert and on the sand it's in the eighties just before noon. Late morning the shops are just opening, the dancing rollerblade folks aren't there yet, but the surfers have been out there in dawn, and the surf isn't bad. (Sixteen shots.)
Walls and Folk Art, Venice Beach, California
- murals, architectural detail and general oddness, photographed Thursday, February 9, 2006, at Venice Beach. Tourists flock here for the madness on the strand - skaters and oddballs and Muscle Beach and all the little shops and strange food and loud music. Here are the details they often ignore. (Thirty shots.)
Many of these, and a few others, including the usual botanical shots, will be posted Sunday in the new issue of
Just Above Sunset
, the weekly magazine-format site that is the parent of this daily web log. There they will be in much higher resolution.
From the first album - love and madness on the edge of the Pacific -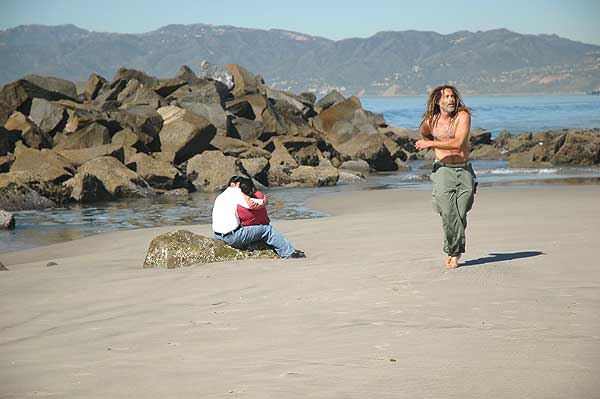 From the second album, this ominous fellow -