1929
Topic: Architectural Notes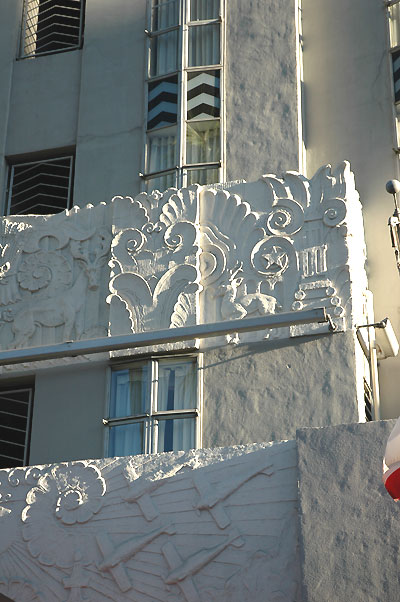 Mid-November in Los Angeles is, often, when you get those incredibly clear days - the deep blue skies and warm, relentless sun, and a light breeze. And you get long shadows by mid-afternoon. The sun is low in the sky. Winter is on the way, the kind we have out here. It may be eighty a few hours after noon, but Orion will work his way up over the Hollywood Sign after midnight, and night is desert cold.

You can see why the movie industry ended up here. The light is good. It's better than good.

The shadows here are on the frieze detailing of the Sunset Tower Hotel, the Zigzag Moderne icon smack in the middle of the Sunset Strip (8358 Sunset Boulevard) - 1929, architect Leland A. Bryant. It's very famous, in a good number of films, and once home to Howard Hughes, John Wayne, Paulette Goddard, Zasu Pitts, and that famous gangster with the great name, Bugsy Siegel. It seems everyone lived there. The link will tell you more.

I've photographed this building before, as in these recent long shots. Earlier, less polished shots were posted here and here. There may be more. At night the thing is floodlighted and looks like a wedding cake. Photographing that will be a challenge - all evening the Strip is jammed with club goers and kids from all over cruising in their cars, with police everywhere. Walking down with the camera bag and tripod and setting up would be a asking for trouble. This is the "winter series."

In any event, these images provide a sense of how the world was in Hollywood's Golden Age, just before the market crash and the Depression. The world was full of wonder. Then it wasn't.