Fall in Georgia
Topic: Guest Photography
Matching
Georgia Porches
, our friend from the South sends more photographs.
"The register maple in my front yard may be the brightest tree in the neighborhood. It is affected drastically by the angles of the afternoon sun. In the first shot you can see the difference in chromosomes between the sugar maple limb in the foreground and the register maple." - Phillip Raines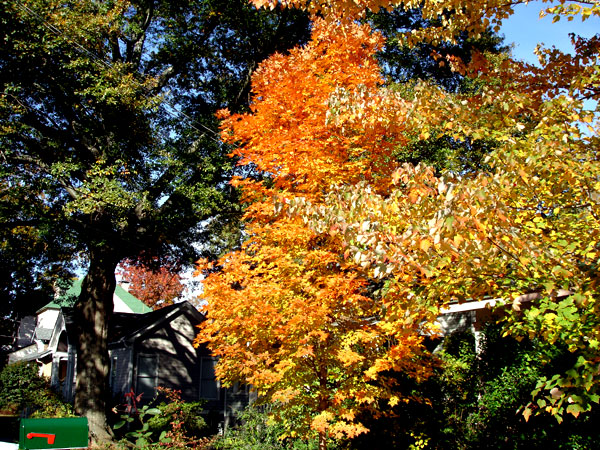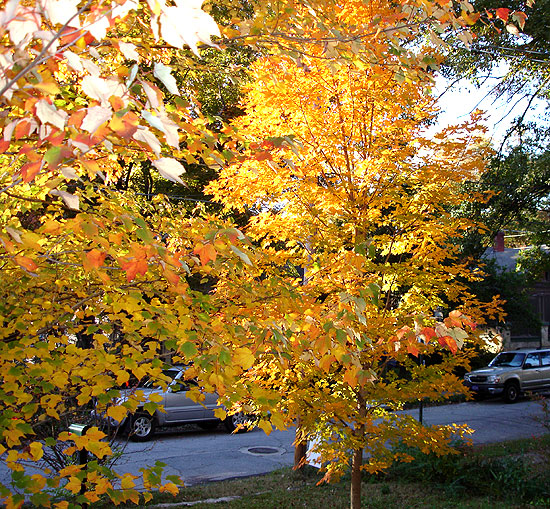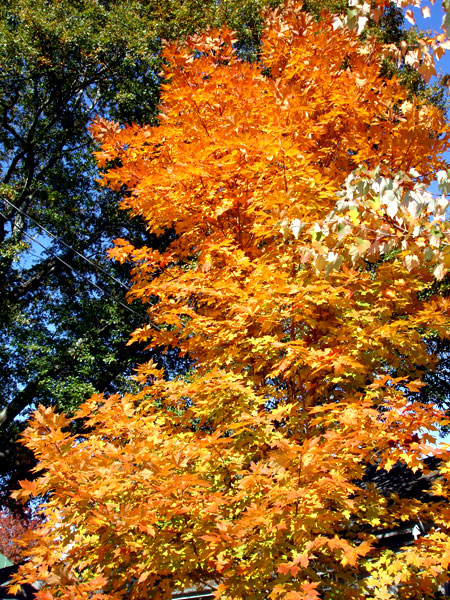 Photos Copyright © 2006 - Phillip Raines
What is a register maple? Where does it fit?
Maple Species Native to the United States
Species
Common Name
Species
Scientific Name
General Geographic Distribution
Sugar Maple
Acer saccharum
Northeast United States and Southern Canada
Black Maple
Acer nigrum
Northeast United States and Southeast Canada
Red Maple
Acer rubrum
Eastern United States and Southeast Canada
Silver Maple
Acer saccharinum
Eastern United States and Southeast Canada
Boxelder
Acer negundo
Eastern and Central United States and Canada
Mountain Maple
Acer spicatum
Northeast United States and Southeast Canada
Striped Maple
Acer pensylvanicum
Northeast United States and Southeast Canada
Bigleaf Maple
Acer macrophyllum
Pacific Coast United States and Canada
Chalk Maple
Acer leucoderme
Southeast United States
Canyon Maple
Acer grandidentatum
U.S. Rocky Mountains
Rocky Mountain Maple
Acer glabrum
Western United States
Vine Maple
Acer circinatum
Pacific Coast of United States and Canada
Florida Maple
Acer barbatum
Southeast United States Coastal Plain and Piedmont