Architectural Note: Different Times
Topic: Architectural Notes
Architectural Note: Different Times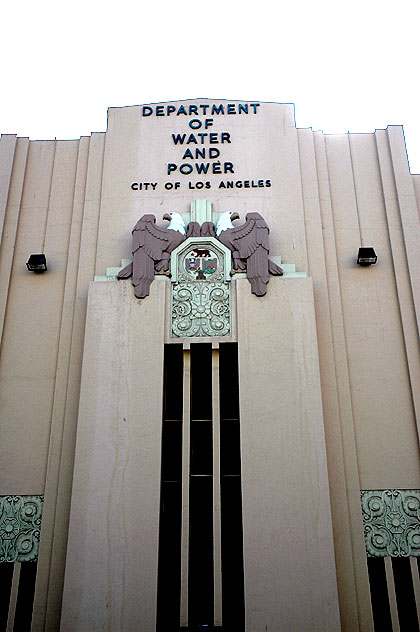 Things were different in the thirties. The Great Depression had everyone turning to the government to help them survive. And the government responded with public works projects - the WPA and all. That meant roads, dams, all sorts of public buildings. If the economy was in the weeds, you could put people to work building things. Building out the infrastructure would do nicely. And it worked - people had jobs and the nation got what was needed to move the country dramatically forward.

The public buildings that went up at the time reflected the "we're all in this together" ethos in their Moderne style, and "the government is good" detailing. And they pointed toward a better future. Neoclassicism, Gothic, Arts and Crafts and Baroque all pointed backward to an earlier age, some romanticized vision of a more comforting past - and there was much of that built out here in Hollywood. That's what much of the movie industry was about. You see it in the elaborate movie palaces. But with the public works buildings there was no looking backward.

There's an example hidden in the middle of Hollywood - the Los Angeles Department of Water and Power's Station Ten on Hawthorn Avenue, a tiny side street just southeast of the Hollywood and Highland complex with its new Kodak Theater for the Oscars. It's an anonymous classic from a time long ago, now entirely out of place - no glitz, no nostalgia, nothing sly and clever, and certainly no cynicism about the future.

Things were different then.