Movie Madness
Topic: Landmarks
---
Movie Madness
---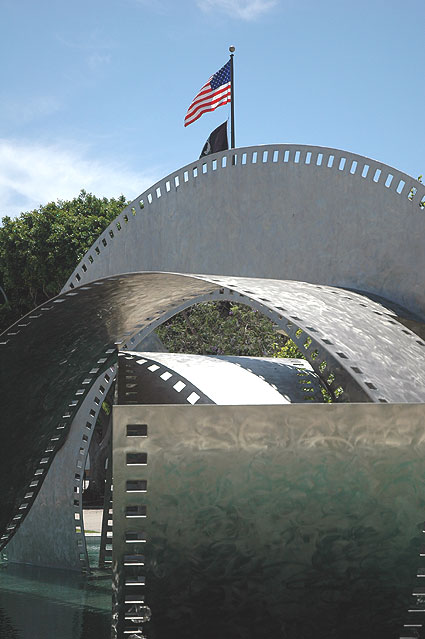 They take movies seriously down in Culver City, and just across the street from old MGM studios - home to The Wizard of Oz and An American in Paris and all the rest, but now Sony-Columbia - at the
Veterans Memorial Building
there's this stainless steel thing in the reflecting pool out front - "Filmstrip USA" by Natalie Krol. It was installed in 1981, the year after they renovated the brutal 1950 building behind it. That's still ugly, but at least it is now neat and clean - anonymous fifties public buildings aren't very interesting.
The sculpture, or whatever this thing is, is amusing. Stainless steel film stock?
But this is, after all,
The Heart of Screenland
-
Hundreds of movies have been produced on the lots of Culver City's studios, including The Wizard of Oz, The Thin Man, Gone with the Wind, Citizen Kane, Rebecca, the Tarzan series, and the original King Kong. In fact, the Yellow brick road from The Wizard of Oz is still inside the lot on Stage 27 of Sony Studios. More recent films made in Culver City include Grease, Raging Bull, E.T. the Extra-Terrestrial, City Slickers, Air Force One, Wag the Dog and Contact. Television shows made on Culver City sets have included Las Vegas, Mad About You, Lassie, Batman, The Andy Griffith Show and Jeopardy!.

John Travolta's "Stranded at the Drive-In" sequence in Grease was filmed at the Studio Drive-In on the corner of Jefferson and Sepulveda. It served as a set for many other films, including Pee-wee's Big Adventure.

... Culver City's streets may be familiar to many movie-goers. They have been featured in countless films and television shows. Since much of the architecture of the residential areas of the town has not changed in decades, the nostalgic sitcom The Wonder Years set many of its outdoor scenes in the timeless neighborhoods of Culver City. The 1970's show CHiPs also featured many chase scenes through the streets. The Nicholas Cage film Matchstick Men included scenes made at Veterans Memorial Park (which was also featured in the opening scenes of the sitcom Valerie / Valerie's Family / The Hogan Family).

The history of the town is beginning to be recognized. The Aviator, a 2004 film about Howard Hughes, featured several mentions of Culver City in connection with Hughes. The Hughes aircraft plant had a Culver City mailing address but was actually in the adjacent Los Angeles neighborhood of Westchester at a site now called Playa Vista.
So this work makes sense, of course.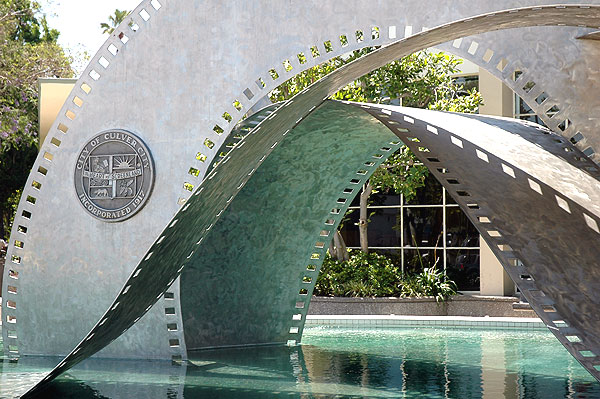 Personal Note - lived in Culver City in the early eighties, saw a bad movie or two at that Studio Drive-In with the wife, but it's now gone and there are overpriced little houses where it stood, and at the time worked at Hughes down in Playa Vista, and listened to my father-in-law when he visited from the Pentagon tell tales of being part of the Citizen Kane production way back when (he went to high school with Orson Welles) - very odd -