Another Day in Paradise
Topic: Light and Shadow
---
Another Day in Paradise
---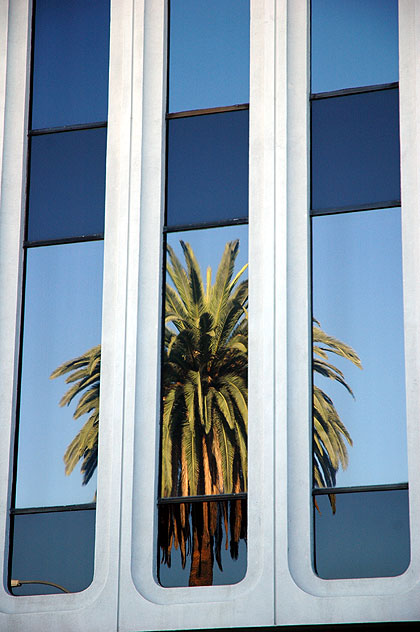 These are sort of standard shots for the files - the sort of "commercial" photography that's suitable for brochures and the like. Perhaps that is a kind of iconography. You get what you expect and are reassured - Hollywood
is
palm trees and glass buildings where executives plan how the market the next fluff movie for the exact teenage demographic. Well, grown men do that out here, and drive home to Beverly Hills in their Bentleys and Porsches. It makes them rich. It's very odd.
This is Sunset Boulevard at Stanley Avenue.
But it's not exactly paradise. Everyone is hiding inside in the air-conditioned darkness. Hollywood has become unbearable.
The predicted high temperatures, July 14-16 - Friday through Sunday -
Downtown Los Angeles: 91, 95, 91
Pasadena: 100, 103, 100
Burbank: 97, 102, 98
Hollywood is hotter than downtown, but not as hot as Burbank. The Los Angeles County Department of Public Health issued an "extreme heat advisory" Thursday in light of high temperatures expected to continue through this weekend. It's like
this
-
The heat is expected to peak across the region on Saturday. High temperatures should rise above 100 degrees in most locations in the valleys and across lower elevations in the mountains. Temperatures in the Antelope Valley and in the hottest locations of the San Fernando and Santa Clarita valleys will likely rise to between 105 and 110 degrees.

Relative humidities are expected to begin to rise on Saturday which could push heat index values to excessive heat warning levels across portions of southwestern California. Subtropical moisture is forecast to increase across Southern California by Sunday. That could spread some mid and high levels cloudiness into the region which would help bring temperatures down a bit.

There is a slight chance of thunderstorms across the mountains of Los Angeles and Ventura counties and in the Antelope Valley each afternoon and evening through Saturday... but such activity is expected to be rather isolated in nature. The increase in subtropical moisture across the area late in the weekend into next week will bring a greater threat of showers and thunderstorms Sunday afternoon into the middle of next week.
Charming. From the window here in Hollywood, would-be starlets at the pool -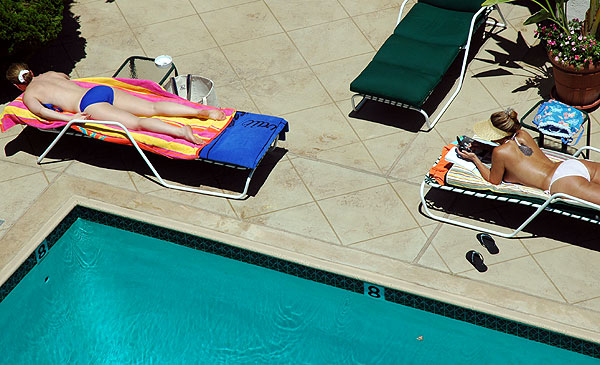 The palm tree is better as a negative. It's more unreal, and closer to the truth, or something.