History: Henry Made a Lady Out of Lizzie
Topic: Oddities
History: Henry Made a Lady Out of Lizzie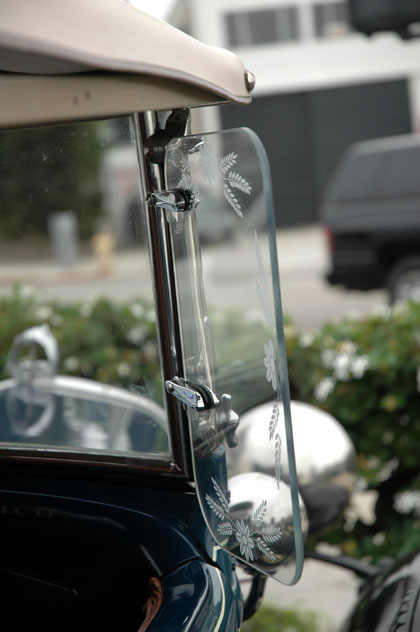 This restored 1931 Ford Model A was parked at a strip mall in Redondo Beach, with no one around, so a few shots were easy. It's an exact match for
this one
at the Smithsonian Institute in Washington, a Deluxe Roadster with the two-door body and folding top. It has a forty horsepower four-cylinder engine, which was pretty good in 1931. And this one has all the accessories - side-mounted spare tires and rear-view mirrors, and the glass wind vanes beside the windshield, in this case etched glass wind vanes. The optional hood ornament is supposed to be a quail in flight.
The history -
In the late 1920s and early 1930s, the Ford Model A was one of the most publicized and best-selling cars in America. It was sporty, attractive, well-built, and smooth-running compared to the Model T, which it replaced in the 1928 model year. Thousands of people were eager to see for themselves that "Henry's made a lady out of Lizzie," and they stormed Ford showrooms when the Model A debuted on December 2, 1927. In less than two weeks there were 400,000 orders, and Henry Ford could not keep up with the demand for his latest "gift" to an increasingly mobile nation. Despite the onset of the Depression, Model A production remained strong at 1,261,053 cars in 1930 but fell to 626,579 cars in 1931, the last year that the Model A was produced.
This one has been lovingly restored, or perhaps obsessively restored. It may be "better than original" - or at least what a new 1931 Ford Model A looked like on its best day, fresh from the factory and as yet not driven a mile. The ideal Ford? This one didn't seem real. And no one was around to explain what it was doing there, all alone. It's a mystery.